SANTA ANA, Calif.—Tucked between the offices of the Orange County District Attorney and Sheriff's Department, victims and survivors of crime were honored April 25 during the 14th Annual Orange County Crime Victims Rally.
"We have victims who passed, and we have victims who are alive today ... who have to live with the grief every single day," District Attorney Todd Spitzer said. "It is our responsibility to acknowledge them, fight for them, and keep them in our presence."
Filling the courtyard, a crowd of community members, elected officials, and law enforcement heard stories from families of a spouse, sibling, or child that were murdered as far back as 1977 to bring awareness and show how they continue to fight for victims' rights.
Joining a list of events held across the country for National Crime Victims' Rights Week, the District Attorney's Office hosted the event along with the sheriff's department and non-profit organizations.
In attendance was Patricia Wenskunas, founder and CEO of Crime Survivors, Inc., a non-profit providing support for crime victims in Orange County since 2003, who survived a violent attack from her personal trainer 20 years ago,
"Victims matter," she said. "We need to stand up and speak up. We need to balance the scales of justice ... because when we get to 2022 and the offends and the criminals have more rights than the victims, we're losing this battle."
Ronnetta Johnson, director of Waymakers, a non-profit providing services for crime victims in Orange County since 1972, also spoke in honor of the crime victims.
"We [serve] with great sorrow that our services are needed, but with great joy, that we're the ones walking side by side with some of the bravest people know," Johnson said.
Eva Barrios, whose daughter Victoria was killed in 2019 at 18 years old, attended the event.
She said her daughter's case is still unsolved, paralyzing her some days. But attending the hearing restored hope for her, she said, to hear how others have experienced similar situations.
"It's beyond helpful," Barrios told The Epoch Times. "It reminds me to keep fighting and have hope because hate will consume you if you don't."
Also in attendance was Jenner Silva, the son of murder victim Eliu Gramajo, who was killed while working his food truck during a rival gang shootout on Father's Day in 2016—a moment he said still feels like a nightmare.
"I had to arrange my father's funeral at the age of 25, which is something I never imagined doing," Silva said.
Just last month, prosecutors found Gramajo's killer guilty and will be sentenced to life without the possibility of parole.
"Going through trial, I felt emotionally, physically, and spiritually drained," Silva said. "I think the hardest part was sitting in the same room with the person who killed my father. Although the trail was very difficult and helped me grieve—not exactly closure—it's a relief to know that the killer will pay for what he did."
Carol, Samuel, and Richard Gomez are the mother and uncles of Jesse Gomez, who was killed in December 2018 by a documented gang member while walking toward a taco truck.
At the time of his death, Gomez had left his house to grab a bite to eat and to celebrate the Dallas Cowboys' victory over the Philadelphia Eagles.
Minutes after leaving his house, shots were fired.
His uncles, who could hear the gunfire from their house, ran to resuscitate him, but it was too late.
"Jesse was simply at the wrong place at the wrong time," Deputy District Attorney Harris Siddiq, the family's spokesperson, said. "Like many of us who live in these communities, Jesse's family was aware of the gang presence in their neighborhood, but they weren't involved in gangs. They thought they could be free of gang violence, but unfortunately, they found out the hard way that gang violence stops for no one."
Gomez's killer faces a maximum sentence of 35 years to life, plus an additional 35 years.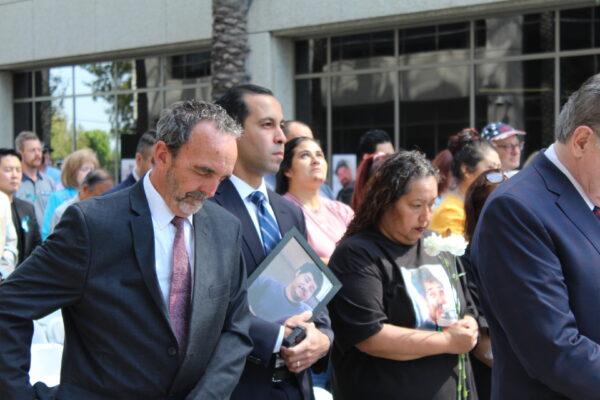 Another attendee was Lynette Duncan, whose father and 18-year-old sister were killed in 1977.
Brett Thomas and Mark Titch, who were 18 and 17 years old at the time, were convicted of the murders.
Duncan, who was 17 at the time, said her mother was also shot but survived.
At the time of Duncan's tragedy, the murders occurred one year before the death penalty was enacted in California. Both men were only expected to serve 34 years—an average punishment for first-degree murderers in California.
Since 1977, both men have had 10 parole hearings since the first hearing in 1983—almost seven years after the first murder—and Duncan has been to every one of them.
At last hearing in 2015, the judge denied parole and extended his sentence for another five years.
"When I walked out of that parole hearing, I was different," Duncan said. "I was no longer a victim. I was a survivor. And not only am I a survivor, but my voice has power, and your voices have power, too."