LAGUNA NIGUEL, Calif.—On the last day of August, beneath a cloudless azure sky, countless photos of young people lined the chain-link fence at Laguna Niguel Skate Park, stretching off toward the horizon.
Costa Mesa resident Julie May, 66, stood nearby, pointing to photos of her daughter, Jessica Marie. In one picture, Jessica, a young woman with striking green eyes and platinum blond hair, holds a small child, her niece.
"That picture was taken in January," May said. A month later, at age 32, Jessica perished from a drug overdose, a demise shared by all the others memorialized in the display.
Every year for the past decade, on the last day of August, drug abuse prevention advocate Jodi Barber has organized an event in Orange County in honor of International Overdose Awareness Day.
This year was May's first in attendance. Many of the other attendees had been there before.
'They're All From Around Here'
"Orange County has been hit especially hard over the past 10 years, with hundreds of young lives lost," Barber wrote in a press release for the event.

For Barber, the fight for drug abuse prevention is personal. In 2010, she lost her son, Jarrod, to an overdose from prescription drugs she had never even heard of until the night he died. He was only 19.

Since then, she has connected with many other families who lost their children to opioid overdoses and addiction—like May, whose daughter Jessica would have turned 33 on Sept. 9.

"I don't know how I'm going to get through her birthday," May told The Epoch Times.

"I saw her the night before [she died]. It was Valentine's Day. She went to see her boyfriend. She was starting a new job."

A short distance away, Laguna Niguel Mayor Laurie Davies gazed at the long line of photos, which numbered well over a hundred.
"Most of them, they're all from around here. It's amazing. And this isn't all of them," Davies told The Epoch Times.
Barber called the proliferation and availability of deadly drugs "scary."
"They can buy drugs laced with fentanyl on the street. These kids are buying it online," she told The Epoch Times.
Barber said certain classified advertisement websites operate as platforms for peddling drugs, using code words like "roofing tar."
"But it's not roofing tar. It's heroin laced with fentanyl," she said.
"Since the pandemic, there has been a steady increase in overdose cases in the Orange County area. Recently a 14 year old boy and a 17 year old girl died of an overdose. Many of the overdoses involve the drug fentanyl," Barber's press release said.
Fentanyl is a powerful synthetic opioid that is 50 to 100 times more potent than morphine,
according
to the National Institute on Drug Abuse (NIDA).
According to the Centers for Disease Control and Prevention (
CDC
), California is one of 10 states that saw a significant increase in synthetic opioid overdose death rates between 2017 and 2018.
'It's Killing Our Kids'
Cindy Trott lost her daughter, Heather, to drugs last February.

"Fentanyl is a killer. It's killing our kids," she told The Epoch Times. "This last time she was clean for four months, and then she got some anxiety."

She pointed to Heather's photo on the fence. "Everybody kept saying she just hasn't reached her bottom yet. And so this is her bottom right here."

Trott said her phone is her most precious possession because of all the pictures it contains of her daughter.

"If I ever lost this, I would die," she said, pressing the phone to her heart.

"I don't care if I lost my wallet, if I lost a million dollars, I just need this. This is all I have left of my beauty."

Callie Fortin lost her son, Kevin, a military veteran, in 2017, after he took heroin that was laced with fentanyl.

"His heart was hurting, I think," Fortin told The Epoch Times. "He used [heroin] one night, and since he hadn't been using for a long time, it was fatal."

She took in the long line of photos. "These are great kids from great families. I mean, look—these kids are beautiful. But drugs don't discriminate."

Fortin is grateful for the fellowship she shares with other mothers who are also still grieving the loss of their children.

"We have each other. We're not alone. We're in this boat. We don't want to be in this boat. But yeah, we have each other," she said.
'Everybody's Trigger Is Different'
As a part of her effort to raise awareness during this day of remembrance, Barber and her friend, Tanya Brown, handed out Deterra pouches to promote the responsible disposal of drugs.

The Deterra drug deactivation system was developed by NIDA. It uses a combination of carbon and warm water to render any pill inert.

"It dissolves up to 45 pills. The second they go in here, they get dissolved," Brown told The Epoch Times.

"A lot of the addiction is stemming from where they know what's in grandma's closet. They know what's in mom and dad's closet. But this automatically deletes the potency."

Brown is

the sister

of murder victim Nicole Brown-Simpson. She has learned hard lessons from her own personal struggle with pain and trauma.

"I found myself going down the path of these kids—not with drugs, but with alcohol," she said. "That's where it starts. It starts with numbing the pain and the grief."

Brown said that "everybody's trigger is different."

"All these kids here have battled with something, whether it's anxiety or depression or maybe a loss," she said.

"My message to the world is 'Just walk through the tornado of pain as you're going through it.' ... You've got to face your pain as you're going through it, because if you don't, you're going to end up on a wall or on a fence or on a poster."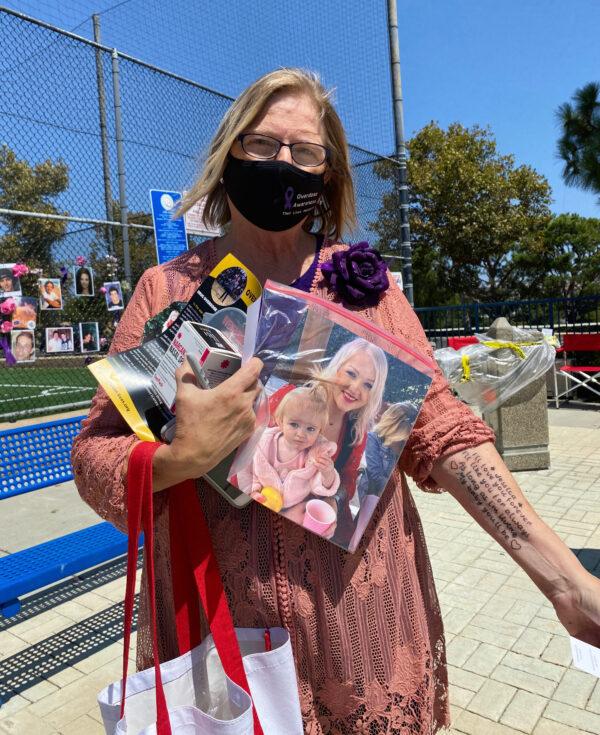 'I'll Love You Forever'
On the weekend before International Overdose Awareness Day, May's surviving daughter took her to get a permanent reminder dedicated to Jessica's memory.

"*Jessica* I'll love you forever," the fresh tattoo on her forearm reads.

The tattoo quotes the text of a famous children's book, "Love You Forever," by Robert Munsch. It continues, "I'll like you for always. As long as I'm living, my baby you'll be."

May said the words were her daughter's favorites.

"We had matching bracelets [that said this]. She had this tattooed circularly around her arm. We just always said that [to each other]," May said.

"There are times I just can't believe she's gone. I mean, she was so full of life. She had a heart of gold."