A mass of saltwater from the Gulf of Mexico is forcing its way up the drought-stricken Mississippi River, threatening drinking water supplies for some 900,000 Louisiana residents and leaving officials scrambling to mitigate the effects of the intrusion.
"This is a very challenging situation, where salt water is intruding upstream," Louisiana Gov. John Bel Edwards said at a Sept. 22 press conference alongside state and local leaders, emergency officials, and representatives of the U.S. Army Corps of Engineers.
Mr. Edwards, a Democrat, said the Army Corps has been working to mitigate the problem but that there hasn't been enough relief from the dry conditions affecting the region, "so that intrusion is worsening."
New Orleans Mayor LaToya Cantrell signed an emergency declaration for the city on Sept. 22, while Mr. Edwards said he plans to ask Washington to declare an emergency so that Louisiana can get federal aid.
"I can tell you in the next couple of days, we will be requesting an emergency declaration from the federal government as well for the purpose of getting more federal agencies involved to the extent that can be helpful," Mr. Edwards said.
Drinking Water in Focus
Normally, freshwater flows downriver along the Mississippi River and pushes against the salty water in the Gulf of Mexico, keeping it at bay.

But historically low rainwater in the Mississippi River basin has led to a drought, undermining the river's ability to prevent salty water from intruding—and posing a risk to drinking water supplies.

"There is no need for panic," Mr. Edwards said, noting that officials are working to mitigate the effects of the saltwater wedge and, at this stage, ensuring that drinking water supplies are of the highest priority.

Municipalities in southeast Louisiana, including New Orleans, all get their drinking water from the Mississippi River and the saltwater wedge threatens to contaminate the freshwater intake.

"Obviously, the most important thing to do is to ensure that we have enough safe drinking water for the people in the area of concern," he said.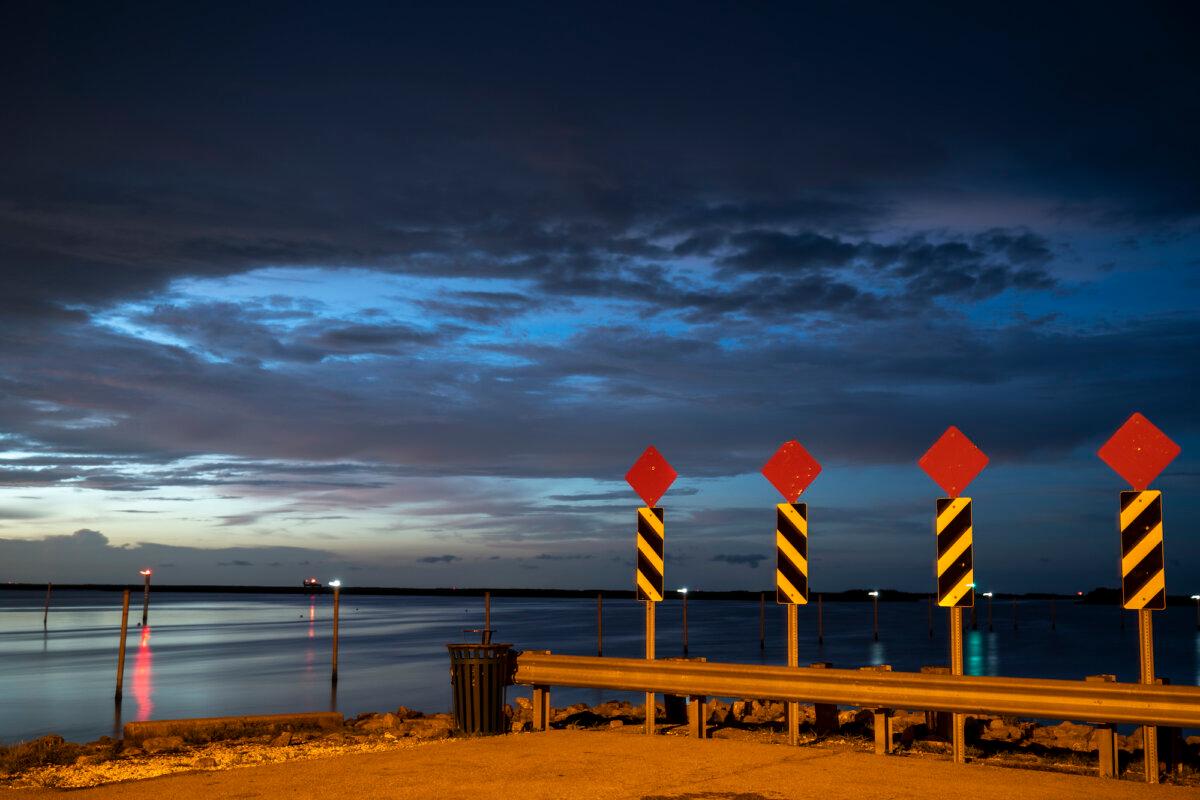 The wedge of saltwater has traveled nearly 15 miles inland up the river in just seven days, according to Col. Cullen Jones, commander and district engineer of the Army Corps of Engineers New Orleans District.
Col. Jones said saltwater intrusion occurs when the Mississippi River gets down to about 300,000 cubic feet per second of flow. Currently, it's much lower—around 148,000 cubic feet per second.
In order to get back above 300,000 cubic feet per second, there would need to be roughly 10 inches of rainfall across the entire Mississippi Valley.
He said that amount of rainfall is unlikely, so the saltwater wedge could affect local water systems from "a couple of weeks to a couple of months."
Mitigation Efforts
Col. Jones said the state and the Army Corps of Engineers are working to add 25 feet of height to a 1,500-foot-wide underwater levee in the Mississippi River, which
was built
in July to slow the intrusion.
He said he expects that construction would take about 24 days and delay the progression of the saltwater wedge by 10 to 15 days.
However, Col. Jones noted that without significant rain, the underwater levee will be overtopped and that there's a plan in place to transport freshwater by barge to local water treatment plants.
"Concurrently, we are establishing the capability for barging freshwater to municipal water treatment facilities to support local production of safe drinking water," Col. Jones said.
Initially, 15 million gallons are expected to be barged in this week, Col. Jones said. Plans are to increase that to as much as 36 million gallons per day, as needed.
Mr. Edwards said there also are operations to deliver bulk bottled water, while reverse osmosis water purification units are being brought online.
A health official said at the press conference that when the amount of salt (sodium chloride) exceeds 250 parts per million, water systems will put out a health advisory.
However, he noted that for taste reasons, the vast majority of people would stop drinking the water "well before it becomes a danger to your health."
There have already been reports of people rushing to stock up on bottled water in parts of Louisiana.
Mr. Edwards said at the press conference that "it is not necessary to go and buy large amounts of bottled water at the store," noting that there's no shortage of bottled water in the state and businesses have been asked to boost their inventories.