A Portland, Oregon, man released after lighting a brush fire allegedly set six more fires, police officials in Portland said.
Domingo Lopez Jr., 45, was spotted by a witness and confirmed to police officers that he set a fire next to I-205 on the afternoon of Sept. 13, according to the Portland Police Bureau.
Officers seized a charred plastic bottle with a wick as evidence, describing it as a Molotov cocktail, or an incendiary device.
Lopez, a Hispanic male, was released after being booked on charges of reckless burning and disorderly conduct.
Officers and firefighters rushed to the same area around 3:30 a.m. Sept. 14 after receiving a report of multiple fires burning in the brush.
Officers located Lopez walking along the highway and arrested him, seizing a lighter as evidence.
Lopez was taken to a hospital for a mental health evaluation and issued citations for six additional counts of reckless burning, the bureau said.
None of the fires damaged structures and no one was injured.
Law enforcement officials said last week that rumors about Antifa members setting fires in Oregon
were false
, but a number of people
have been taken into custody
on arson and related charges on the West Coast.
In an effort to stop people from setting fires, some county residents set up roadblocks and were patrolling with guns, officials said over the weekend.
Clackamas County Sheriff Craig Roberts told a press briefing on Sept. 13 that the armed individuals should "please stop."
"If they see somebody suspicious, call us, let us handle it; it's illegal to stop somebody at gunpoint," he said.
Calls for criminal activity in the evacuated areas have skyrocketed 400 percent from the previous week, officials said.
"What we're finding is in most of those cases, the largest majority of those calls are suspicious persons, people trespassing. We have made some arrests, but I want to make it clear that the majority of those calls are actually unfounded," Roberts said.
Roberts said officials are dealing with "a lot of misinformation about folks trying to set fires."
Another man was arrested in the county on Sept. 11 for setting a pile of leaves on fire in Oregon City, the sheriff's office said. Sammy Piatt, 53, was arrested for arson and probation violation.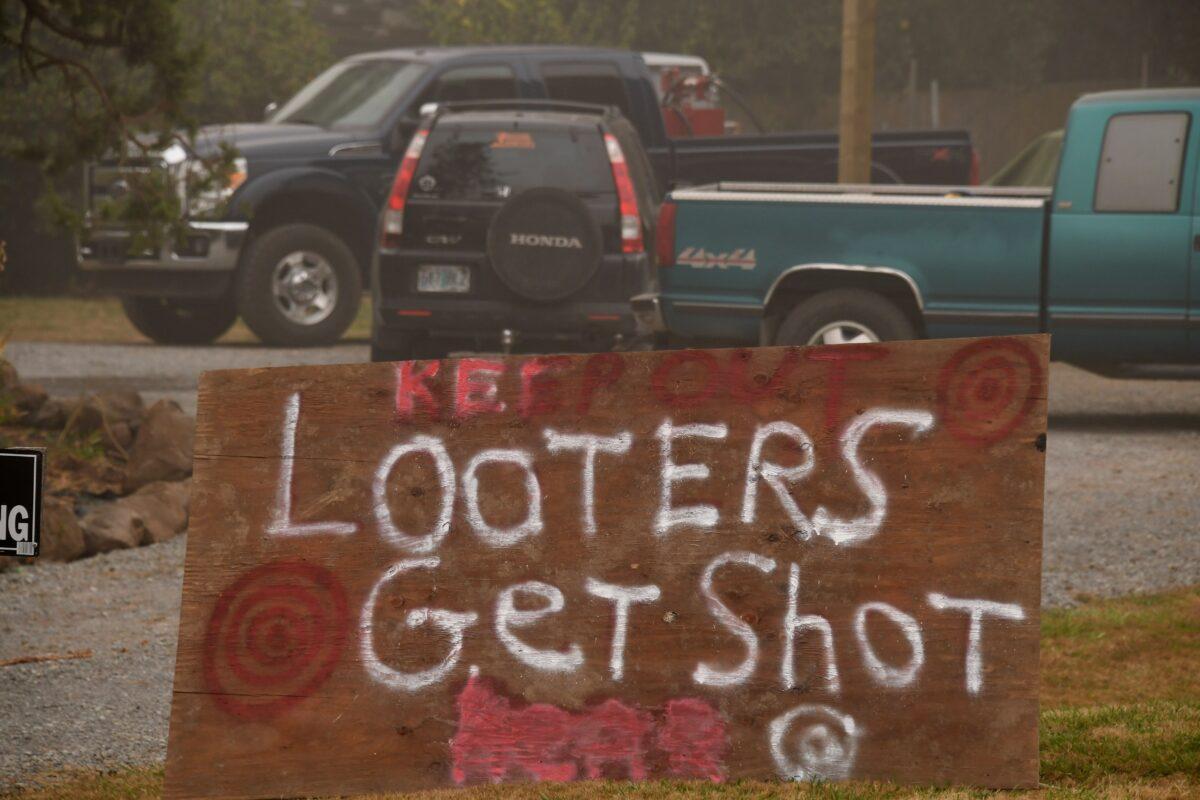 Clackamas County is located next to Multnomah County, which includes Portland.
Fires have burned more than 1 million acres in Oregon in recent weeks, state officials announced Sept. 11. The number of Oregonians under evacuation notice jumped to 500,000 that day. More than 40,000 have been evacuated.
More than half of Clackamas County was under the highest evacuation level, with residents told to leave immediately.
Thirty-four fires are still active as of the morning of Sept. 14, according to the state Office of Emergency Management. The largest is the Beachie Creek Fire, which has consumed more than 188,000 acres in Clackamas County.
The fires are causing heavy smoke levels, leading to unhealthy conditions.
"Right now our region is experiencing the worst air quality in the world, and it's absolutely having an impact on people's health," Sarah Present, the county's public health director, told the briefing on Sept. 13.
Nancy Bush, the director of disaster management for the county, added that visibility is poor because of the fire and smoke, leading to potentially hazardous driving conditions.
"Please make sure that you allow extra time if you're driving and make sure that you're allowing extra stopping distances, and actually consider if travel is necessary," she said.
"I'm also asking if you live in Clackamas County to please limit your water use. Every drop is needed for our firefighters in order to use the water to save someone's home."