More than 70 percent of American voters worry that the United States is becoming a police state marked by government tyranny with "mass surveillance, censorship, ideological indoctrination, and targeting of political opponents," a national poll suggests.
A Rasmussen Reports national telephone and online
survey
found that 72 percent of likely voters are "concerned" that America is becoming a police state, including 46 percent who are "very concerned."
Nearly 1,000 likely voters were surveyed by Rasmussen and Pulse Opinion Research on Sept. 14 and Sept. 17–Sept. 18. The poll had a survey sampling error of +/- 3 percent with a 95 percent confidence level.
"More Republicans (62 percent) than Democrats (34 percent) or unaffiliated voters (43 percent) are very concerned that America is becoming a police state," Rasmussen Reports wrote in a news release.
"Similarly, more Republicans (45 percent) than Democrats (17 percent) or unaffiliated voters (22 percent) strongly agree that the FBI is a danger to the freedom and security of law-abiding Americans."
While the Rasmussen pollsters mention the August 2022 FBI raid on former President Donald Trump's Mar-a-Lago estate as a possible factor driving the results, one former FBI special agent said it is a broader issue.
"Over the past few years, Americans have witnessed the FBI target pro-life activists and parents speaking at school board meetings while simultaneously ignoring violent riots throughout 2020, encouraging online censorship, and obstructing Congress' oversight efforts," Stephen Friend, an FBI whistleblower and former special agent, told The Epoch Times.
Half of voters in the Rasmussen poll said they agree with the statement: "The FBI is a danger to the freedom and security of law-abiding Americans," including 28 percent who "strongly agree."
Forty-five percent said they disagree with the statement, including 26 percent who "strongly disagree."
"The FBI's reputation has always been its most important asset," said Mr. Friend, now a Senior Fellow at the Center for Renewing America.
"The fact that an agency that enjoyed near-universal approval relatively recently has lost the support of half the country is a testament to both the resilience of its public perception and how far it has fallen.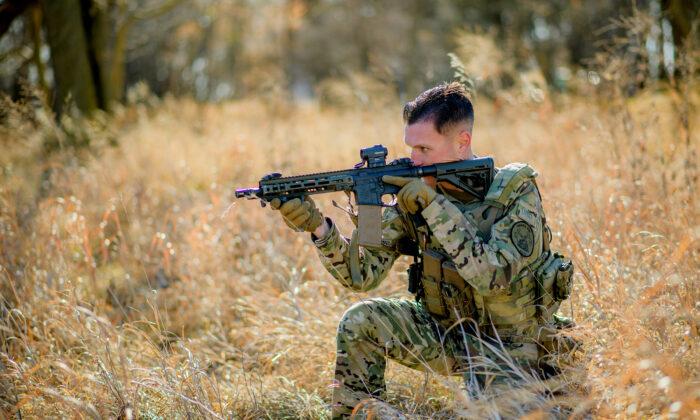 "The FBI will continue on its current trajectory until more Americans realize it is no longer an objective force for good," Mr. Friend said.
Mr. Friend was suspended without pay from the FBI on Sept. 19, 2022, after he expressed
serious constitutional concerns
about a planned FBI SWAT team raid to arrest a misdemeanor Jan. 6 defendant in Florida.
Mr. Friend had transferred from Iowa to Florida to work on cases involving the human trafficking of children. He was pulled off those cases to work on the sweeping prosecution of protesters who were at the U.S. Capitol on Jan. 6, 2021.
Domestic Terror
The "domestic terrorism" label was being used along with other tactics at the FBI to make it look like Jan. 6 suspects posed the most serious threat to the country.

"They've chosen to open hundreds of cases and then spread them around the country," Mr. Friend said in an interview for a forthcoming Epoch Times documentary on Jan. 6.

"That gives the impression that domestic terrorism is a nationwide threat when, really, the numbers the FBI is touting stem from one incident on one day.

"That's a problem for the country," he said. "The FBI is supposed to stand for law and order, but instead, we're raising the temperature."

"Short of abolishing the FBI, one potential solution is for Congress to defund the 1811 criminal investigator position—the special agent," Mr. Friend said.

"This forces the FBI to partner with local law enforcement agencies, gain their approval to conduct appropriate investigations, and cross-deputize more state and local peace officers to bestow them with federal arrest powers.

"This creates a bulwark in which a county sheriff can direct FBI resources to combat legitimate criminal activity in his area rather than serve as a bystander while FBI headquarters continually utilizes its quota system for the number and types of cases special agents must affect," Mr. Friend said.

"This is not 'defunding the police.' Instead, it is empowering local law enforcement."
Jan. 6 defendants have raised issues including the extreme use of force by heavily armed FBI agents, the bureau's refusal to produce warrants, physical abuse of those being arrested, and the pointing of laser-guided M4 rifles at suspects and their children.
Some Jan. 6 defendants in Texas also raised state sovereignty issues after FBI tactical teams swooped in on homes and apartments and whisked suspects away to federal holding facilities with no involvement of local authorities.
Defendant Troy A. Smocks, 61, of Dallas, had his home raided on Jan. 15, 2021, by about 30 heavily armed FBI and Homeland Security agents, including the presence of an armored Mine Resistant Ambush Protected (MRAP) tactical vehicle.
Mr. Smocks said he was forced to stand in the middle of his residential street dressed only in boxer shorts despite the 34-degree weather.
In a November 2022 federal petition for a writ of habeas corpus, Mr. Smocks argued the FBI raid, his arrest, and his removal from the state violated Texas' state sovereignty.
The federal arrest warrant should have gone through local authorities such as the Dallas Police Department, and Mr. Smocks should have appeared before a Texas court before being turned over to U.S. Marshals.
"I think those cases warrant a robust examination and debate," Mr. Friend said.
"Federal law enforcement regularly intrudes upon local criminal investigations to claim credit and positive publicity.
"The FBI's social media accounts are riddled with glowing press statements concerning the bureau's involvement in local criminal matters which are a waste of American's tax dollars and arguably violative of state sovereignty."