Snapshot
Idalia is now a tropical storm and is moving through South Carolina with heavy train and sustained winds of 65 mph.
It made landfall early on Aug. 30, just before 8 a.m. ET, on Florida's west coast in the Big Bend region, as a dangerous Category 3 hurricane with high winds and storm surge. It briefly became a
Category 4 hurricane
prior to making landfall.
Storm surge warnings and watches have concluded for Florida. Georgia and South Carolina, which had hurricane watches, now have tropical storm warnings.
Florida Gov. Ron DeSantis 
issued updates
 throughout Wednesday on the state's recovery efforts in response to the storm. Visit 
FloridaDisaster.org/Updates
 for more information.
11:00 PM: Flooding With 'Considerable Impacts' Expected Across Carolinas
The National Hurricane Center, in its 11:00pm EDT
advisory
, said areas of flash, urban, and moderate river flooding with "considerable impacts" are expected from eastern South Carolina through eastern North Carolina into Thursday.
It also said that a storm surge is expected along the southeastern U.S. coast within the Storm Surge Warning area through Wednesday night. The area spans the Savannah River northward to the South Santee River South Carolina.
A storm surge warning means there is "a danger of life-threatening inundation, from rising water moving inland from the coastline," according to the NHC. It added that people in these areas "should take all necessary actions to protect life and property from rising water and the potential for other dangerous conditions."
Coastal flooding is also expected in the Storm Surge Watch area in North Carolina on Thursday. The area includes the Beaufort Inlet to Ocracoke Inlet North Carolina, and the Neuse and Pamlico Rivers North Carolina.
A Storm Surge Watch, according to NHC, means "there is a possibility of life-threatening inundation, from rising water moving inland from the coastline in the indicated locations."
The NHC also noted that parts of the southeastern U.S. coast will face tropical storm force winds through Thursday.
Idalia is moving toward the northeast near 21 mph, with maximum sustained winds of 60 mph.
"[T]his general motion is expected to continue through tonight," the advisory reads. "An eastward to east-southeastward motion is forecast to begin on Thursday and continue through Saturday."
"On the forecast track, the center of Idalia will move near or along the coast of South Carolina through tonight, and then just offshore of the coast of North Carolina on Thursday," it adds. "Idalia will then move over the western Atlantic into the weekend."
"Little change in strength is forecast during the next 48 hours, and Idalia is expected to remain a tropical storm when if moves off the coast."
8:50 PM: Charleston Harbor Sees 5th Highest Water Level Ever
Charleston Harbor in South Carolina recorded a water level of 9.43 feet at 8:18 p.m local time amid a storm surge, Charleston's National Weather Service said. The figure exceeds a preliminary forecast of 8.7 feet.
"Preliminarily, this event will rank as the 5th highest peak tide on record (back to 1921)," the NWS
said on X
, formerly Twitter. The highest level was recorded at 12.52 feet, when Hurricane Hugo hit the U.S. southeast in 1989.
Beachfront streets in North Myrtle Beach, Garden City, Charleston, and Edisto Island all reported ocean water overflowing from sand dunes or walls.
The NWS
labeled
the rising waters as "a dangerous situation" and advised the public to avoid beaches and stay clear of the floodwaters.
8:00 PM: Idalia's Center Moves Through South Carolina
The National Hurricane Center
announced
at 8 p.m. that tropical storm Idalia is moving over South Carolina, with maximum sustained winds of 65 mph.
It said a storm surge warning is in effect for St. Catherine's Sound Georgia to South Santee River South Carolina.
Idalia is currently moving toward the northeast at about 21 mph, and is expected to continue doing so overnight.
7:45 PM: Man Killed 'Instantly' By a Falling Tree in Georgia
A falling tree killed a Georgia man clearing a blocked roadway Wednesday as tropical storm Idalida tore through the Valdosta, Georgia, area, according to Lowndes County Sheriff Ashley Paulk.
"The guy was out working on cleaning up a tree in the road, just a local citizen doing good things," Paulk told The Associated Press. "A big gust of wind came up and dropped another tree, killed him instantly."
A second person was seriously injured by the same tree and a sheriff's deputy suffered minor injuries, Paulk said.
Meghan Barwick, Lowndes County government's spokeswoman, said 90 percent of its homes and businesses were without electricity as of late Wednesday.
7:30 PM: Jacksonville Mayor Updates on Cleanup Efforts
Jacksonville Mayor Donna Keegan announced the city is commencing cleanup efforts after Idalia left Florida.
Ms. Deegan acknowledged that Duval County in northeastern Florida, where Jacksonville is, has "been very, very fortunate" having been spared the worst impacts of the storm, compared to its neighboring counties to the west.
"Power outages, downed power lines, and downed trees remain a concern at least on the short term," the mayor
said
around 6 p.m. local time.
Over the course of the storm, at least 85,000 customers found themselves without power at certain times, Ms. Deegan said. But she said 74,000 of those have had their power restored, thanks to JEA, which operates the electric system in the city.
Some 110 people from various departments are headed to Madison County for two weeks to help clean up the area. Madison County, in north central Florida, was among one of the hardest hit areas. The crews are from the Jacksonville Sheriff's Office, the Jacksonville Fire and Rescue Department, and the JEA.
"Those folks will be out there as long as they are needed. Please keep them in your prayers because obviously, that's a lot of very dangerous work," Ms. Deegan said. "But they were rearing to go down there and help. So we've got some great folks here that want to go and help our neighbors."
Duval County Schools will be closed on Thursday, she said, adding that classes will resume on Friday.
7:00 PM: Florida Search-and-Rescue Nears Completion
In the few hours since Hurricane Idalia moved across the state line into Georgia, search-and-rescue operations in Florida are nearing completion, according to Kevin Guthrie, director of the Florida Division of Emergency Management (DEM).
"We've completed 75 percent of the urban search, and rescue personnel have completed 75 percent of the hasty search and primary search for the entire impacted area," Mr. Guthrie said in a Wednesday evening press briefing.
"So all the way from Southwest Florida, all the way through to the state line, they have completed 75 percent of that search. Crews are still in the field working now they will continue to work through that."
No fatalities have been blamed on the storm, he said. One fatality that resulted from a "traffic incident" is being evaluated, Gov. Ron DeSantis said during the briefing.
"We so far have not had any reports of any unconfirmed or confirmed fatalities related to any drowning or any flooding victims of that nature," Mr. Guthrie said.
"So, therefore, as the governor has talked about, many, many people heeded the warnings to evacuate."
Crews were finding a much different scene than what early searches after Hurricane Ian revealed in Southwest Florida, Mr. DeSantis said.
Now crews will work to "search, secure, and stabilize," Mr. Guthrie said.
"We'll be focusing tomorrow heavily on securing and stabilizing areas from getting any worse," he said. "We will be working with our secondary searches tomorrow, going back through all the impacted areas, especially the heavily impacted areas, to ensure that those have been cleared and there's nobody there."
Once that is done, he said, it will be on to Phase 3 of the recovery phase, which includes working on assessments.
That involves working "with the cities and counties to determine what type of public infrastructure has been damaged and what those estimated costs will be," Mr. Guthrie said.
After that, the focus will turn to individual-level damage assessments to determine if the state qualifies for "an individual assistance major disaster declaration," he said.
"We will be submitting to the governor tonight for his review the expedited major disaster declaration and with his approval," Mr. Guthrie said. The plan is to pass the declaration to the Federal Emergency Management Agency (FEMA) later tonight, he said.
6:45 PM: Florida's DeSantis Announces Most Public Schools Reopen Tomorrow
Thirty of the 52 Florida school districts that closed for Hurricane Idalia will reopen tomorrow, and an additional eight will reopen Friday, Gov. Ron DeSantis announced during a Wednesday evening press briefing at the Emergency Operations Center in Tallahassee.
And state education commissioner Manny Diaz is calling for the school districts that will remain closed to open as soon as possible, he said.
"Prior to the storm and until landfall, we at the Department of Education were in direct contact with schools around the state to ensure they took the necessary precautions to ensure student safety," Mr. Diaz said. "The department maintains a real-time accounting of school closures and reopening on our website that is updated by the minute as local decisions are made."
The number of planned reopenings will change as damage is assessed and power restored, he said. Mr. Dias said he was "encouraged" by the announcement that hard-hit Leon County in North Florida planned to reopen as early as Friday.
His department stands ready, he said, to "make sure that we assist, especially the smaller districts, who may have who may be short-staffed. We know from our experience there's nothing more crucial to a child's education than in-person instruction."
6:30 PM: All Florida Bridges Cleared, Evacuations Lifted
All Florida bridges that were closed due to Hurricane Idalia's journey across the state on Wednesday now have reopened after being inspected, Florida Gov. Ron DeSantis (R) announced.
"The Cedar Key Bridge has officially been cleared by FDOT," Mr. DeSantis said, referring to the historic fishing village with only one way in and out.
"Residents, first responders, and law enforcement can now pass. Residents should follow the guidance of the local emergency and law enforcement personnel in terms of any type of restrictions that may be on that."
Officials at the briefing said more than 150 miles of roads in five counties have been cleared by 300 soldiers and airmen of the National Guard's 133rd Cavalry Squadron. They also are conducting air and ground search-and-rescue operations along with route clearance and debris removal.
FDOT crews are working to clear all roads throughout the state and restore traffic operations, in some cases, delivering generators to get traffic signals working again where power wasn't available.
"I was able to survey the Ground Zero damage and Taylor County this afternoon and see everything firsthand," said Jared W. Perdue, secretary of the Florida Department of Transportation (FDOT).
Also, as of 6:30 p.m., 12 counties had lifted their mandatory evacuation orders, including Hillsborough, Hernando, Alachua, and Leon County.
6:13 PM: Epoch Times Interviews in Aftermath of Hurricane Idalia
Epoch Times reporter John Haughey interviews people in Tarpon Springs, Florida, in the aftermath of Hurricane Idalia.
5:45 PM: Charleston International Airport Set to Close
In preparation for the arrival of Tropical Storm Idalia, Charleston International Airport will suspend operations at 6 p.m.
"The [Air Traffic Control] Tower is scheduled to reopen on Thursday, Aug. 31, at 8 a.m.," the airport announced on X, formerly known as Twitter.
4:55 PM: Idalia Weakens to a Tropical Storm
Hurricane Idalia became Tropical Storm Idalia as it approached Georgia's border with South Carolina.
The storm was downgraded by the National Hurricane Center, as its sustained winds dipped down from 75 mph to 70 mph.
As Idalia weakened, it was moving northeast at 21 mph. Forecasters expect the storm to continue its trek across the coast of South Carolina throughout the night before crossing into North Carolina. The storm is projected to move into the Atlantic Ocean at about 2 p.m. on Thursday.
4:15 PM Florida's DeSantis Warns: 'Looters Beware'
In an afternoon press briefing, Florida Gov. Ron DeSantis (R) warned, "We will not tolerate anyone taking advantage of those in the path of Hurricane Idalia. Looters beware. Floridians will defend their homes and families."
More than 260,000 households that lost power due to the storm have had their power restored, he said. Utility linemen from as far away as Nebraska have flowed into Florida to help. The state was expecting to have about 40,000 linemen in pace to get the power back on.
3:55 PM: Savannah Hilton Head Airport Vows to Remain Open
As rain and wind pummel parts of Georgia and the Carolinas, officials with Savannah-Hilton Head Airport (SAV) in South Carolina have no plans on closing, authorities there said Wednesday.
Airlines operating out of the airport canceled outbound flights for the rest of the day.
But "SAV remains open for all scheduled flights," the airport posted on its website. "Passengers should continue to check with their airline regarding flight status before coming to the airport."
Airport officials reiterated in a post on X, formerly known as Twitter, that the airport would remain open throughout the duration of the storm. But, the post cautioned, "Passengers should continue to check with their airline for rebooking options."
3:30 PM: North Carolina Governor 'Hoping for the Best, Preparing for the Worst'
North Carolina Gov. Roy Cooper (D) said at an afternoon press conference that his state's emergency response teams were "preparing around the clock" for the impending impacts of Hurricane Idalia.
Mr. Cooper advised that he had discussed the situation with President Joe Biden an hour before and conferred with Deanne Criswell, administrator of the Federal Emergency Management Agency (FEMA), on Aug. 29.
"We're hoping for the best and preparing for the worst," Mr. Cooper said, noting that heavy rainfall and localized flooding are the greatest threats Idalia poses to North Carolinians at this time.
Potential flash flooding also is a concern, he added, urging residents to "stay alert."
"When it hits us, this storm will likely be near tropical storm strength," the governor said. "Tropical storm warnings are now in effect for our entire coast.
"If you're in the affected area and you haven't already, stock up on supplies now, listen to emergency alerts, and stay off the flooded roads."
National Guardsmen, state troopers, and other first responders, including water rescue teams, have been staged across the state to assist with emergency response efforts, he said. The state also is working with utilities to ensure rapid response to power outages, which are expected.
"I encourage people to listen to local officials and make sure you have a plan," Mr. Cooper said. "If you're in an area with a flood risk, prepare an emergency kit if you don't have one. This is the first storm of the season, and it may not be the last."
3:18 PM: President Biden Blames Hurricane Idalia on 'Climate Crisis'
President Joe Biden gave a speech at the White House today to provide an update on the federal response to Hurricane Idalia, currently creeping up the nation's East Coast.
President Biden said he spoke with Gov. Ron DeSantis of Florida multiple times. Mr. DeSantis is seeking the Republican nomination for president in 2024, in the hopes of challenging President Biden.
Former President Donald Trump currently leads the pack of Republican presidential hopefuls, with Mr. DeSantis consistently polling in second place.
President Biden also spoke with the governors of Georgia, South Carolina, and North Carolina about the storm's impact.
Though the storm has been downgraded to a Category 1 hurricane, President Biden warned, "It's still very dangerous with winds up to 75 miles an hour. We have to remain vigilant, and there's much more to do."
He said he had directed the Federal Emergency Management Agency (FEMA) to redeploy resources across the southeast, including up to 1,500 of that agency's personnel and 900 Coast Guard personnel.
And he has directed the FEMA director to fly to Florida this afternoon to meet with Mr. DeSantis and to begin assisting with the federal assessment tomorrow.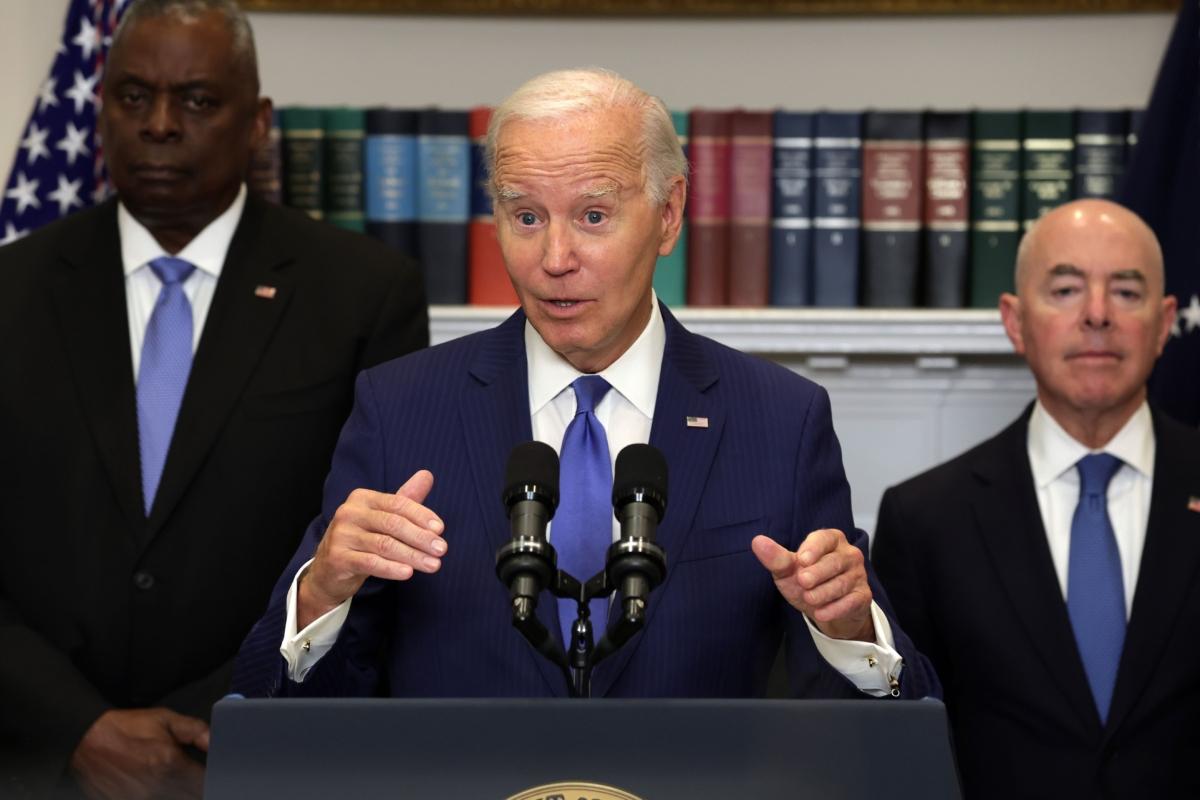 "I don't think anybody can deny the impact of a climate crisis anymore," President Biden said.
When asked if he sees any politics in his discussions with Gov. DeSantis, the president said that he's focused on doing what's best for the state.
"No, believe it or not. I know that sounds strange, especially how the very nature of politics today," President Biden said. He recalled working with Mr. DeSantis closely during the last major storm, Hurricane Ian in 2022.
"I think he trusts my judgment and my desire to help," the president said. "This is not about politics. It's about taking care of the people of the state."
2:30 PM: Idalia Leaves Widespread Power Outages in Her Wake
Hundreds of thousands of Americans were without power across the southeastern United States as Hurricane Idalia made its way through Georgia.
In the Peach State, more than 140,000 customers were without power, adding to the more than 298,000 in Florida waiting for theirs to be restored. Meanwhile, more than 1,000 outages were reported in neighboring South Carolina and more than 7,000 in North Carolina.
2:05 PM: South Carolina Governor Delivers Update
South Carolina Gov. Henry McMaster (R) updated residents on his state's emergency preparations as Hurricane Idalia barreled their way.
"We don't know exactly when it's going to get here," Mr. McMaster said at a press briefing. "And of course, the winds will get here before the center of the storm gets here.
"But anytime from about 6 p.m. on, everybody needs to really be on their guard, and they need to go ahead and prepare right now."
He declared a state of emergency in South Carolina on Aug. 29.
While noting that Idalia is "not as bad" as some of the other storms South Carolina has experienced, he stressed that the storm is still likely to hammer the state with heavy rains and flash flooding.
"We again ask everybody to realize that these storms are dangerous," he added, noting the dangers of falling tree limbs, downed power lines, and driving through flooded areas.
The state's power companies already were preparing to respond to outages, Mr. McMaster said. Evacuation orders would not be issued, and state agencies would remain open, he said. But he expected some school closures would be announced.
"We are ready," he said. "your team all across the state is ready, and we want everybody to be as ready and prepared. Don't panic, but be prepared and get your information from official sources."
2 PM: Flash Floods, River Flooding Predicted Across Georgia, Eastern Carolinas
The National Hurricane Center predicts flash floods and river flooding are expected across Georgia and the Eastern Carolinas through tomorrow.
1:45 PM: Incoming Flights to Resume at Tampa International Airport Today
Tampa International Airport (TPA) plans to reopen to incoming flights at 4 p.m. on Aug. 30., authorities there announced.
Outbound flights are expected to resume Aug. 31, CEO Joe Lopano said in a press release.
"TPA is fortunate to have avoided the worst effects of such a dangerous storm, after acting in an abundance of caution to protect the safety of our passengers, employees, and facilities," Mr. Lopano wrote. "We're focused now on returning to full operational capacity to continue serving our community and to assist in recovery efforts for our fellow Floridians."
The airport's operations and maintenance staff inspected the facilities and found no serious damage that would require extended closure. The minimal flooding at the facility would not affect runways, he wrote.
On the other side of Tampa Bay, the St. Pete-Clearwater International Airport also announced plans to reopen by 3 p.m. on Aug. 30, as originally scheduled.
Florida Gov. Ron DeSantis confirmed in his 12:30 p.m. press briefing that the regional airport in Gainesville, Fla, was set to open in the evening of Aug. 30. The Tallahassee airport was expected to reopen on the morning of Aug. 31, he said.
Ports in Tampa and Manatee are currently under assessment to reopen. Once the assessments are complete and all is confirmed to be well, operations at the ports can resume, authorities said at the briefing.
1:20 PM Idalia Weakens to Category 1 Storm
Hurricane Idalia has weakened to a Category 1 storm, and has fully left Florida. And so far, the state has not confirmed storm-related deaths, authorities said.
But that may change, Gov. Ron DeSantis said.
Search and rescue efforts were well underway, and so far, there were no confirmed fatalities, Mr. DeSantis said at his 12:30 press briefing.
The town of Perry and Taylor County, just east of Tallahassee, were the worst-affected areas, according to Mr. DeSantis and the Florida Department of Emergency Management's Kevin Guthrie. Dixie, Levy, Suwannee, Madison, Jefferson, and Columbia counties were also in the storm's main pathway, they said.
Because those areas are so sparsely populated, Mr. Guthrie said, "some of this [search and rescue] is going to take longer than what we experienced with initial search and rescue" in Fort Myers, when Hurricane Ian ripped through in 2022.
12:30 PM: Florida Coast Braces for More Flooding as Idalia Creeps North Across Georgia
The sun may be coming back out in Florida, but hurricane danger remains for residents of the Gulf Coast, authorities warn. A combination of a king tide with the blue supermoon and the southwest-to-northeast track of Idalia's outer bands leaves behind the danger of storm surge.
A king tide is an exceptionally high tide that occurs during a full or new moon. A supermoon, seen about every three or four months, is a term used when the moon is closer than usual to the Earth, making it look about 14 percent bigger and having a stronger effect on tides.
It also brings means more flooding.
Florida's Division of Emergency Management (FDEM) issued a statement telling people not to visit Idalia-affected areas unless they're residents returning home, first responders, or registered volunteers.
"'Disaster sightseeing' inhibits first responders and search & rescue operations and puts your safety at risk," FDEM stated on X, formerly known as Twitter.
Communities along the Gulf of Mexico, from Manatee to Hernando counties, will reach high tide in the coming hours, authorities said.
12:01 PM: Authorities Issue More Warnings About Electric Vehicles, Floodwaters
"If you own a hybrid or electric vehicle that has come into contact with saltwater due to recent flooding within the last 24 hours, it is crucial to relocate the vehicle from your garage without delay," the Hillsborough County Sheriff's Office (HCSO) warned in a post on X.
"Saltwater exposure can trigger combustion in lithium-ion batteries. If possible, transfer your vehicle to higher ground."
South Hillsborough County, Florida continues to see more rain and rising waters, as do communities stretching into the Carolinas. Many law enforcement agencies issued similar posts. 
"Please do not attempt to drive into flooded roadways," the HCSO urged. "
Stay indoors until you've been instructed to leave, if you're in a flooded area." 
In Tarpon Springs, Florida, police block curious motorists from driving down flooded Dodecanese Boulevard that leads to historic sponge docks.
11:27 AM: Emergency Shelters Open in South Carolina.
Emergency shelters were opening across South Carolina, according to the South Carolina Emergency Management Division (SCEMD). Shelters were set up in Kingstree, Ridgeland, Hemingway, and North Charleston. Updates were being provided
online
.
11 AM: National Hurricane Center Storm Surge Warnings Extended
The eye of Hurricane Idalia reaches about 15 miles south-southeast of Valdosta, Georgia, and about 165 miles southwest of the port city of Savannah, according to the National Hurricane Center. The storm is moving to the north-northeast at 20 mph. Sustained wind speeds have decreased to 90 mph.
A storm surge warning is in effect on the East Coast from St. Catherine's Sound, Georgia, to South Santee River, South Carolina, which includes the Hilton Head Island.
10:50 AM: Eye of Hurricane Idalia Crosses into Georgia
After an earlier landfall in the Big Bend Region of Florida, the eye of Hurricane Idalia moves north across the Florida–Georgia state line, as the leading edge of the storm sends bands of rain as far north as Jacksonville, North Carolina.
10:20 AM: First Responders Report Rescue Efforts Underway
With rescue efforts underway around the state, law enforcement agencies continue sending out social media posts urging residents to take care in floodwaters. The Pinellas County Sheriff's Office and others warned about the next high tide and repeated warnings for people to avoid floodwaters.
6:15 AM: Reports of Fatalities
Two Florida men were the first fatalities to be reported in connection with Hurricane Idalia early on Aug. 30.
Per Fox 35 Orlando, Florida Highway Patrol advised that the men were killed in two separate weather-related car accidents.
The first incident occurred just before 6 a.m. in Gainesville. The 59-year-old victim was reportedly driving a Toyota pickup truck in "extremely rainy conditions" when he lost control of his vehicle and swerved into a ditch, eventually crashing into a nearby tree line.
He was pronounced dead on the scene by first responders.
The second incident took place shortly after, at 6:15 a.m., in Pasco County. Officials said a 40-year-old Spring Hill man, also driving a pickup truck, was driving too fast for the "inclement weather" conditions and similarly lost control of his vehicle and crashed into a tree. He died at the scene.
T.J. Muscaro, John Haughey, Emel Akan, Samantha Flom, Mimi Nguyen Ly, and The Associated Press contributed to this report.