Senate Judiciary Committee Chairman Lindsey Graham (R-S.C.) said on Saturday that he will be calling on the Department of Justice and the postmaster general to investigate
a U.S. Postal Service whistleblower's claim
about an alleged plot to backdate mail ballots in Pennsylvania.
Graham received a sworn affidavit (
pdf
) signed under the penalty of perjury from Richard Hopkins, a mail carrier in Erie, Pennsylvania, who claims that the local postmaster, Rob Weisenbach, had instructed U.S. Postal Service (USPS) workers to collect mail ballots they receive after Nov. 3 and hand them over to him to be backdated.
"I heard Weisenbach tell a supervisor at my office that Weisenbach was back-dating the postmarks on the ballots to make it appear as though the ballots had been collected on November 3, 2020, despite them in fact being collected on November 4 and possibly later," Hopkins, who noted that he is willing to testify about his claim under oath, said.
Election rules in Pennsylvania allow for ballots to be counted up to three days after Election Day as long as they are postmarked as having been sent on Nov. 3.
A USPS spokesman told The Epoch Times it was aware of Hopkins' claim and has referred the matter to the U.S. Postal Inspection Service and the Office of Inspector General.
Weisenbach did not respond to a request for comment.
Hopkins said that on Nov. 5, he overheard a conversation between Weisenbach and Darrell Locke, a local supervisor. In the conversation, Weisenbach and Locke spoke about backdating all but one of the ballots they received on Nov. 4.
"I overheard Weisenbach tell Locke that they 'messed up yesterday'—November 4, 2020—by accidentally postmarking one ballot as having been collected November 4, 2020 (when it had actually been collected)," Hopkins wrote.
Graham said in a statement that he plans to get Hopkins to testify.
"The expanded use of mail-in voting is making the post office the administrator of elections, not the local election officials. This change in mission requires there to be further scrutiny to ensure the system is beyond reproach," Graham said.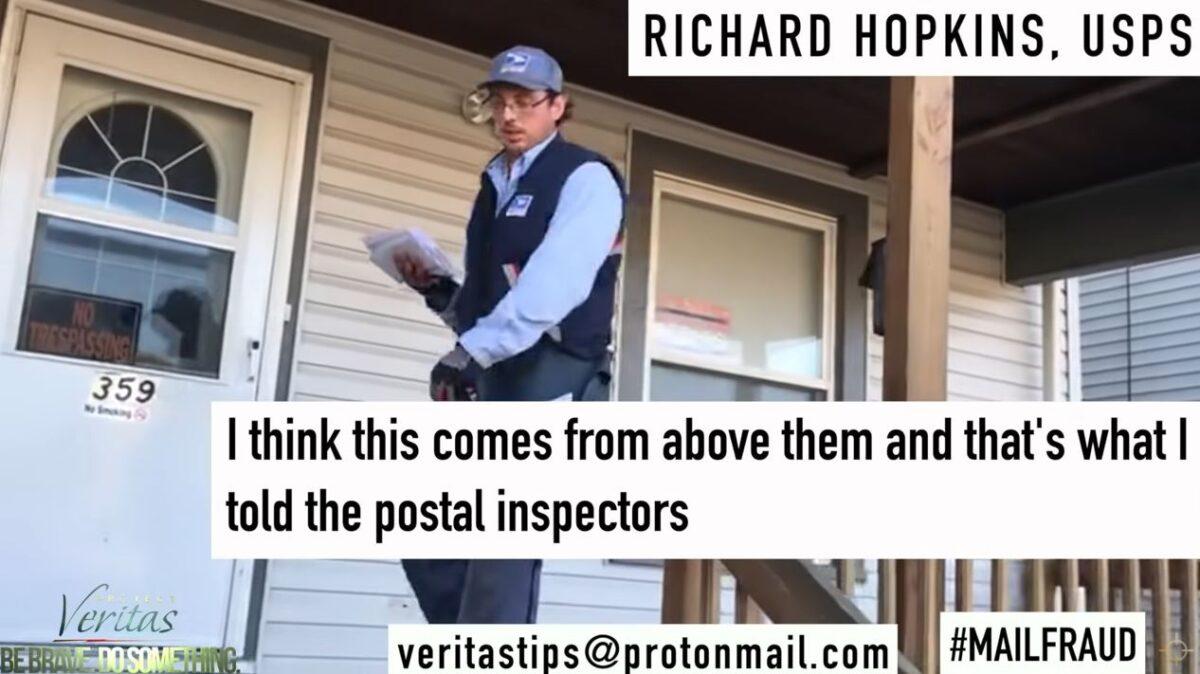 Prior to the election, President Donald Trump had criticized the Supreme Court over a decision that left in place Pennsylvania's three-day extension for the receipt of mail-in ballots.
According to Hopkins, Weisenbach instructed mail carriers to continue handing over mail ballots they pick up through Nov. 6, presumably so they can be backdated.
"Weisenbach's comments were deeply concerning to me and appeared to me to be an attempt by Weisenbach and/or Locke to improperly backdate ballots received after the legal deadline so these late ballots could be counted—something I understand to be illegal and against Pennsylvania law," Hopkins said.
Hopkins first made his concerns public through Project Veritas, which has also publicized a similar allegation from a postal worker in Michigan.
After Hopkins went public, a USPS postal inspector informed him that the matter is under investigation. He was also approached by a representative of the postal worker union who brought up allegations about him which have he says have long been resolved.
"I refuse to be silenced, so I decided to reveal my identity and have pledged to testify regarding what I heard and what I was ordered to do," Hopkins said.
Despite pending lawsuits and recounts in at least two states, most news organizations declared former Vice President Joe Biden the winner in Pennsylvania and the 2020 presidential election. The Epoch Times will not declare a winner until
all challenges are resolved
.
"We all know why Joe Biden is rushing to falsely pose as the winner, and why his media allies are trying so hard to help him: they don't want the truth to be exposed," Trump said in a statement on Nov. 7.
"The simple fact is this election is far from over. Joe Biden has not been certified as the winner of any states, let alone any of the highly contested states headed for mandatory recounts, or states where our campaign has valid and legitimate legal challenges that could determine the ultimate victor."
Biden on Saturday declared himself the victor of the election.
"We have won with the most votes ever cast for a presidential ticket in the history of this nation—74 million," Biden said in a speech on Nov. 7, according to the prepared remarks. "I am humbled by the trust and confidence you have placed in me."