New York Gov. Kathy Hochul announced on Sept. 25 that she's calling in the National Guard to help with the illegal immigration crisis gripping the Big Apple.
Ms. Hochul said at a press conference in New York City that she had ordered 150 members of the National Guard to support case management operations meant to get asylum seekers work permits and clear out some of the 60,000 or so illegal immigrants crowding the city's shelters—which she said are filled to the brim.
The additional 150 National Guard members will bring the total to 2,200 who are supporting efforts to deal with what Ms. Hochul described as "two real challenges" happening at the same time—a "migrant crisis" and a "shortage-of-workers crisis."
"We have an economy that could be on fire," she said during a Q&A session after the press conference, noting that New York has near-record low unemployment and that businesses are clamoring for more staff but that the state is "being held back by a shortage of workers."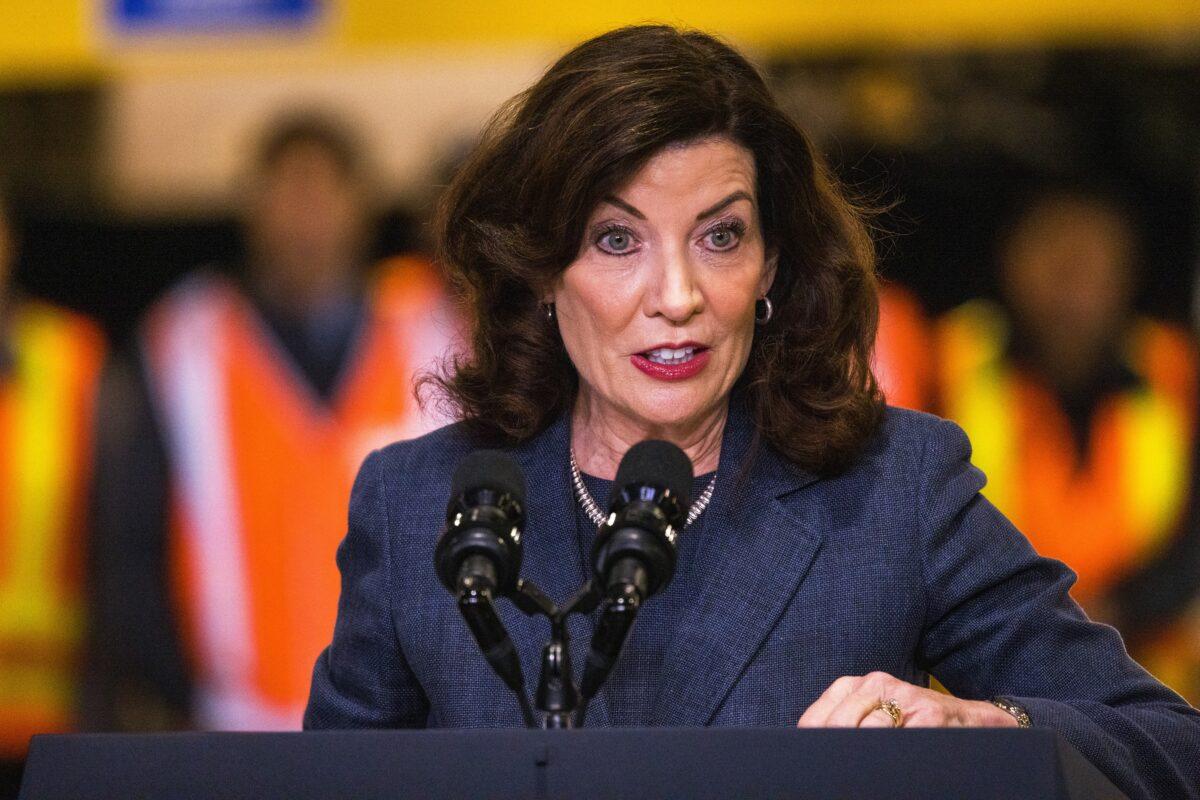 Ms. Hochul said there are about 400,000 job openings of various kinds in New York state and not enough people to fill them.
Expedited Work Permits
The New York governor praised federal moves to allow more asylum seekers to file for Temporary Protected Status (TPS), which will allow them to be protected from deportation—and to work legally.

The Biden administration announced on Sept. 20 that it'll allow nearly half a million Venezuelans already in the United States—including those who illegally entered the country—to file for TPS.

Ms. Hochul said that of the 2,200 National Guard members supporting the mission of dealing with the migrant crisis, 250 would focus solely on case management to help the Venezuelans apply for TPS and legally find jobs.

"It's very labor intensive," she said of the case management process that the National Guardsmen will be assisting with.

Work authorization is asylum seekers' "ticket to the American dream," according to Ms. Hochul.

"So you'll be helping them get a job, helping them support themselves, helping them leave these shelters—because I believe they did not come all these thousands of miles to live in a shelter with hundreds, if not thousands of others," she said, addressing members of the National Guard who were present to listen to her speech at the 369th Regiment Armory in New York City.

Ms. Hochul said members of the National Guard have already been working to survey various people residing in New York's overcrowded shelters.

"We have different categories. Some people are eligible to work right now if they already came in through the Customs and Border Protection app. There are people qualified for that," she said.

"There are parolees eligible to work. There are the asylum seekers who need to apply for asylum and wait 180 days.

"And now we have this new category that allows the expedited work permits for Venezuelans who arrived here earlier."

Ms. Hochul was referring to the new expanded TPS eligibility.

She called for an expansion of the TPS program to allow more asylum seekers to get jobs as one of the key solutions to fixing the problem of illegal immigration in her state.

"That would be the game-changer we need for this crisis," Ms. Hochul said, noting that another part of the solution is more border controls to "stop the illegal flows" of people across the border.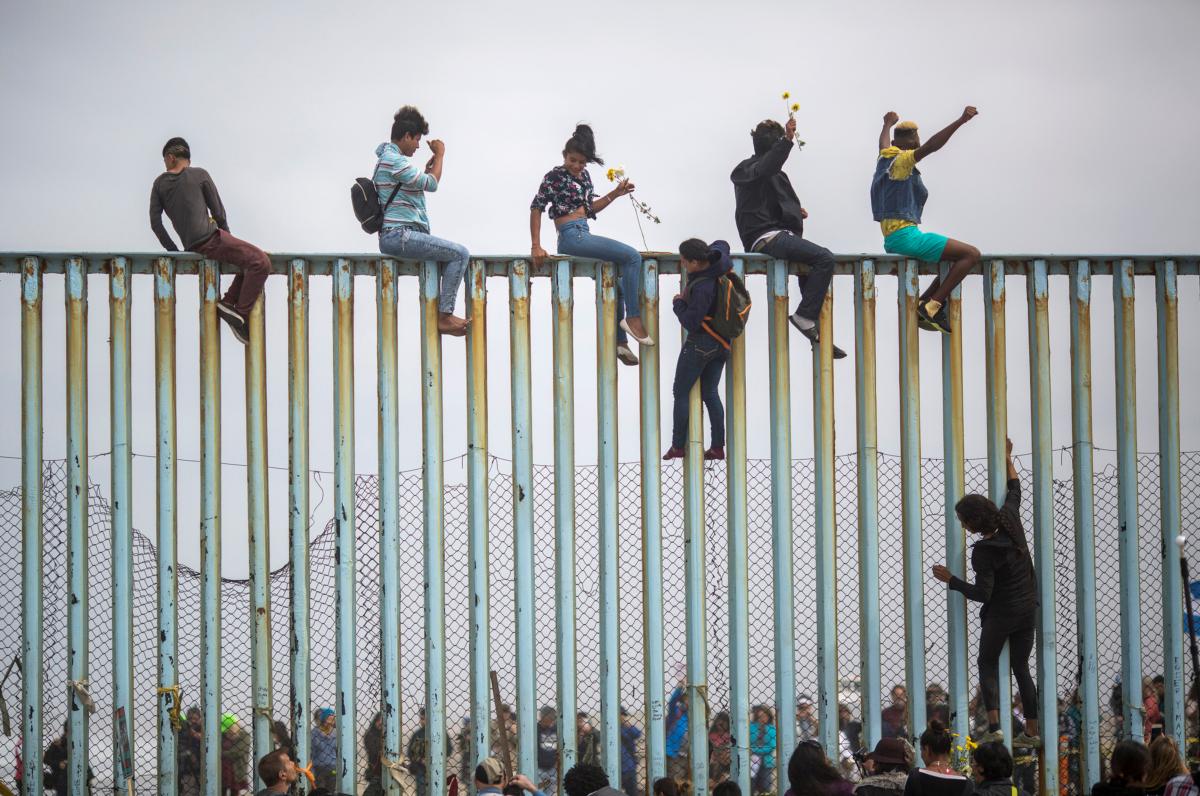 'We Need More Money'
Ms. Hochul said New York has already spent $1.7 billion to shelter and support asylum seekers.

"Our goal—take care of people when they arrive, show them the compassion of New Yorkers, but give them what they want, which is a quick exit out of our shelter system," she said.

Also after the Sept. 25 press conference, Ms. Hochul once again pleaded for federal help, saying her office had become more "assertive" in its request for more resources.

"We would like more money, of course," she said, but she noted that President Joe Biden can't just "write a check" but has to go through the congressional appropriations process—and that faces impediments amid disputes on Capitol Hill over spending cuts.

Ms. Hochul said there has been "a major shift" in priority because of how serious the situation is.

She said New York City's shelter system is filled to capacity and more resources are needed to ease the burden.

One of the aims of the additional National Guard members helping with caseloads is to clear some of the 60,000 people crowding the shelters.
'Go Somewhere Else'
Several days ago, Ms. Hochul said New York City's shelters are full amid the relentless influx of illegal immigrants and that people should "go somewhere else."

"They're coming from all over," she told CNN in an

interview last week

. "But we have to let the word out that when you come to New York, we're not going to have more hotel rooms. We don't have capacity."

Ms. Hochul has also supported a proposal by New York Mayor Eric Adams to suspend the city's 40-year-old right-to-shelter mandate, which was established to help address the city's homeless crisis and basically requires the city to provide a bed to anyone who asks for one.

In her interview on CNN, the New York governor said Mr. Adams's proposal is the "right thing to do."