Texas Gov. Greg Abbott has declared an "invasion" at the southern border because of a surge in illegal immigration, while blaming President Joe Biden's policies for the influx and ordering the National Guard and local law enforcement to help deal with the crisis.
"I officially declared an invasion at our border because of Biden's policies," Mr. Abbott wrote in a
post on X,
formerly known as Twitter, on Sept. 20.
"We deployed the Texas National Guard, DPS & local law enforcement. We are building a border wall, razor wire & marine barriers.
"We are also repelling migrants."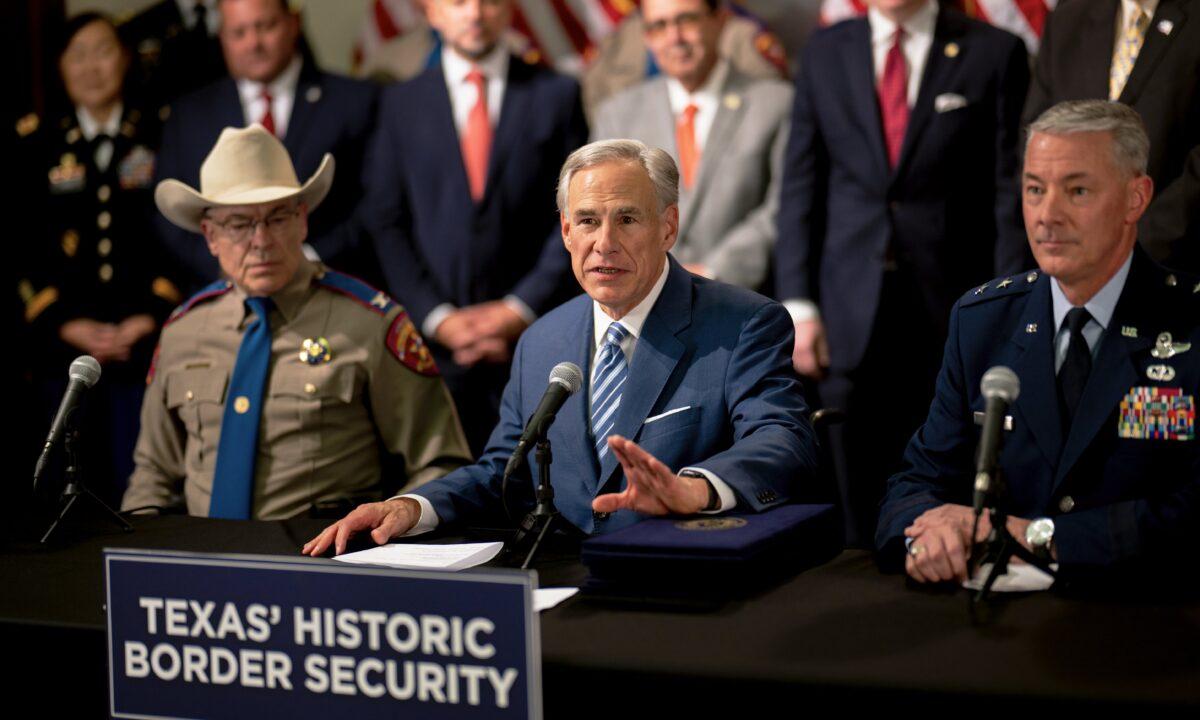 In 2021, Mr. Abbott promised to build a wall along its border with Mexico as part of a slew of border security initiatives, including a $1 billion allocation for border security in the state budget.
During a news conference on June 10, 2021, he said that the border wall—and other initiatives, including increasing arrests of illegal border crossers—would reduce the flow of illegal immigrants into Texas.
Mr. Abbott has since provided several updates on the border wall effort, including a Sept. 15 statement and a Sept. 12
post on X
, which featured a video showing the barrier being lifted into place by a crane in the Del Rio sector.
Letter to Biden
In Mr. Abbott's Sept. 20 post on X, in which he declared an "invasion" and promised to build more border wall, the governor shared a letter that he had sent to President Biden in November 2022, accusing him of inaction in the face of what was then already a border crisis in full swing.

"Your inaction has led to catastrophic consequences," Mr. Abbott wrote in the letter.

"Under your watch, America is suffering the highest volume of illegal immigration in the history of our country."

At the time that Mr. Abbott wrote the letter, data showed that more than 2 million people had tried to enter the United States illegally during the prior 12 months.

"Texans are paying a price for your failure," Mr. Abbott wrote, saying that ranches were being "ripped apart" and homes were made "vulnerable to intrusion."
Mr. Abbott said that the Biden administration was failing to uphold its end of a constitutional pledge to individual states to "protect each of them against Invasion."
Republicans—with Mr. Abbott among them—have blamed President Biden's messaging and policies for helping to fuel a border crisis of historic proportions.
"Before you took office, the United States enjoyed some of the lowest illegal-immigration figures it had seen in decades," Mr. Abbott wrote in his letter to the president.
"Your administration gutted the policies that yielded those low numbers," he wrote, and called on the president to reinstate policies that he eliminated or introduce new ones to secure the border.
Citing U.S. Customs and Border Protection (CBP) data, House Republicans
pointed out in a statement on Sept. 20
that there have been more than 5.8 million illegal crossings of the southern border since President Biden took office.
'Far Left Open Border Policies'
About 1.6 million illegal immigrants have evaded capture, according to the Republican lawmakers, citing Border Patrol sources.
In July, there were 183,503 illegal immigrants encountered at the U.S.–Mexico border, a 27 percent jump from June, according to the statement.
"July was the 29th straight month, where monthly illegal immigrant encounters have been higher than even the highest month seen under President Trump," reads the statement, in which they claim that the United States is straining under the burden of a "historic and unprecedented crisis" at its border.
"This should not come as a surprise to anyone given that it is Biden's Far Left open border policies that have caused this crisis, which has then turned every community into a border community," the Republicans wrote.
The White House didn't respond to a request for comment by press time.
Former President Donald Trump has also blamed the Biden administration for the explosion in illegal border crossings.
"Under my leadership, we had the most secure border in U.S. history so far. We replaced catch-and-release with detain-and-deport. One of my most successful policies was Title 42, which allowed for instant expulsion of any illegal alien who crossed our borders. Anybody. If they were bad, we got them out. We got them out fast," President Trump said in a May 4
video posted on Truth Social
.
The Title 42 public health order that was imposed under President Trump gave the government the power to automatically expel illegal immigrants.
"Those who trespass into our country could immediately be sent back to the place from which they came. Every would-be illegal border crosser knew that with Donald Trump in the White House, our border was closed. It was absolutely closed. They had no chance of getting in," President Trump said.
"And therefore, they didn't come."
But now they're coming—and in droves—prompting the border town of Eagle Pass, Texas, to declare a disaster.
Emergency Declared in Eagle Pass
Rolando Salinas Jr., the mayor of Eagle Pass, has issued an emergency declaration because of what he described as a "severe" surge in illegal immigration.

Mr. Salinas signed the order on Sept. 19, officially declaring a

state of disaster

for the city of Eagle Pass that will last for at least seven days and may be renewed if the crisis persists.

Eagle Pass's roughly 30,000 residents have been overwhelmed by an influx of thousands of illegal immigrants in recent days, which comes amid a broader surge of people seeking to cross the U.S.–Mexico border without authorization.
At a Sept. 19 news conference, Mr. Salinas estimated that on Sept. 17 and into early Sept. 18, about 2,500 people crossed into Eagle Pass illegally, though he cautioned that this wasn't an "official, exact number."
According to Maverick County Sheriff Tom Schmerber, another 2,700 migrants crossed at Eagle Pass on Sept. 19, and 3,000 more crossed on Sept. 20.
The Texas Department of Public Safety was asked to provide the latest estimates of border crossings into Eagle Pass but didn't respond by press time.
"The City of Eagle Pass is committed to the safety and well-being of our local citizens," Mr. Salinas said in the emergency declaration, which allows the city to seek federal and state resources to help alleviate some of the pressure.
"The emergency declaration grants us the ability to request financial resources to provide the additional services caused by the influx of the undocumented immigrants."
Because the only shelter in Eagle Pass has been unable to accommodate all of the asylum seekers, large numbers of illegal immigrants were seen out in the streets on Sept. 20, Texas Public Radio
reported
.
The CBP issued a statement saying that it was temporarily halting vehicle processing operations at a bridge and railway crossing at Eagle Pass and redirecting those resources to help apprehend people who are crossing the border illegally.
"In response to this influx in encounters, we will continue to surge all available resources to expeditiously and safely process migrants," the agency
statement reads
.
"We will maximize consequences against those without a legal basis to remain in the United States. CBP will continue to prioritize our border security mission as necessary in response to this evolving situation."
The Department of Defense is ramping up resources at the U.S.–Mexico border amid a surge in illegal border crossings.
Department of Homeland Security (DHS) officials told reporters in a call on the night of Sept. 20 that about 800 new active-duty personnel were being sent to the border.
A DHS official said during the call that there were more than 8,000 apprehensions along the southern border on Sept. 18.
The official gave no explanation for what has been causing the latest surge.