Former Overstock CEO Patrick Byrne, a key figure in a December 2020 White House meeting seeking to encourage then President Donald Trump to investigate allegations of election fraud, has filed a motion in the Department of Justice's investigation of Trump, calling for the release of the key document justifying the FBI raid on Mar-a-Lago.
Agents on Aug. 8 seized more than two dozen boxes of records from Trump's Florida resort, which contained 11 sets of documents with classified markings, according to an FBI property receipt
made public
on Aug. 12.
Trump has
said
that he had declassified all the confiscated records before leaving office and demanded the immediate release of unredacted affidavit behind the FBI warrant.
Byrne, who
recently testified
before the House Jan. 6 Committee, argued in his Aug. 18 motion that Trump had such powers to declassify as president, citing a meeting in the Oval Office in December 2020 where he said the former president twice exercised the same presidential authority.
The affidavit should be unsealed along with other records shedding light on the raid to promote transparency and accountability in government, Byrne argued in the court filing.
"Trump's position was that … if this was not just some police state raid but there was a good reason for this raid, then, let's see it," Byrne told The Epoch Times.
"If Trump was telling the truth" and he in fact declassified all the documents, and the FBI submitted an affidavit accusing Trump of mishandling classified documents, "that means they were lying to the court," he said.
"Trump was only mishandling classified documents if those documents were in fact, classified, but if he declassified then he was not mishandling classified documents."
Byrne during the
closed door meeting
at the White House on Dec. 18, 2020, urged the former president to launch a probe into the election fraud allegations.
Frustrated with the suggestion of having former Trump attorney Sidney Powell appointed special counsel to spearhead a limited investigation into alleged fraud, then White House Counsel Pat Cipollone allegedly told Trump: "Hey if you want to do this you don't need my permission. You don't even need a pen or a piece of paper. You can just say, 'I hire Sidney Powell as White House Special Counsel,' and it's done," Byrne wrote in the filing.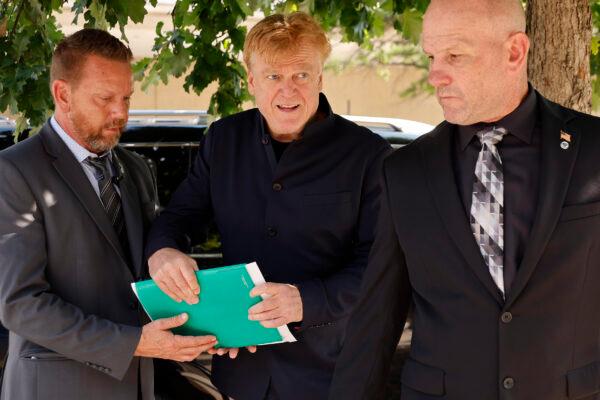 Later, responding to questions about Powell's lack of a security clearance, General Michael Flynn, Trump's former national security adviser who was present at the meeting, allegedly told Trump that he could " do the same thing with a clearance."
"You can grant any clearance you want, on the spot, verbally," according to a sworn affidavit by Byrne filed with the court.
According to him, Trump acted on the suggestions, verbally appointing Powell a White House special counsel and granting her top secret security clearance. He says after that the White House attorneys angrily left the room but didn't dispute Trump's actions.
Trump ultimately rescinded the decision upon the persuasion of his then-personal lawyer Rudy Giuliani, according to Byrne.
"He doesn't have to sign anything, if he gives an order, that makes it legally effective," Byrne told the court, describing it as "the Trump White House standard operating procedure."
Backing Trump's Claims
Mike Davis, a former clerk for Supreme Court Justice Neil Gorsuch, has also 
backed
Trump's claims.
Trump "has the constitutional authority to declassify anything he wants," he told NTD, a sister media of The Epoch Times, in a recent interview. "And so, when he sent boxes out of the White House, he declassified them."
Davis said the Justice Department should have released the affidavit but would likely try to "hide it as much as they can."
A federal judge on Friday
signaled a willingness
to release a redacted version of the affidavit despite opposition from the government lawyers, who argued that doing so could undermine ongoing investigations and imperil the safety of witnesses involved.
Byrne saw the judge's move as a "judicious decision."
"The FBI should not have to reveal whoever was their sources, they should protect their sources," he said. "But beyond that, they shouldn't be able to keep this affidavit a secret.
"I think the country needs to know what the FBI is saying that caused the attorney general to sign off on this extraordinary application. Unprecedented."
Because of the raid and activities of the kind, the FBI has become "so delegitimized now in the eyes of so much of the public," Byrne said. "It's creating a terrible fear and oppression in the minds of the American public."
"I talked to a lot of non-Republicans and they're all starting to sound like Republicans. They see this as police state tactics."
FBI Director Christopher Wray has come out in defense of his agency,
saying
agents have received "deplorable and dangerous" online threats in the wake of the raid.
"I like Christopher Wray," said Byrne. "But I think he's got a very narrow window to save his organization. And I hope he does."