The death of 50 illegal immigrants being smuggled in the back of a tractor-trailer in San Antonio on June 27 brought up tragic memories for Tom Homan, the former head of Immigration and Customs Enforcement (ICE).
Homan had seen it before—in Victoria, Texas, in 2003. A
tractor-trailer
with as many as 80 illegal immigrants crammed inside with no water and no way to escape. It was a refrigerated truck in which the smugglers had turned off the refrigeration—the same as in San Antonio. Nineteen people died in the 2003 incident.
"I know in my case, he didn't use [refrigeration] because he didn't want to draw attention to himself, because ... if he ever got stopped, he claims it's empty, there's no reason to check," Homan told The Epoch Times.
He said it was 170 degrees inside the truck.
"It's a steel box in a Texas summer," Homan said.
The temperature in San Antonio had topped 100 degrees on June 27 when a nearby worker heard a cry for help coming from an abandoned truck and went to investigate, according to William McManus, San Antonio police chief. The person opened the doors and found "a number of deceased individuals inside," McManus told media.
Forty-six people were already dead inside the truck and a further 16 were transported to the hospital, including "four pediatric" cases, said Charles Hood, San Antonio fire chief.
"The patients that we saw were hot to the touch. They were suffering from heat stroke, heat exhaustion," Hood told media on June 27.
"We're not supposed to open up a truck and see stacks of bodies in there. None of us come to work imagining that."
As of June 28, 50 people had died,
according
to Texas Gov. Greg Abbott.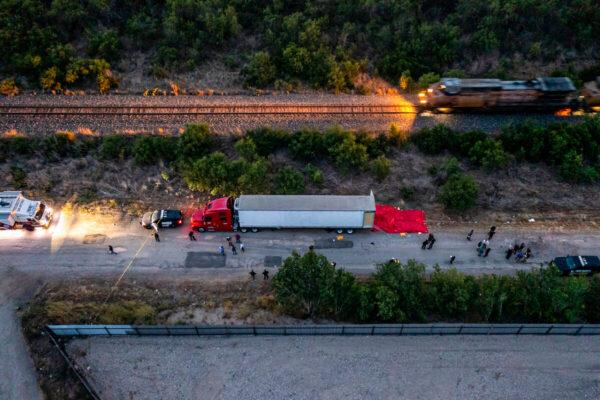 McManus said three people were in custody and the investigation had been turned over to Homeland Security Investigations, the investigative arm of ICE.
ICE didn't respond by press time to a request for more information about the illegal aliens, in whose name the truck was registered, where it was going, or what the smugglers were being paid.
Homan said that in the 2003 Victoria case, all the victims had stripped to their underwear, trying to get some relief from the heat.
"The crime scene was kept secure until I got there. I actually walked into the back of that tractor trailer—I was surrounded by 19 dead aliens laying around me, that suffocated in the back of the tractor-trailer," Homan
said
in a previous speech. "One, a 5-year-old boy. That haunts me to this day."
He said those who survived in that case recounted to him the last thing the 5-year-old boy said to his father: "Daddy, Daddy, I'm dying."
"It just breaks your heart. That little boy didn't deserve to die that way. No one deserves to die that way. So that's why I get so emotional about this issue, because I've seen so much death. This is the worst," he said.
Bigger Payload
Homan said smuggling via tractor-trailer is on the rise in Texas and Arizona as the volume of illegal immigration continues to break records.

"There's so much trucking in South Texas and south Arizona," he said. "Trucks are all over the highways, these big tractor-trailers, they think they can blend in. So tractor-trailer smuggling is on the rise, which is going to result in more tragedies like this.

"I guarantee this: This alien smuggling organization that moved these people, they're not missing a beat. I guarantee you, they're already setting up the next truck. These people don't care. It's all about the money."

Homan said he's been told that there were at least 80 people crammed into the San Antonio truck.

"The smugglers make a lot more money if they can move in large groups—the payday is bigger," he said. Law enforcement officers in Texas have told The Epoch Times that drivers are paid anywhere from $500 to $2,000 per person to smuggle illegal aliens to San Antonio from the border in a car.

Homan said the truck was most likely headed to a stash house in San Antonio or Dallas, where the illegal immigrants are kept until they pay the smuggling fee. The fee often increases once the illegal aliens are held in the stash house and are able to call their families for extra money.

"Very vulnerable people take the risk and pay criminal cartels who don't give one cent about these people," Homan said.

"These [people] are a commodity; they are like a product they get from point A to point B. They don't care about their lives. And last night is another example."
The illegal immigrants who are smuggled by vehicle are "gotaways" who have evaded Border Patrol, often because they don't have a legitimate asylum claim, or because they are convicted criminals.
Border Patrol counts the illegal aliens they detect at the border but don't catch as "gotaways." So far this fiscal year, about 800,000 known gotaways have been recorded, according to Homan and several Customs and Border Protection sources.
On top of the 800,000 gotaways, Border Patrol has apprehended more than 1.5 million illegal immigrants in the same time period.
"When that many people come across the border, it's just a matter of math. You increase those that come across the border, you increase those that put themselves into the hands of the criminal cartels. You are certainly going to increase the deaths at the border," Homan said, adding that authorities have recorded 700 illegal immigrant deaths since President Joe Biden took office, most often by drowning while crossing the river or being abandoned in the desert.
"More migrants have died during Joe Biden's leadership than anytime I can remember in my 35-year career," Homan said, saying the president has blood on his hands.
"You increase illegal immigration, you increase the reliance on criminal cartels, it's going to result in more migrant deaths."