A bill that would cap the cost of insulin at $35 per month in the United States was spotlighted by Sen. Alex Padilla (D-Calif.) and the American Diabetes Association during a virtual press conference on April 21.
Diabetes—a metabolic disorder that leads to high blood sugar—affects 37.3 million Americans, according to the Centers for Disease Control and Prevention. Many with diabetes depend on insulin therapy to regulate their blood sugar, with some people using insulin in the form of a shot, pen, or pump up to four times daily.
The Affordable Insulin Now Act, or House Resolution 6833, introduced Feb. 25, would require both Medicare and private health providers to cover the monthly cost of insulin and cap the patient co-pay at $35 per month.
Currently, the average cost of insulin in the United States is $450 per month, with Americans spending a collective total of $39.5 billion on insulin every year, according to Padilla.
A recent study (
pdf
) by the American Diabetes Association found that one in four diabetics ration their insulin, due to high monthly costs.
Padilla said he and his fellow lawmakers are working to bring down the cost of other medical drugs people rely upon, alongside insulin, especially during times when inflation causes gas and grocery prices to skyrocket.
"We're working to bring down the cost of insulin and other prescription drugs and other medical care to help put money back in the pocket of working families," Padilla said at a virtual press conference on April 21.
"And families are already feeling the impact of higher prices in other areas, including the gas station and the grocery store. At the same time, corporations and a number of sectors are taking home record profits. So now is the time for Congress to act to put a stop to outrageous prices for insulin that millions of patients depend on to survive."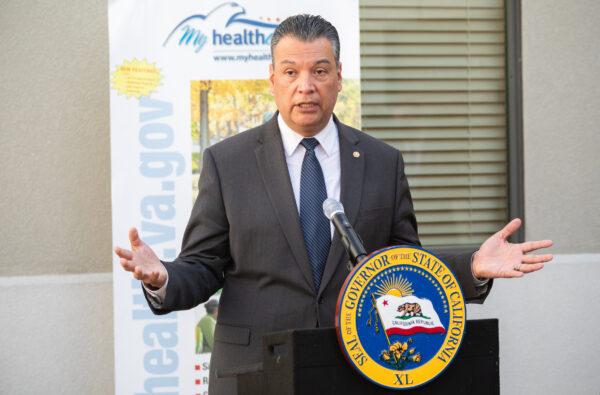 Panelist Michele Lew, CEO of nonprofit health organization Health Trust, said 3.2 million Californians are diagnosed with diabetes, but many more are pre-diabetic—meaning they have high blood sugar and are at risk of developing diabetes.
"Here in Santa Clara County, 10 percent of the population is diagnosed with diabetes—but one in two county residents have pre-diabetes," Lew said.
According to Lew, many communities in California see higher rates of diabetes and pre-diabetes because diabetes is a genetic disorder that is seen in higher percentages among black, Latino, and Vietnamese adults.
"Access to affordable insulin means that individuals will be better able to regulate diabetes," Lew said. "They'll be able to fight illnesses better and prevent or delay long-term health consequences that accompany diabetes frequently, such as vision loss or even amputation. By capping insulin prices, people with diabetes will not only live longer lives, but live fuller and healthier lives."
Dr. Francisco Prieto, chair of the Diabetes Association's National Advocacy Committee, called the Sacramento Valley area "California's diabetes belt."
"I've practiced family medicine in the valley for over 35 years, and because of the genetic predisposition to diabetes that so many of our people have, this has been California's own version of the diabetes belt and it has been ground zero for the diabetes epidemic," Prieto said.
Prieto also said that for the last decade, his patients talk more about the high cost of insulin than their symptoms or how they're doing medically.
"We support this legislation because it puts patients first, which is in health care what we should always be doing," Prieto said. "... this plan is a good thoughtful approach that targets multiple drivers of the cost of insulin. It holds both drug manufacturers and insurance companies accountable for higher costs."
However, those who oppose the Affordable Insulin Act Now say that the bill does not hold pharmaceutical companies accountable by limiting the cost of insulin, and that the bill only benefits the insured.
Some say that pharmaceutical and insurance companies will simply raise premium prices.
"The Affordable Insulin Now Act would, in the best-case scenario, shift costs from patients to insurance plans. That creates a situation in which insurance premiums rise proportionally," wrote Emily Pisacreta for insulin blog The Shot.
Pisacreta also points out that the bill's language may indicate that insurers will not cover all brands of insulin and that some may need to change their prescription in order for it to be covered.
"There are further limitations to what the $35 copay applies to. Your insurance plan still picks a preferred insulin brand for you to use, and the $35 cap only applies to copays on that particular insulin," she wrote.
Currently, about 20 states—including Colorado, Illinois, Maine, New Mexico, New York, Utah, Washington, and West Virginia—have co-pay caps ranging from $25 to $100 per month.
The bill passed the U.S. House March 31; it was received in the Senate April 4 and now awaits Senate approval.