Some Catholic Churches and pregnancy help centers in California are preparing for possible violent attacks in the wake of the Supreme Court's ruling to overturn Roe v. Wade—after being warned by the federal government about recent credible threats from a radical group.
The Diocese of Stockton sent an urgent memo on June 23 to warn its clergymen, parish, and pastoral staff that Jesse Rangel—an agent of the U.S. Department of Homeland Security—told them "a manifesto has been found by federal law enforcement officials, of an extremist group calling for a 'Night of Rage' beginning at 8pm" on the day of the ruling.
According to the memo, which was posted on Twitter, Rangel said that the unnamed group is "calling for extreme violence" against Catholic churches and pregnancy centers, and that large groups with nationwide cells have been found already "casing" parishes, including some in California.
The Archdiocese of San Francisco also received the same warning from the department and issued a similar internal notice on June 22.
The head of communications for the Diocese of Orange, Jarryd Gonzales, told The Epoch Times they didn't receive any direct threat, but they were warned by another diocese about this.
He said local parishes and centers are heightening safety and security awareness following the Supreme Court decision.
"Parishes are encouraged to strengthen their relationships with first responders and alert them to any possible disturbances and protests," he said. "We ask all local law enforcement to be ready to assist our parishes if needed."
Both the Stockton and San Francisco memos urged staff to develop a plan for handling protestors and suspicious activities, such as someone looking around, disturbing church property, or asking "out-of-place" questions—like "Largest Mass times?" "Doors always open?" or "Do you have security?"
The Catholic Church has been one of the most outspoken organizations against abortion. Some radical groups are also connecting Catholicism to the June 24 ruling—which leaves abortion policy to the states' discretion—by the Supreme Court, where Catholic justices form a majority.
Jane Wahl, director of the Pregnancy Resource Center in San Clemente, told The Epoch Times the center didn't receive any direct threats, but she said similar facilities should be prepared in light of recent attacks across the U.S. and threats made on social media.
The center—a licensed medical clinic that adheres to California privacy laws offering services and respecting their own decisions to get pregnancy care or abortion, according to Wahl—has done security training for its personnel and has been maintaining open communication with local law enforcement, she said.
Although the extremist group remains unnamed in the memo, two more publicized groups inciting protests online are "Jane's Revenge" and "Ruth Sent Us."
Jane's Revenge has been known to vandalize pregnancy clinics across the U.S. since the Supreme Court's draft decision was leaked in May.
A statement posted on the group's website declares "open season" on groups against abortion and pregnancy centers. Their motto is "If abortions aren't safe, neither are you!"
The second group, Ruth Sent Us, posted on Twitter the addresses and names of the six Supreme Court Justices that voted to overturn Roe v. Wade, asking for community protests to join at their residences at 7 p.m. on June 24, alongside a slogan that reads "No privacy? No Peace!"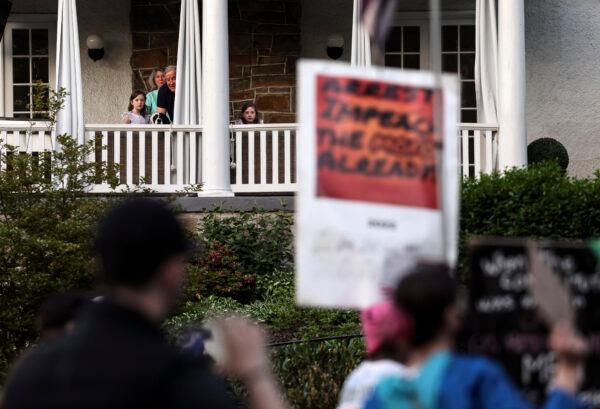 The Right to Life League—America's first pro-life organization founded in 1967—received several threats on June 24 alone and has been contacted by the FBI. According to Susan Swift, the nonprofit's vice president of legal affairs and a former pro-life attorney based in Los Angeles, the FBI is investigating all threats and possible attacks that will happen in response to the ruling.
As a mother of seven children and resident of Pasadena, Swift said she has been speaking out against abortion and threats faced by other like-minded people in California.
Despite the outrage and grief expressed by some pro-abortion activists, overturning the 1973 precedent does not completely end legal abortion across the country as the ruling leaves the matter to the states to enact their own abortion policies.