In a new update, police said they found at least 19 weapons in the 32nd-floor hotel room used by 64-year-old gunman Stephen Paddock.
Two unnamed sources familiar with the investigation told ABC News that there was a combination of both rifles and handguns in the suspect's room. One of those sources also said that there were a total of 19 weapons in the room.
Previously, Clark County Sheriff Joseph Lombardo said there were at least 10 rifles in the room, but he noted that the investigation was still ongoing.
Additional specifics about the weapons have not been revealed by police as of Monday afternoon, Oct. 2.
The Sunday shooting at the outdoor concert is the deadliest in modern U.S. history, with at least 58 people killed and more than 515 others injured.
Meanwhile, the Bureau of Alcohol, Tobacco, Firearms, and Explosives said in a statement that they are "conducting urgent traces on firearms recovered from the LasVegas shooting. We're committed to supporting LVMPD, Vegas law enforcement."
ATF is conducting urgent traces on firearms recovered from #LasVegas shooting. We're committed to supporting @LVMPD, Vegas law enforcement. pic.twitter.com/j8y8Z6n3qy

— ATF HQ (@ATFHQ) October 2, 2017
John Cohen, a former Department of Homeland Security undersecretary, told ABC News that recordings of the shooting suggest that the gunman was using an automatic weapon.
"Listening to the video, it sounds like the weapons were fully automatic," said Cohen, a former police officer, who is now an ABC News consultant.
Cohen explained that an automatic gun means that "you pull the trigger once and rounds are fired in rapid succession."
"[The bullets] were coming out very quick, and you heard a large number of shots very quickly. That would be very difficult to do with anything other than an automatic weapon," Cohen told ABC News.
He also added that is easy to convert legal, semi-automatic weapons into something else.
"It's not legal to purchase a fully automatic weapon, but it's not that difficult to convert legal semiautomatic weapons so that they are fully automatic," Cohen told ABC News.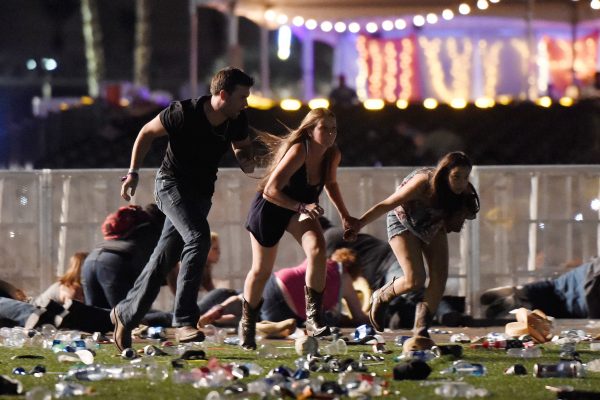 Recently, the first victim in the mass shooting was identified.
Sonny Melton from Big Sandy, Tennessee was among those killed when Paddock shot into the crowd.
Sonny died a hero—he was protecting his wife when the bullets hit him and others among the outdoor crowd of 22,000 people.
His wife, Heather Gulish Melton, told Fox affiliate WZTV she was in complete disbelief. According to the station, Sonny is the first victim identified in the Las Vegas shooting.
"At this point, I'm in complete disbelief and despair. I don't know what to say," Heather said in a statement to WZTV. "Sonny was the most kind-hearted, loving man I have ever met. He saved my life and lost his," she added.