President Donald Trump told reporters on Tuesday that additional peace deals are in the works with eight or nine countries.
Trump made the remarks shortly after signing historic peace deals between Israel and the United Arab Emirates and Bahrain.
"We have many other countries going to be joining us, and they're going to be joining us soon. We'll have I think seven or eight or nine. We're going to have a lot of other countries joining us, including the big ones. We already have the big one, but including the big ones," Trump said.
Forty-four countries, including thirty members of the United Nations, do not recognize Israel as a nation. Trump did not disclose which countries are in the peace deal pipeline, but mentioned that he has spoken to the king of Saudi Arabia.
"At the right time, I do think they will come in," Trump said. "This is a very big and very historic moment, and I think everyone agrees to that. But we'll have other countries coming in fairly rapidly."
The bilateral agreements with the United Arab Emirates and Bahrain formalize the normalization of Israel's relations with the two nations in line with their common opposition to Iran. The United Arab Emirates became only the third—after Egypt in 1979 and Jordan in 1994—to fully normalize relations with Israel. Sixteen of the 22 members of the Arab League, including Iraq and Saudi Arabia, do not recognize Israel.
Israel and the United Arab Emirates agreed to approve bilateral agreements on 15 areas of mutual interest, including finance, trade, aviation, energy, telecommunications, health, agriculture, and water.
"We're here this afternoon to change the course of history," Trump said from a balcony overlooking the South Lawn on Sept. 15. "After decades of division and conflict, we mark the dawn of a new Middle East."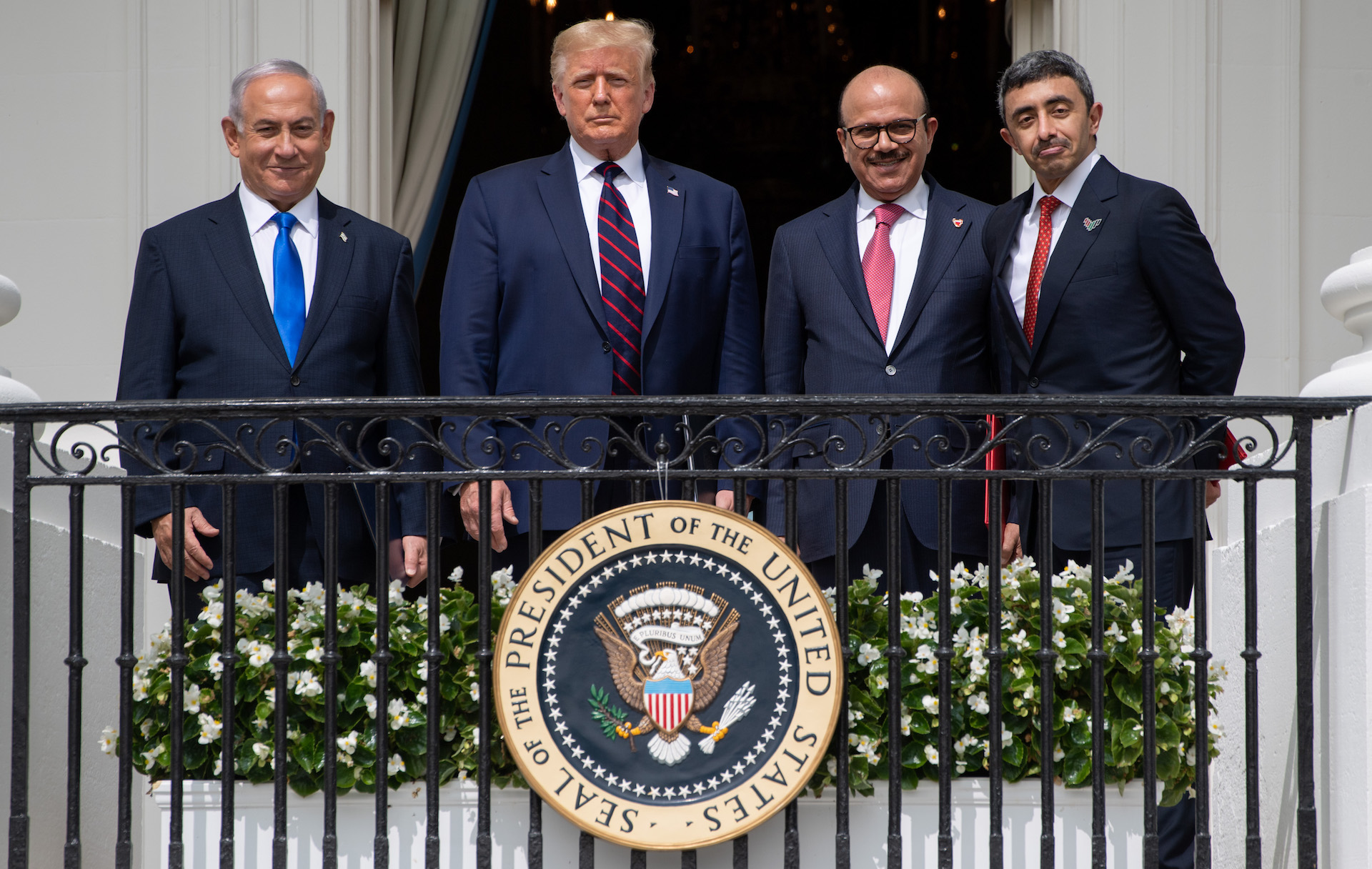 Other Arab countries believed to be close to recognizing Israel include Oman, Sudan, and Morocco.
"We are very down the road with about five different countries," Trump told reporters before the ceremony.
Republicans see the peace deal as a boost for the president ahead of the election. Democrats, including presidential nominee Joe Biden, widely support the deal.
A few House Democrats attended the signing of the peace deal, a notable development at a time when their leader, House Speaker Nancy Pelosi (D-Calif.), is barely on speaking terms with the president.
Rep. Elaine Luria (D-Va.), said she accepted the invitation immediately on receiving it over the weekend.
"It definitely was a monumental event, and the ceremony was very fitting for that," Luria, a member of the House Armed Services Committee, said in a telephone interview.
The Associated Press contributed to this report.