NEW YORK—If you've ever wanted to make sense out of some deep emotions pent up inside of you, or for whatever reason wished to redeem yourself in some way, or if you've simply wanted a little escape, perhaps the opera is in order.  
"The arts are very good at reaching you at an emotional level, on a very visceral level," tenor Theo Lebow said, taking some time to reflect at the end of this year's opera spring season at a café in Lincoln Center. "I don't think that there are many other professions that can do that."
He paused. "Sports do that, but it's on a different wavelength. You feel happy, sad, victorious, disappointed, frustrated, or elated depending on how your team does, but there's a greater range of feeling with the arts."
Up-and-coming tenor Lebow wishes more people, and especially more younger people, would go to the opera. After all, he is just 29 and in the throes of his budding opera career. He is looking forward to singing for many more large audiences to come.

He could tell you of a number of cases of feeling nostalgia, heroism, unrequited love, joy, ecstasy, anger, relief—a whole gamut of feelings and reactions—while listening to a piece of music.
"I just think that the arts are just great for the human condition, for making one feel in touch with one's own humanity," he said. "It would do wonders for people who desperately need to feel something other than—desperate—for example," he added, as he went on to describe how the opera can transport you to another state of being.
As an opera singer, his job is to convey the full range of emotions of the character he's playing on stage. Singing and acting, his whole body is his instrument. "The power of expression is one of the most freeing and one of the most enjoyable things that are available to us," he said. In order to do that you have to be vulnerable, which isn't necessarily easy.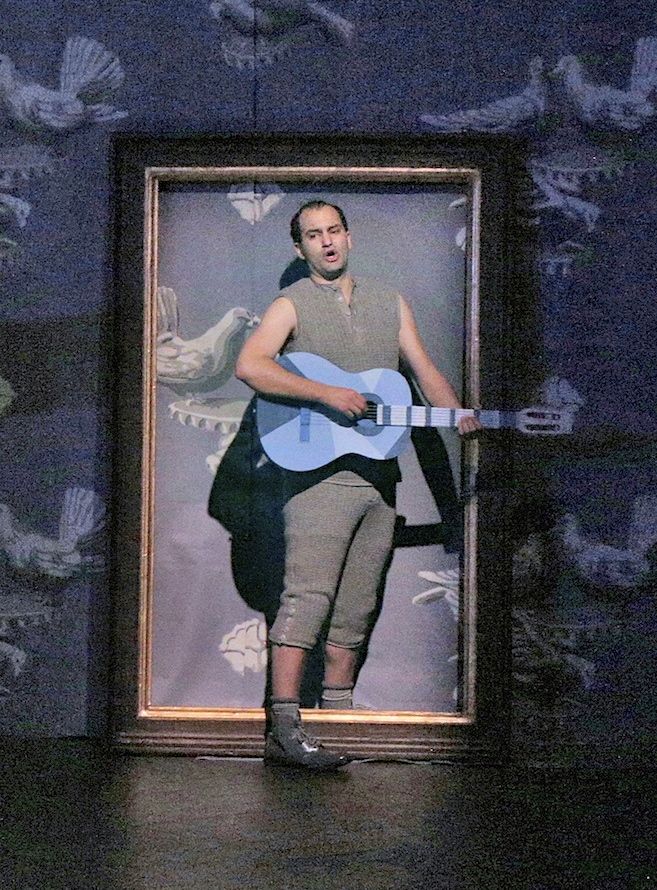 Lebow looked through the glass wall of the café at a group of millennials standing outside. "I bet they all know about Taylor Swift, or Britney Spears, or Justin Bieber, but I think that there is something missing there [in pop music] which classical music can do," he said.
He recently saw "The Barber of Seville" at The Metropolitan Opera. "It was one of the most enjoyable experiences that I've had. Just to see the pantry exploding on stage left is hilarious!" he said.
As he talks about his recent past, Lebow expresses himself openly. On stage it is even more apparent. When he sang the aria "Where'er you walk" from George Frideric Handel's "Semele" at a concert put on by the New York-based German Forum on March 12, he immediately connected with the audience. From the first tone onward, he gently drew forth the soothing tenderness of the piece. He looks very much at home on stage.
Singing With One of the Greats
Lebow started singing at a very young age in children's choruses in Los Angeles. When he was 11, he sang as a street urchin in the chorus of an LA Opera production of "Carmen," where he was on stage with the great tenor Plácido Domingo. That experience left an unforgettable impression on him. At the end of Act Four, the children's chorus was on stage for the bows.

"Plácido Domingo comes out to receive his bow and the response from the audience was almost like a physical assault! Everyone was on their feet screaming and cheering, and he was just there basking in it, and it was amazing! That just goes to show how many people revere him as an artist," Lebow said, his deep-set brown eyes gleaming.
The arts are just great for the human condition.
Forging a career in opera requires tremendous discipline and determination. Lebow has never had any doubts about his choice. He said, "I strongly feel that music is a calling for me," but then jokingly added, "When you are in diapers and the first pieces you're subjected to are "Romeo and Juliet" by Prokofiev, and Tchaikovsky's "Swan Lake," and Bach, I'm going to hazard a guess that there's a little bit of suggestive career advice there."
His father, Roger Lebow, is a cellist, and his mother was a librarian who studied oboe and piano. With a grandfather with the last name Schorr, Lebow said his family is convinced that he's related to the famous Wagnerian bass-baritone Friedrich Schorr. He hasn't seen any documents to verify it, but said, "It would be really cool if it is truly the case, because I really love his singing."
Freeing the Voice
The way opera singers train is similar to athletes, but instead of seeing intricate acrobatics, we hear a complex inner choreography, resulting, for instance, in one beautifully sustained tone. "Every single one of us opera singers is an athlete," Lebow said. Then he explained how he has to make sure that his diaphragm is always working, that the jaw and tongue are in the right position, that his body is resonating, all the while making sure to sing the next line correctly, to be in the right spot on the stage, and to be in character.  Some opera singers say that if they sweat it is a good indicator that they are singing well. 
"Most of the time I will feel like I've run a race," Lebow said about reaching the end of a performance.
Lebow is considered a lyric tenor, suitable for singing pieces composed by Mozart, Handel, Bach, or Mendelssohn, but it took a while for him to discover that. "There were some things technically that I wasn't quite reconciling; I was having trouble with my technique and was having confidence issues about it," he said. Then his teacher, Bonnie Hamilton, came along and helped him find his breath.
In one word, he said her patient teaching gave him "freedom." She taught him how to breathe, and she reorganized his voice, he said. "So that I know how to sing every pitch, on every vowel, and when I gave myself vocal freedom, the air followed."
The audience was electric.
A voice can be easily ruined if forced to sing repertoire outside of the range or timbre for that particular singer. Therefore, it was invaluable that Lebow's teacher helped him identify the kind of repertoire that is suitable for his voice at this time in his life.
The orchestral writing and the types of voices—the color and the heft that the composers had in mind for those pieces—have to be taken into consideration. Lebow hopes that some day he will eventually sing two of his favorite composers: Puccini and Strauss. He's trying to shoot for the repertoire that Fritz Wunderlich sang so well, which includes some Strauss. But for now, Lebow is trying to "stay even-        tempered with the voice," he said. That means "being in control at all times, not giving too much, or giving too little, just finding the balance," he said.
The first thing Lebow does is to let the music paint a picture for him.
An opera singer's training is a nonstop, continual journey of discovery for improvement, but once on stage Lebow said that his teacher advises him to just have fun. "That's important because if I try to give myself a voice lesson, I cut myself off from what I'm doing artistically … then everything starts to shut down, you are not communicating with yourself and [therefore] not communicating with the audience."
As an opera singer, Lebow is going to be working on his technique for the rest of his life anyway, so the stage is the place to give.
Interpretations
When studying a piece, the first thing Lebow does is to let the music paint a picture for him. He also listens to recordings of other singers and will impose some of their elements into his own singing, where he feels that is how that part is meant to be sung, but he said: "Ultimately it's coming from me, and that's the only way it can be. I can't be Fritz Wunderlich, I can't be Plácido Domingo, that's impossible. They are two totally different people, so all I can do is bring my own experience to the piece that I'm working on, and that's enough."
One might think that "Una furtiva lagrima" ("A Single Furtive Tear") by Gaetano Donizetti in the Italian opera "L'elisir d'amore" ("The Elixir of Love") is a sad song because it's in minor and sounds rather nostalgic in its longing and discovery. However, Lebow pointed out that he feels "ultimately it is a joyous moment," because it is when Nemorino, a rustic man, realizes that his dream lady, Adina, actually loves him. "But it's also more complex than that," he said.
One of Lebow's recent performances was at the New York Festival of Song on April 28 at the Merkin Concert Hall. He sang "Canciones de Lorca" about the famous Spanish poet's life, commissioned by Plácido Domingo. It was the most challenging singing Lebow has done because it has very long melismatic lines requiring extensive breath control. He interpreted it as a nostalgic piece. "I had to convey the longing and the sadness of that. I've felt those emotions at one time or another, so I know how to call upon [those emotions for the performance]," he said.
The Audience
Performers can sense when the audience is really involved or sleepy, and the best performers will give their best in whatever circumstance. But when audience members are really engaged, Lebow said it really helps the performers—creating a positive feedback loop.
When Lebow performed at the world premiere of "27," the opera by Ricky Ian Gordon, at the Loretto-Hilton Center in St. Louis, Missouri, on June 14, 2014, the energy in the opera house was electrifying, he recalled. "I almost had trouble reining myself in." It was the world premiere, he was singing with two of the greatest singers of his generation—Elizabeth Futral and Stephanie Blythe—and "the audience was electric because they really loved the opera, they were informed, and it was an enjoyable experience for them," he said, smiling from ear to ear.
Lebow wishes the opera would be advertised more and made more accessible to younger audiences so that they can appreciate its rich range of storytelling, action, euphoria, catharsis, and so on.
"Opera and the arts in general are all human experiences … I'm sure that if someone went to see a show, there are elements where one would realize 'that's my life' and it will hit you on a visceral level, and it's enjoyable! For God's sake it's enjoyable! Go see a show and let that make the decision for you," he invited.

This Is New York is a feature series that delves into the lives of inspiring individuals in New York City. See all our TINYs here: epochtim.es/TINY