NEW YORK—Teacher Rachel Maniscalco has been battling New York City's Department of Education and her own union over the mandatory COVID-19 vaccination since last year. That battle continues to be fought in court.
As reported by The Epoch Times in January, she and thousands of her colleagues who refused to receive the mandated vaccination were put on unpaid leave last fall and were told by the city's DOE that they'd be terminated on Dec. 1, 2021, if they didn't obey.
By the end of the year, Maniscalco had filed three lawsuits.
The first—a class action against the city's health and education departments and the NYC Mayor's Office that claimed the mandate is unconstitutional—was ruled in favor of the defendants in April.

Maniscalco and her attorneys kept filing appeals in the lower courts and the case was brought to the United States Supreme Court which declined to take it, ending it there.
Maniscalco's two other lawsuits are still pending.
The second one represents tenured teachers, who argue that because not getting the jab doesn't violate their contract, they should be put on paid leave.
Nicole Broecker is also named as a plaintiff and the defendants are the same, with the United Federation of Teachers added to the list. Broecker is in the process of relocating to South Carolina.
The 80 or so teachers involved in the second lawsuit have all been fired, with the exception of Maniscalco.
"The only reason I haven't been fired is because of my third, individual lawsuit," Maniscalco told The Epoch Times.
Maniscalco is the lone plaintiff in the third lawsuit, which has several of the same defendants. However, in this one, she's citing a breach of labor laws, rather than a violation of the United States Constitution.
"They sent me a termination letter on March 29th," she said. "They said, 'Effective April 7th, you will be terminated and you will lose your health benefits.'"
April 7 is Maniscalco's birthday, and she suspects this is no coincidence.
"These people, I don't put anything past them to really twist the knife," she said.
However, Maniscalco said not only did she not get terminated, but she did not lose her health benefits either.
Maniscalco was an English and special education teacher in Staten Island at both the middle school and high school levels.
She said that even if a child with special needs is enrolled in a private school or homeschooled, he or she is still entitled to services and there are agencies that will place special education teachers in such jobs.
"There have been multiple agencies that have wanted to hire me and they have put my information through the PETS system [Personnel Eligibility Tracking System] and I have not been cleared to work for them," she said.
She asked one agency, "Why am I being blackballed by the Department of Education?"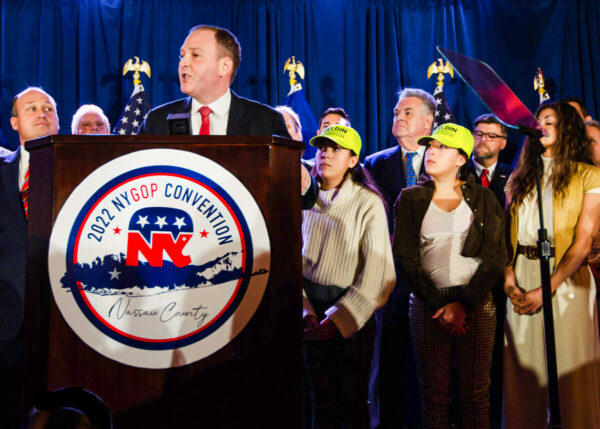 The answer is the department will not terminate her employment and health benefits until the third lawsuit is settled, which technically makes her a current DOE employee and as such she cannot work through agencies.
"They can't hire me because it's a conflict of interest," she said.
Additionally, someone at one of the agencies told Maniscalco that the department informed them that they cannot hire her for one year from the date of her termination.
"That's complete nonsense," said Maniscalco. "If they are going to fire me, they're not going to blackball me for a year."
The third lawsuit had actually come to an end with a ruling in favor of the respondents and Maniscalco chose not to appeal, because it would cost her an enormous amount of money.
Her lawyer Jimmy Wagner appealed nevertheless, paying for it himself, and filed a motion to reargue.
Health Benefits Stopped
Maniscalco and Wagner had an agreement with the City of New York that while the case was in progress, there'd be no adverse action taken against her.
However, in July—while the case had been in court for several months without any action from the judge—she received notice she was indeed terminated and health benefits have stopped.
First thing the next morning, Wagner emailed the city's attorneys to remind them of the agreement.
Within hours, they notified him of the judge's decision in their favor—which had been uploaded by the judge later that morning—and they had the court's blessing to fire Maniscalco.
"That's mindboggling. I inform them at 7:55 in the morning of what they're doing in terminating Rachel, by 11:21 they're telling me the judge has issued the decision. That's not a coincidence, man," Wagner said.
"They knew already," he said. "They already started Rachel's termination process prior to the judge issuing this denial. They knew. How did they know that?"
The crux of the third lawsuit is Maniscalco has not been charged with misconduct or anything that would bring about a 3020-A, disciplinary hearing, therefore if she's put on leave at all, it should be paid.
No Backing From Union
Congressman Lee Zeldin of Long Island is running for governor of New York on the Republican ticket and plans to return all terminated New York City employees to work with back pay if he's elected.
Maniscalco will believe it when it happens. She also feels Zeldin"is doing the politically correct thing" and "straddling the fence" by calling the vaccine "safe and effective" but stating it should be a choice.
She supported Andrew Giuliani's bid for the nomination because he spoke publicly about data that contradicts the vaccine's safety and effectiveness.
Maniscalco can't understand why the teachers' union doesn't have her back.
"In the course of my decade of service to the Department of Education, I could have slapped a child in the face and the union would have protected me and I would have been put on paid leave," she said.
The mandate isn't Maniscalco's only gripe with the department.
"It's the transgender stuff, it's the inappropriate, sexual stuff," she said. "There is nothing wholesome about that business."
Maniscalco feels if the COVID vaccine mandate sticks, then new ones will follow.
"I don't want them to ever be able to turn around and say, ′Oh, guess what, now we're going to mandate monkeypox, now we're going to mandate the flu shot,'" she said.
"Because once they've done this, they can do anything."