University of South Florida: Police Issue All Clear After Search for Gunman Near USF Health Area
September 20, 2013 2:31 pm Last Updated: July 18, 2015 5:18 pm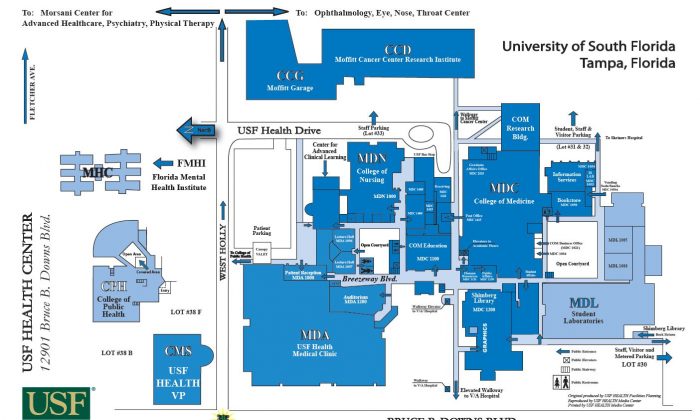 Police at the University of South Florida in Tampa evacuated buildings and searched room-to-room with guns drawn on Friday after a report of an armed intruder.
The College of Medicine (MDC) area and the College of Nursing (MDN) were both evacuated, along with other buildings in the area.
Police said the sweep was complete at 4:50 p.m. and said no armed subjects were found.
"Continue to remain vigilant and report any suspicious activity to police."
The university said in a 3:30 p.m. update that a suspect "was reportedly seen jumping a fence with what appeared to be a gun in the USF Health area."
The caller reported the subject dropped the gun, then picked it back up and continued running.
Police are describing the subject as a black male with short hair and a slender build, last seen wearing a dark blue shirt and khaki shorts.
Kevin Kip, a professor at the College of Nursing, told TBO that he and his colleagues received a text alert from the university telling them to stay inside the building. 
"We were told to lock ourselves in our offices," said Kip. They were later evacuated as police officers came in and searched room-to-room with guns drawn. 
The university said in text messages to students that local law enforcement confirmed that the armed suspect is wanted for crimes committed last night outside the campus.
More than 30 police units were on campus.
Follow @ETBreakingNews for breaking news from around the world.