University of California (UC) officials warned graduate departments they may need to cut back on admissions in the upcoming school year to cover the cost of its new labor contract with academic workers, according to union leaders.
Some 48,000 UC academic workers, represented by the union United Auto Workers, resolved their two-month strike when new contracts were ratified with UC in late December.
Just a month later, according to the union, university officials allegedly told department heads that they would be responsible for covering the cost of the pay increases—and they may need to reduce graduate admissions next year.
Faculty at UCLA's Luskin School of Public Affairs was told in a recent email from their department chair, circulated by the UCLA Faculty Association, that "there will be no assistance in paying these costs from levels of the university above the departmental level."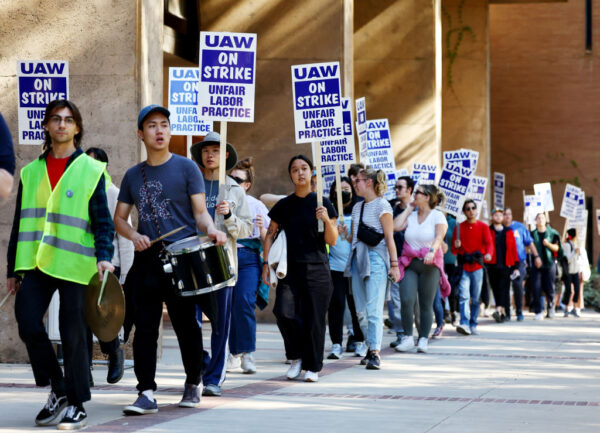 The email goes on to state that research centers will be responsible for covering the increased costs for graduate student researchers, and departments for new costs of teaching assistants.
Union leaders Rafael Jaime and Neal Sweeney said they had heard of possible cuts to the number admitted for advanced degree study and expressed concern in a Jan. 26 letter to UC President Michael Drake.
"We are alarmed to hear reports that academic departments at the University of California are planning to reduce graduate enrollment for the 2023-2024 school year by up to 33 percent," the letter stated.
Additionally, according to the letter, they had heard UC is also considering eliminating or increasing the number of students in discussion sections, and reducing the size of research groups.
"Reduced enrollment of graduate students is not only detrimental to undergraduate education, but it means fewer opportunities for graduate education, which is a pathway to high-income jobs for working class Californians," the letter stated.
The full fiscal impact of the labor agreements has not yet been reported by the UC. However, the agreements will raise the minimum pay for both academic student employees and graduate student workers from about $24,000 to $34,000.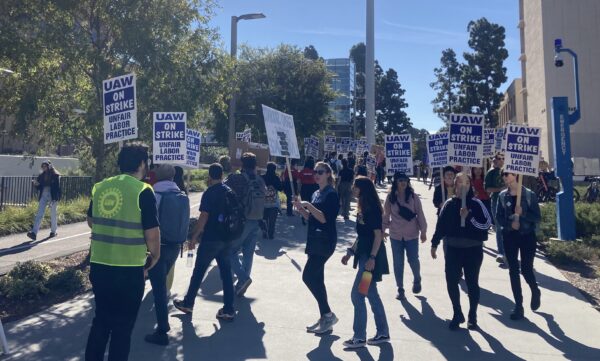 Meanwhile, the contract for postdoctoral scholars includes up to a 23 percent salary increase by October 2023, and that for academic researchers includes a pay raise of 4.5 percent in the first year, 3.5 percent for the second, third, and fourth years, and 4 percent in the fifth year.
According to its most recent headcount from 2021, UC had 28,610 teaching assistants and research assistants, 6,136 postdoctoral scholars, and 8,579 other academic workers.
Gov. Gavin Newsom recently pledged to give UC an annual five percent base budget increase for the next five years if the university agrees to improving graduation and enrollment rates. This amounts to a $216 million increase in UC's budget this year, as well as an extra $30 million as an incentive to boost enrollment among California residents.
Spokespersons for the UC President's Office, UC Board Regents, UCLA Faculty Association, several UCLA and UC Santa Barbara academic department leaders, and United Auto Workers President Rafael Jaime were not immediately available for comment by press time.