LOS ANGELES—An unusually wet and rainy season is testing the limits of California's water management system, with some reservoirs in Northern California reaching near capacity, increasing the risk of severe flooding.
"While we needed rain, we're getting too much to manage at this point," said Kelly Sanders, assistant professor of engineering at the University of Southern California (USC). "[It] has really shown some of our deficiencies in our infrastructure."
Northern California's Oroville Dam was forced to use its emergency spillway to release excess water for the first time this month. At 770 feet, it's the nation's tallest dam, and it holds California's second-largest reservoir, Lake Oroville.
The day after the emergency release, nearly 200,000 people were evacuated downstream as the spillway began to deteriorate. Evacuations have since been lifted, but fears remain that rushed repairs to the spillway may not weather future storms. And more rain is on the way, according to the National Weather Service.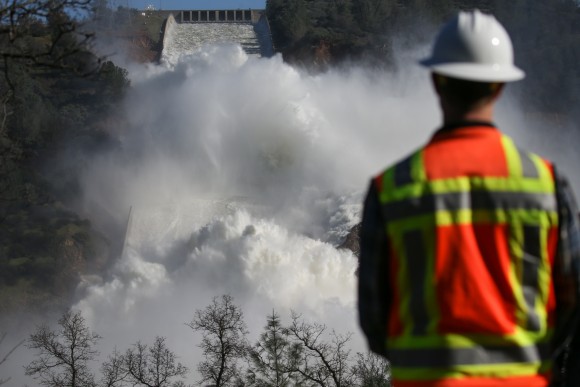 State government data shows that snowpack is on average at 186 percent of normal, with the Southern Sierras at more than 200 percent of normal, as of Feb. 21.
Downtown Los Angeles usually gets an average of 14.8 inches of rain per year. From Oct. 1 to Feb. 20, the area received 18.4 inches, according to a representative from the National Weather Service. By comparison, only 9.65 inches fell in the downtown area from July 1, 2015 to June 30, 2016.
One of the heaviest storms in recent years hit Los Angeles County on Feb. 17, causing power outages, street flooding, and mudslides, as well as a 30-foot-wide sinkhole in Studio City that swallowed two cars.
The storm caused at least five deaths due to drowning, electrocution, and weather-related car accidents. Strong winds reached speeds of up to 75 mph at the Port of Los Angeles and felled a large number of trees.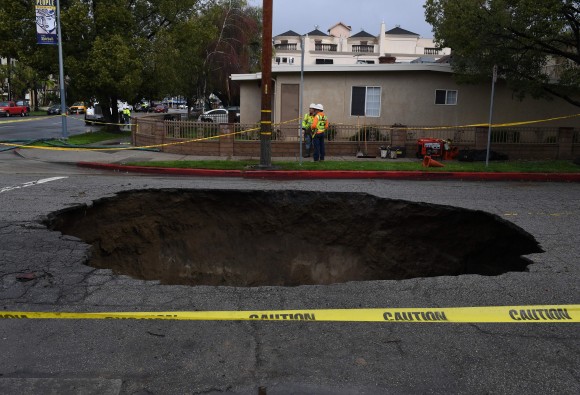 "It was a big storm for us. It had a lot of strength in it, a lot of moisture in it, and a lot of it fell in a short period of time," said Bonnie Bartling, a weather specialist with the National Weather Service.
Rudy Fuentes's house was one of 200 residences under mandatory evacuation orders on Feb. 17 in the city of Duarte, about 20 miles northeast of Los Angeles. Many residents, including the Fuentes, decided to stay at home and signed a waiver acknowledging the risks of staying.
"I went to work, and then couldn't get back in, so I spent the night at a motel," Fuentes said.
He has lived in this area for about four years with his wife and son, and this is the third storm this season that has caused a river of mud to flow along the street and sidewalk in front of his house, despite large barriers installed by the city. "We just heard this river flow coming down through the gutters," said Fuentes's son Austin.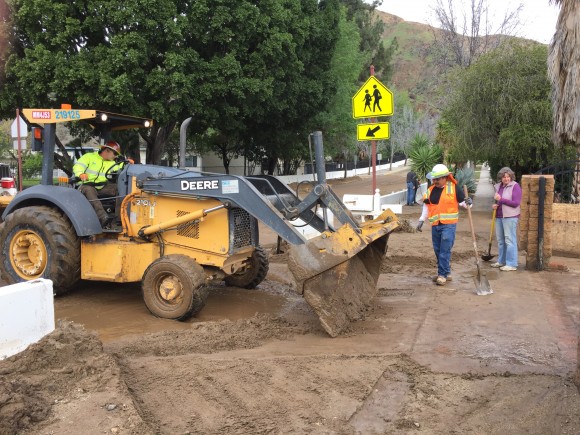 The recent rainstorms have helped push most of Northern California out of a severe, five-year drought, while the southern part of the state still needs more time, according to the United States Drought Monitor.
California's State Water Resources Control Board decided in early February to keep temporary water restrictions in place. USC's Sanders would like to see them become permanent, in order to avoid further water emergencies.
"California will continue to be in a state of chronic water scarcity," she said. "The population is still increasing, but our water supply will continue to decrease, especially in the months that we really need it."