Some tennis umpires are considering a boycott of matches involving Serena Williams amid the fallout from a U.S. Open final match in which she called umpire Carlos Ramos a "thief" and a "liar," according to The Times of London.
The tennis star's on-the-court outbursts during a Sept. 8 match with Naomi Osaka of Japan were challenged by chair umpire Ramos, and led to a game penalty and several fines for tennis rules violations.
Williams, in the final, was fined $10,000 for "verbal abuse" of Ramos, another $4,000 for being warned for coaching in the match, and $3,000 for breaking her tennis racket. It comes out of her $1.85 million prize money, according to The Associated Press.
She has claimed sexism was a factor in her penalization.
The Women's Tennis Association (WTA) and the U.S. Tennis Association (USTA) both sent out statements supporting Williams.
WTA CEO Steve Simon said in a statement "There should be no difference in the standards of tolerance provided to the emotions expressed by men versus women and is committed to working with the sport to ensure that all players are treated the same. We do not believe that this was done."
But an anonymous official told The Times that there was a growing consensus among some umpires that Ramos was "thrown to the wolves for simply doing his job and was not willing to be abused for it."
Umpires are reportedly discussing possible action in defense of their profession, with one suggestion allegedly being considered is to refuse to officiate matches involving Williams until she apologizes to Ramos.
The International Tennis Federation (ITF), issued a statement to support Ramos's handling of the final, saying that under the grand-slam rulebook, all three violations issued by Ramos were correct.
"Carlos Ramos is one of the most experienced and respected umpires in tennis," the statement read. "Mr Ramos's decisions were in accordance with the relevant rules and were reaffirmed by the US Open's decision to fine Ms. Williams for the three offenses.
"It is understandable that this high-profile and regrettable incident should provoke debate. At the same time, it is important to remember that Mr Ramos undertook his duties as an official according to the relevant rulebook and acted at all times with professionalism and integrity."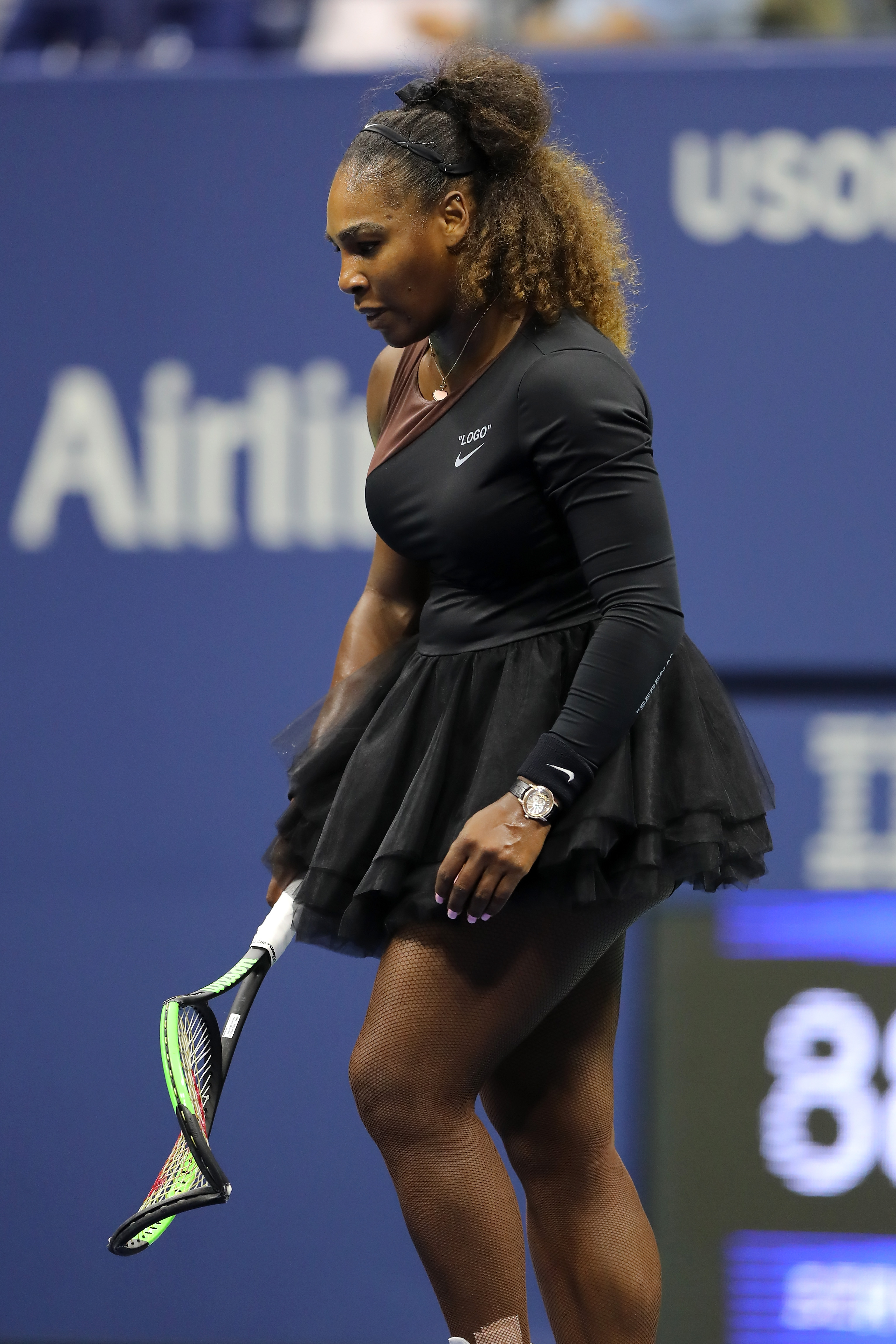 Three Violations
Williams was warned by Ramos for getting coaching, which is against the Grand Slam rule matches. She disputed the ruling, saying that cheating is "the one thing I've never done, ever." Her coach, after the match, admitted to AP that he indeed was trying to send her a signal.
She got another warning a few games later for smashing her racket. The second violation cost her a point, and it led to more arguing from her.
Williams called Ramos "a thief," which drew the third violation against her for verbal abuse, and it cost her the game. That put Osaka ahead 5-3, AP reported.
"I have never cheated in my life!" Williams said to Ramos. "You owe me an apology."
Under Article III, Section P of the Grand Slam Rule Book, verbal abuse is defined as "a statement about an official, opponent, sponsor, spectator, or other person that implies dishonesty or is derogatory, insulting, or otherwise abusive." The section says a player is subject to a fine up to $20,000 for each violation, AP noted.
"You will never, ever, ever be on another court of mine as long as you live," Williams shouted at Ramos, according to Fox News. "You are the liar. When are you going to give me my apology? You owe me an apology. Say it. Say you're sorry. … And you stole a point from me. You're a thief, too!"
Epoch Times reporter Jack Philipps contributed to this report.