British Prime Minister Boris Johnson has rejected the Scottish and Welsh governments' call for a further toughening of travel restrictions following the discovery of cases of the Omicron COVID-19 variant in the UK.
Five cases of the new variant have been detected in England, and six have been identified in Scotland.
The UK government has put in place new travel restrictions, requiring passengers coming into the UK to do a PCR test two days after arrival.
But Scottish First Minister Nicola Sturgeon and her Welsh counterpart, Mark Drakeford, wrote to the prime minister calling for people coming into the UK from overseas to be required to self-isolate for eight days and then do a second PCR test.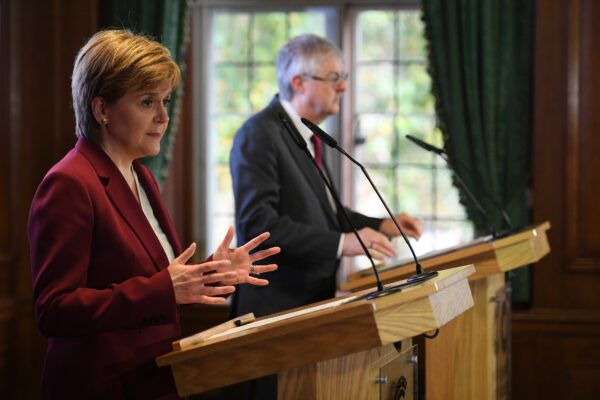 "Public health advice is unequivocal that this is the best and safest way to protect against the importation of this variant to the fullest extent possible," they said.
But Downing Street rejected the proposal, saying that it would harm the travel industry.
The prime minister's official spokesman said: "We believe that the approach we've taken is the proportionate one to the evidence that we currently have available about this variant. Introducing further isolation requirements and testing requirements would have a detrimental effect on the travel industry and indeed those who are planning to go travelling."
Downing Street also rejected calls from Sturgeon and Drakeford for an urgent meeting with all devolved administrations on the handling of the Omicron variant.
The Scottish and Welsh leaders said the UK emergency committee (COBRA) meeting with the Scottish, Welsh, and Northern Irish local governments is needed to discuss a joint approach to issues such as border restrictions.
But Johnson's official spokesman said: "We would confirm any plans for a COBRA meeting in the normal way. Currently, there isn't one scheduled. We obviously speak to our devolved administration counterparts very regularly and we will continue to coordinate our response with them."
The spokesman said that the government believes that it has adopted a "measured and proportionate approach" based on the available evidence.
"It appears likely but not certain this variant is more transmissible than previous variants, but we don't have any hard evidence and indeed no one has any hard evidence on its impact on things like hospitalisations and deaths and individuals that are vaccinated," he said.
PA contributed to this report.