VINNYTSIA, Ukraine, July 15—A Ukrainian city far from the frontline cleared its streets on Friday, a day after a Russian missile attack killed at least 23 people and wounded scores.
Ukraine said Thursday's strike on an office building in Vinnytsia, a city of 370,000 people about 200 km (125 miles) southwest of Kyiv, had been carried out with Kalibr cruise missiles launched from a Russian submarine in the Black Sea.
The attack was the latest in a series of Russian strikes in recent weeks using long-range missiles on buildings in cities far from the front.
The building housed an officers' club, which Russia's defense ministry said was being used for a meeting between military officials and foreign arms suppliers. It added: "The attack resulted in the elimination of the participants."
Ukraine claimed the club functioned as a cultural center. The building also housed shops, commercial offices, and a concert hall, where musicians were rehearsing for a pop concert planned for that night.
Authorities in the southern city of Mykolaiv, closer to the frontlines, reported fresh Russian strikes on Friday morning which wounded at least two people. They released video pictures of firefighters battling the blaze in the rubble.
Grain Progress
Despite the bloodshed, both sides have described important progress in recent days towards an agreement that would lift a blockade that has restricted the export of Ukrainian grain. Mediator Turkey has said a deal could be signed next week.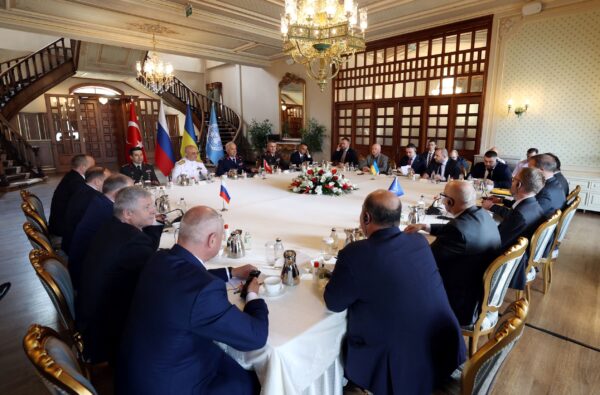 Russia's defense ministry said Moscow's proposals were "largely supported" by the negotiators and an agreement on the grain shipments was close.
A deal would probably involve inspections of vessels to ensure Ukraine was not bringing in arms, and guarantees from Western countries that Russia's own food exports are exempt from sanctions.
Moscow welcomed a written clarification issued by Washington on Thursday that banks, insurers, and shippers would not be targeted by sanctions for facilitating shipments of Russian grain and fertilizer.
The war dominated the agenda at a meeting of G20 finance ministers in Indonesia on Friday. The conflict involving two of the world's top grain exporters and one of its main oil and gas producers is causing global shortages of food and energy, inflation, financial crisis, and, potentially, hunger.
Russia sent a deputy finance minister to the meeting, with Finance Minister Anton Siluanov participating remotely. When G20 foreign ministers met last week, Russia's Sergei Lavrov walked out after facing what he called "frenzied criticism."
Russian-backed separatists in eastern Ukraine said a British man in their custody had died of health problems. The separatists, who captured Paul Urey, 45, in April, had accused him of being a mercenary. A British relief group, Presidium Network, described him as a humanitarian volunteer.
The stepped-up Russian attacks on cities far from the front come at a time when momentum appears to be shifting after weeks of Russian gains.
Since capturing the eastern industrial cities of Sievierodonetsk and Lysychansk, Russia has paused its advance. A Ukrainian general said on Thursday Kyiv had not lost "a single metre" of territory in a week.
Ukraine says it is preparing a counter-attack in coming weeks to recapture a swath of southern territory near the Black Sea coast.
By Sergiy Voloshyn and Valentyn Ogirenko