Like most major sporting events, snooker tournaments have only recently restarted following a break due to the COVID-19 hiatus.
The UK Women's Snooker Championship was played in Leeds, England on July 30-31, following a break for most tournaments of more than two years.
Hong Kong's Ng On-yee came onto the world snooker scene in 2009 reaching her first world championship win in 2015. She won again in 2017 and 2018 making her one of only 5 players to win the world championship 3 times since records began in 1976. The World No. 1 women's player is Reanne Evans of the UK who has won the World Championship 12 times since 2005.
Evans and Ng have dominated women's world snooker in recent years. Thai rookie Nutcharut Wongharuthai (also known as Mink Wongharuthai) broke through to win the World Championship in Sheffield, England in February 2022, with both Evans and Ng falling at the quarter-final stage.
In the UK Women's Snooker Championship held at Leeds on July 30-31, three-time world champion, Ng On-yee of Hong Kong was beaten by her closest rival, Reanne Evan of UK after Ng had led the best of 7 frames final 3 frames to 2, but she lost the last 2 frames leaving Evans as the winner. Evans won the tournament by 4 frames to 3 with the following frame scores (53-55, 62-45, 40-90, 62-18, 10-88, 87-20, 58-17).
Ng, known as Hong Kong's "Snooker Queen," was disappointed at finishing as runner-up after playing intensely for 2.5 hours.
She joined the tournament together with two other Hong Kong team representatives, Mini Chu and Ho Yee-kei. Ng On-yee advanced to the round of 16 after beating her three opponents in the round-robin group matches without losing a game.
She then continued to defeat England's Nat Howard, Hong Kong teammate Ho Yee-kei and the current world champion Mink Nutcharut, to reach the final.
In the final game, Ng On-yee once again faced her old opponent Reanne Evans. The competition was intense right from the start.
Although Ng On-yee took the lead three times and was leading 3:2 after 5 frames she failed to seize the opportunity to widen the score. After losing the next frame the score was then tied at  3:3.
Entering the seventh and the decisive frame, Evans continued her momentum and won 88:10. In the end, after 2 hours and 38 minutes of intense play, Ng On-yee had to settle for second place.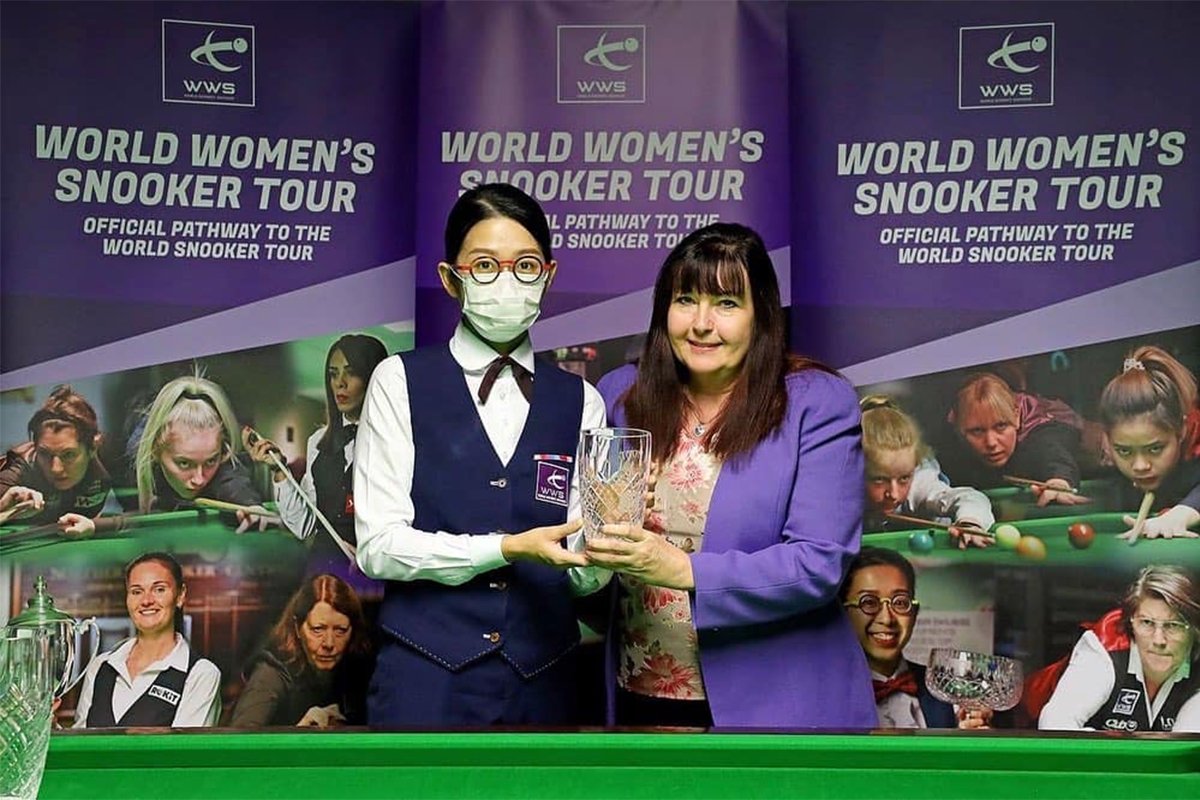 Ng On-yee later expressed through her social media channels after the game that, she was satisfied with being able to "Break" several times in the match.
Ng was also grateful to coach Wayne Griffiths, all her teammates, and her fans who travelled from Hong Kong to the UK to watch the game.
She will switch to a men's professional event next week and play in the British Open qualifiers. Hong Kong players Marco Fu Ka-chun and Lee Chun-wai will also participate.