UK Prime Minister Boris Johnson said there is evidence that the new, reportedly more contagious COVID-19 variant discovered late last year could be associated with a higher mortality rate.
"We've been informed today that in addition to spreading more quickly, it also now appears that there is some evidence that the new variant—the variant that was first discovered in London and the southeast [in England]—may be associated with a higher degree of mortality," he said in a news conference on Friday. The variant, he said, could be up to 30 percent more deadly than the original CCP virus, otherwise known as the novel coronavirus that causes COVID-19.
The new CCP virus strain, known as B.1.1.7, is believed to be more contagious and has been found in at least 10 U.S. states so far, according to Centers for Disease Control and Prevention (CDC) data. The variant of the virus was first found in the UK in September 2020 before scientists sounded the alarm about it being more infectious.
With the original COVID-19, about out of 1,000 people aged 60 or older, 10 would be expected to die. But with the new B.1.1.7 variant, 13 or 14 people aged 60 or older out of 1,000 would be expected to die, Johnson said.
However, Johnson and UK health officials stressed there are some uncertainties around those figures.
Evidence suggests that vaccines manufactured from Pfizer-BioNTech and AstraZeneca-Oxford University, which are being used in the UK, can be used against the new variant, according to the prime minister.
"It's largely the impact of this new variant that means the [National Health Service] is under such intense pressure," Johnson said Friday.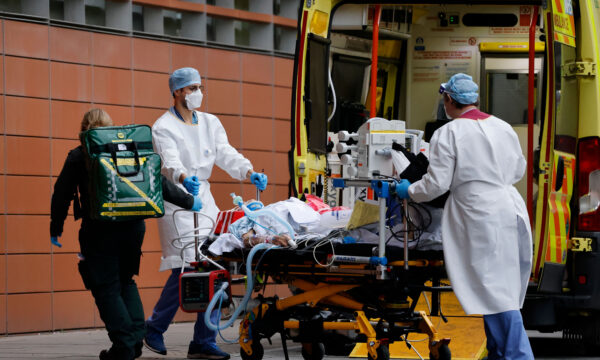 Patrick Vallance, the UK government's chief scientific advisor, said the data on the B.1.1.7 variant's mortality rate is "not yet strong."
He added: "I want to stress that there's a lot of uncertainty around these numbers and we need more work to get a precise handle on it, but it obviously is a concern that this has an increase in mortality as well as an increase in transmissibility."
Vallance remarked that the UK variant is transmitting between 30 percent and 70 percent more easily than the original CCP virus.
However, the variants that have emerged in Brazil and South Africa appear to be of more concern, he said.
"They have certain features which means they might be less susceptible to vaccines," Vallance noted in the news conference. "They are definitely of more concern than the one in the UK at the moment and we need to keep looking at it and studying this very carefully."
Separately, more and more Chinese cities are being placed under lockdown in a bid to keep the virus from spreading. On Jan. 20, several northeastern Jilin Province went under lockdown, as authorities in two villages in Heilongjiang Province culled all livestock—fearing that animals could also spread the virus.
A day later, the financial hub of Shanghai has seen a new outbreak of the virus. Lockdowns were initiated in some areas.
Nicole Hao contributed to this report.