The UK's foreign secretary on Wednesday voiced concern after three Hong Kong activists were jailed. Parliamentarians and human rights advocates also condemned Beijing and the Hong Kong government. Some called for sanctions.
Joshua Wong, 24, Agnes Chow, 23, and Ivan Lam, 26, were jailed on Wednesday for their roles in a rally at anti-government protests on June 21 last year.
Wong was sentenced to 13 and a half months in prison, Chow and Lam were sentenced for 10 and seven months respectively. All sentences took effect immediately.
Wong had pleaded guilty to organizing and inciting an "unlawful assembly" near the city police headquarters, Chow had pleaded guilty to incitement and participation in an unlawful protest, and Lam had pleaded guilty to incitement.
UK based NGO Hong Kong Watch said that the length of sentencing was unprecedented for unlawful assembly charges.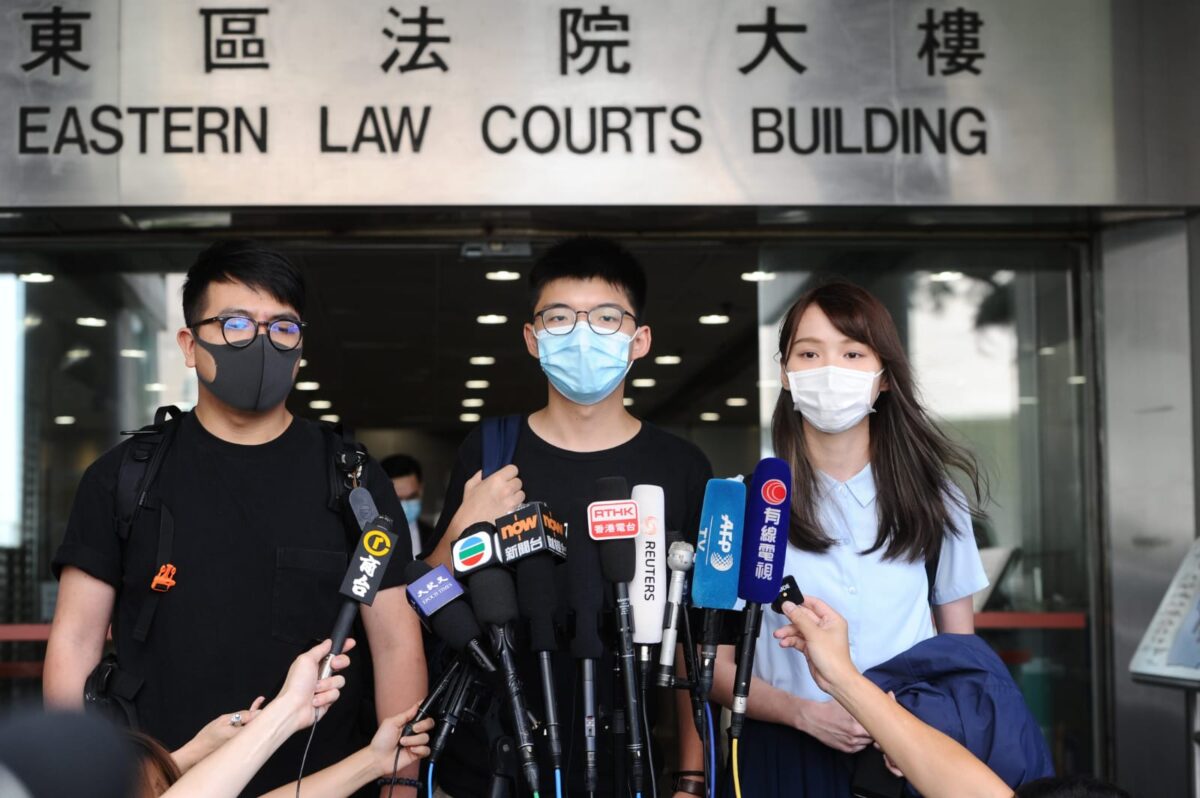 "As three Hong Kong activists begin prison sentences, I urge the Hong Kong and Beijing authorities to bring an end to their campaign to stifle opposition," Foreign Secretary Dominic Raab said in a statement.
"Prosecution decisions must be fair and impartial, and the rights and freedoms of people in Hong Kong must be upheld," he added.
Chris Patten, the last British governor of Hong Kong, said that the imprisonment of the "campaigners for the rule of law and democracy in Hong Kong" is "another grim example of China's determination to put Hong Kong in handcuffs."
Patten called for support for the people of Hong Kong.
"I hope the rest of the world will follow the example of the 155 Parliamentarians from 18 countries who yesterday issued an open letter to Carrie Lam, and unite to show solidarity with Hong Kong's people," he said in a statement.
"The right of the people of Hong Kong to engage in peaceful protest is enshrined in the Basic Law. The Chinese government committed to upholding these rights in the Joint Declaration. The detention of pro-democracy activists for exercising this right must be universally condemned," Labour's Shadow Foreign Secretary Lisa Nandy wrote on Twitter.
Layla Moran, Liberal Democrat foreign policy spokesperson called for coordinated international sanctions.
"We stand in solidarity with Nathan Law and other activists in exile, and call for the immediate release of Joshua Wong, Agnes Chow, and Ivan Lam. The imprisonment of these courageous young democrats is a total miscarriage of justice. The time has come for coordinated international sanctions."
Lord Alton of Liverpool, a patron of Hong Kong Watch, said that he had met Wong several times and had long admired the courage of Lam and Chow.
"These three outstandingly brave young activists deserve to be honoured, supported, and applauded, not imprisoned," Alton said.
"Their totally unjust sentencing today is an example of the outrageous authoritarianism which the Chinese Communist Party regime has imposed on Hong Kong and it requires a robust response from the international community," he added.
Alton said it was time for sanctions.
"The time has come for more than words—it is time for targeted sanctions against the regime in Beijing and its proxies in the Hong Kong government who have destroyed Hong Kong's liberties and autonomy and trampled on promises made in an international treaty."
Benedict Rogers, founder of Hong Kong Watch called the sentencing "an outrage and a grave injustice."
Rogers said that it was Wong's previous imprisonment three years ago that inspired him to establish the human rights watchdog.
"The Chinese Communist Party regime can imprison these three courageous young people physically, but they can never imprison their hearts and minds, or their ideas, vision, and values," he said.
"It is now up to those of us who enjoy freedom to use our liberties to continue the fight, both for the release of Joshua, Agnes, and Ivan and all political prisoners in Hong Kong, and for the freedom of Hong Kong itself," Rogers said.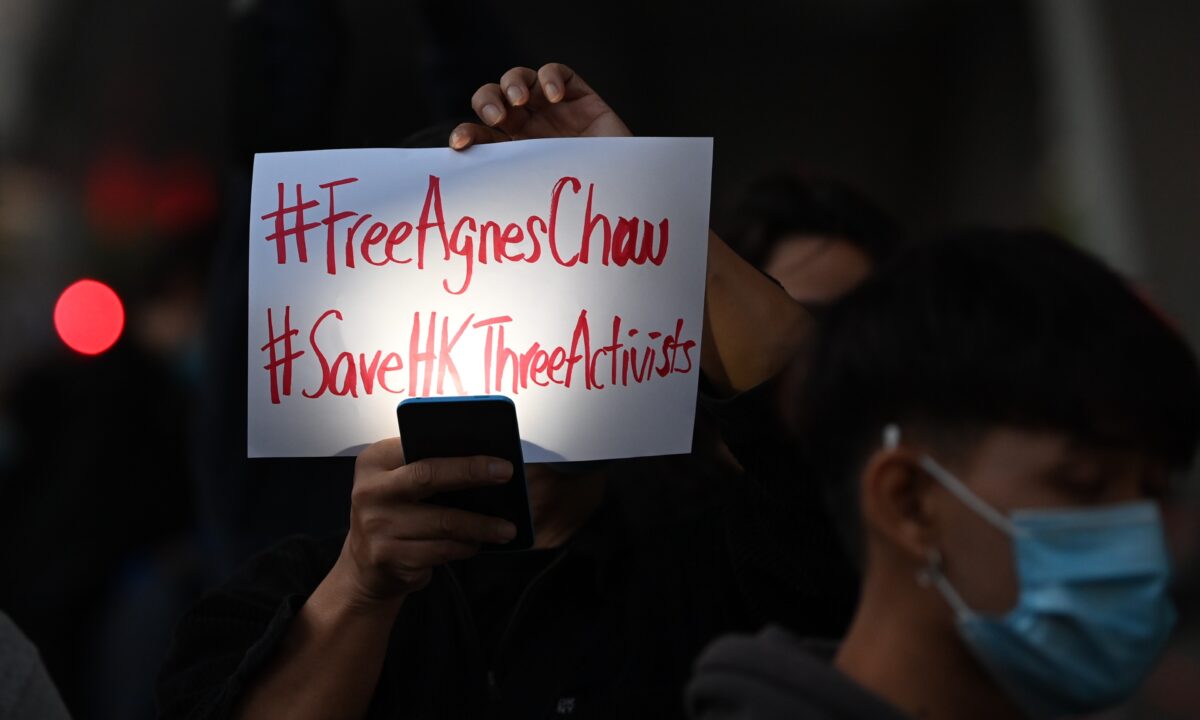 Ahead of the sentence, about 100 supporters had gathered quietly inside the court while a small group of pro-Beijing people rallied outside, calling for a hefty prison sentence.
"I know the coming days will be tougher, we will hang in there," Wong shouted after the sentence was read out. "Never regret!" shouted Lam. People at the public gallery responded with "Hang on! We'll wait for you to come out."
Chow, about to turn 24 on Thursday, burst into tears after learning she would spend her birthday in jail. The court denied her lawyer's application for bail while appealing the sentence, Apple Daily reported.
Chow, who had been in detention since Nov. 23, told her visitor on Sunday that she was worried because she would most likely get a prison sentence, according to her Facebook page. She asked people to keep supporting the "yellow shops,"—a synonym for  "pro-democracy shops,"  and to stay safe.
Reuters contributed to this report.