Britain has condemned the Hong Kong authorities' sentencing of nine prominent pro-democracy activists on Friday for taking part in peaceful protests.
Hong Kong media tycoon Jimmy Lai was sentenced to 14 months in prison, while nine other activists received jail time or suspended sentences for organising and participating in unauthorized assemblies during mass anti-Beijing, pro-democracy protests in 2019.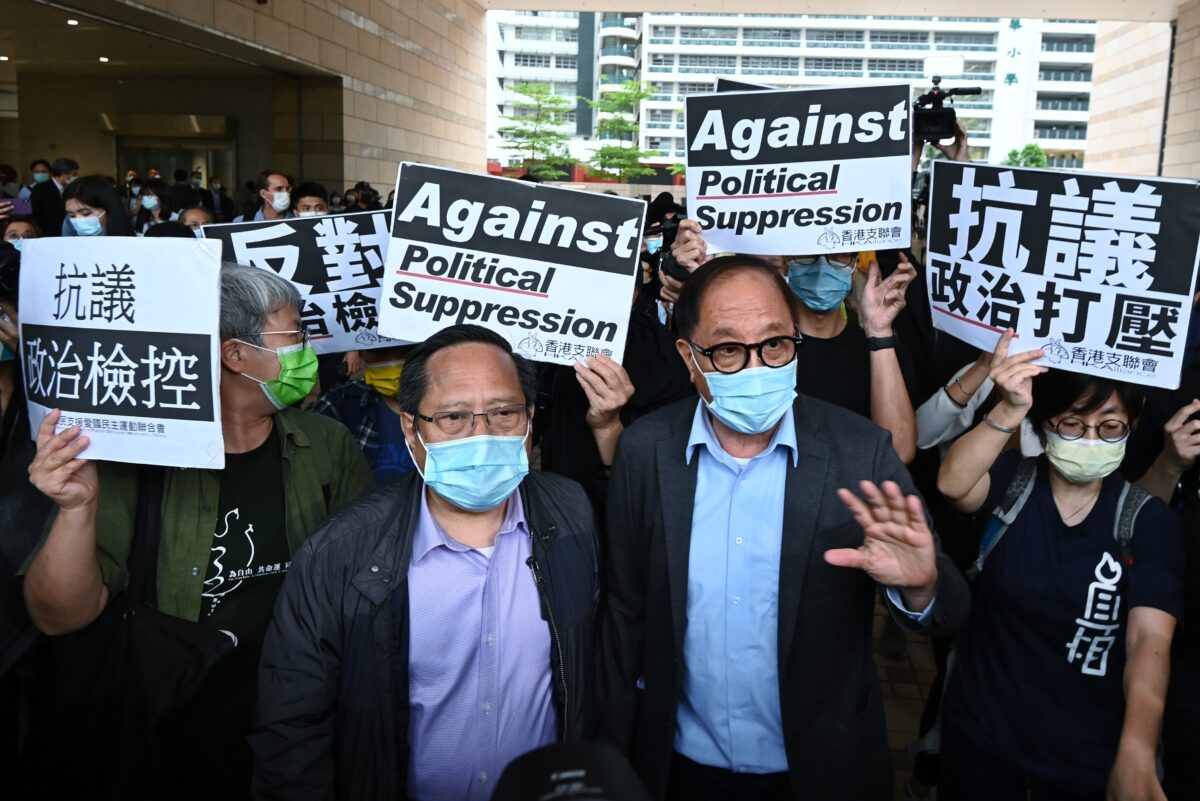 "The Hong Kong authorities' decision to target leading pro-democracy figures for prosecution is unacceptable and must stop," said a spokesperson for the UK's Foreign, Commonwealth & Development Office (FCDO).
"The right to peaceful protest is fundamental to Hong Kong's way of life—protected in both the Joint Declaration and the Basic Law—and it should be upheld."
Foreign Secretary Dominic Raab said on Twitter that Britain "will continue to stand together with the people of Hong Kong."
The Hong Kong authorities' decision to target leading pro-democracy figures for prosecution must stop.

We will continue to stand together with the people of Hong Kong

— Dominic Raab (@DominicRaab) April 16, 2021
Chris Patten, the last British governor of Hong Kong, said: "The CCP's comprehensive assault on the freedoms of Hong Kong and its rule of law continues relentlessly. This week, we have witnessed some of the most distinguished of the city's peaceful and moderate champions of liberty and democracy placed in Beijing's vengeful sights.
"The CCP simply does not understand that you cannot bludgeon and incarcerate people into loving a totalitarian and corrupt regime," he said, adding that "all those who are conniving at destroying the Hong Kong loved by the world will be remembered in shame."
Iain Duncan Smith, a former leader of the Conservative party, said on Twitter: "UK Govt [sic] needs to impose Magnitsky sanctions against Hong Kong/Chinese Govt officials responsible for human rights violations & a breach of the Sino-British Joint Decl. Many activists in #HongKong have been jailed today for participating in peaceful rallies."
Lisa Nandy, shadow foreign secretary of the main opposition Labour party said, "This is yet another move by the Chinese government to silence critics and limit dissent."
"It's time for the UK to impose sanctions against those undermining Hong Kong's democracy and to end the participation of British judges in a compromised system," she wrote on Twitter.
Layla Moran, foreign affairs spokesperson for the Liberal Democrats, also urged Raab and Prime Minister Boris Johnson to take action.
"The UK is failing in its duty under the Joint Declaration and international law to preserve Hong Kong's democracy and human rights. Any red line has been crossed. The time for Dominic Raab and Boris Johnson to act is long overdue," she said in a statement.
"The government can make no more excuses—it is time for the UK to step up, lead, and take action."
The Chinese regime on March 26 sanctioned nine British individuals and four British entities for being vocal on human rights abuses against the Uyghur people in China's Xinjiang region.
In an open letter to Johnson on Apr. 13, 48 MPs and 54 Peers said "this unprecedented attack on democratic representatives of the Western world deserves a robust and coordinated response," and urged the government to impose more sanctions on Chinese officials and entities.
Frank Fang and Lily Zhou contributed to this report.