Following media reports that Chinese international students at a British university blocked a student union motion to express support for Hong Kong protesters, a British member of parliament called for new immigration policies to encourage more students from democratic countries to study in the UK.
Back in February, the student union at University of Warwick, a public research university on the outskirts of Coventry, England, organized a motion to "support Hong Kong's movement and protect freedom of expression on campus" according to the university's newspaper The Boar.
The vote was called in an effort to protect freedom of expression on campus, as some students from Hong Kong as well as the mainland claimed that they had received death threats on social media for showing support for Hong Kong protesters, according to The Times' report on May 28.
But soon after, the Warwick Chinese Society, a student group for Chinese students, posted a tutorial for its members on how to vote against the motion.
Over 2,000 Chinese students ended up voting against it, overturning the student union's motion.
"We merely advised Chinese students to vote 'Against' in one particular motion but we did not force any students to do so," The Boar quoted the Warwick Chinese Society as saying.
The news brought up the issue of censorship on academic campuses.
Chinese students are often influenced by the Chinese regime's propaganda to toe Beijing's line on political issues. In regards to Hong Kong, for example, Beijing has portrayed the pro-democracy protests to be a separatist movement incited by foreign countries.
Mainland Chinese studying at campuses around the world have been documented to harass supporters of Hong Kong protests, damage messages in support of the protests, and physically attack supporters.

Student Visa Policy
Conservative member of parliament (MP) Tom Tugendhat penned an article about China's growing threats, published on the website Conservative Home on June 5.
Tugendhat is the leader of the Parliamentary Foreign Affairs Committee.
In the article, Tugendhat warned that, "We need a global China strategy if we're to confront the biggest challenge to the liberal world since the end of the Cold War."
Tugendhat noted that British society is built upon "an open system of education that encourages freedom of thought." However, this open system is under threat from China.
He explained that the UK should enact measures to counter Beijing's influence on UK campuses, including how Beijing threatens to remove students or research grants.
At the same time, Tugendhat acknowledged that the tuition paid by large numbers of Chinese international students is a major source of revenue for UK universities.
According to the latest statistics released by the British Higher Education Statistics Agency, 342,620 non-European Union students enrolled in UK universities in the 2018/19 academic year. 35 percent of those non-EU students, or 120,385, were from China.
To diversify the student pool, Tugendhat proposed changing the UK's visa policy to encourage more students from democratic countries, such as India, to study in the country.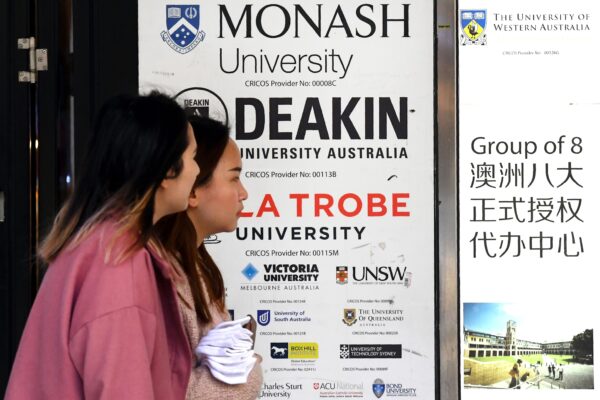 In recent days, the Chinese regime again pressured students to toe the line—with regard to Australia.
The country has recently called for a full investigation into the origins of the pandemic in China, and also condemned Beijing for enacting a national security law in Hong Kong.
On June 9, China's education ministry issued a warning on the central government's website, urging all Chinese students not to study in Australia.