LONDON/ROME—British police on Tuesday named the third of the jihadis who killed seven people in a knife and van attack in London, and an Italian investigative source said he had been flagged to Britain as a potential risk after moving to England last year.
The fallout from the attack has eclipsed other issues in the British political campaign ahead of Thursday's parliamentary election, with both the ruling Conservatives and opposition Labour Party battling to defend their records on security.
In particular, the revelation that at least one of the attackers, Khuram Butt, was known to security services has raised concerns that they lack the resources to prevent attacks.
Butt, a 27-year-old British national born in Pakistan, had appeared in a British TV documentary broadcast last year called "The Jihadis Next Door".
Saturday night's rampage, in which three men drove into pedestrians on London Bridge before slitting throats and stabbing people in the bustling Borough Market area, was Britain's third Islamist attack in as many months.
British police said the third assailant was Youssef Zaghba, 22, and that he had not been a subject of interest for them or the MI5 domestic intelligence agency.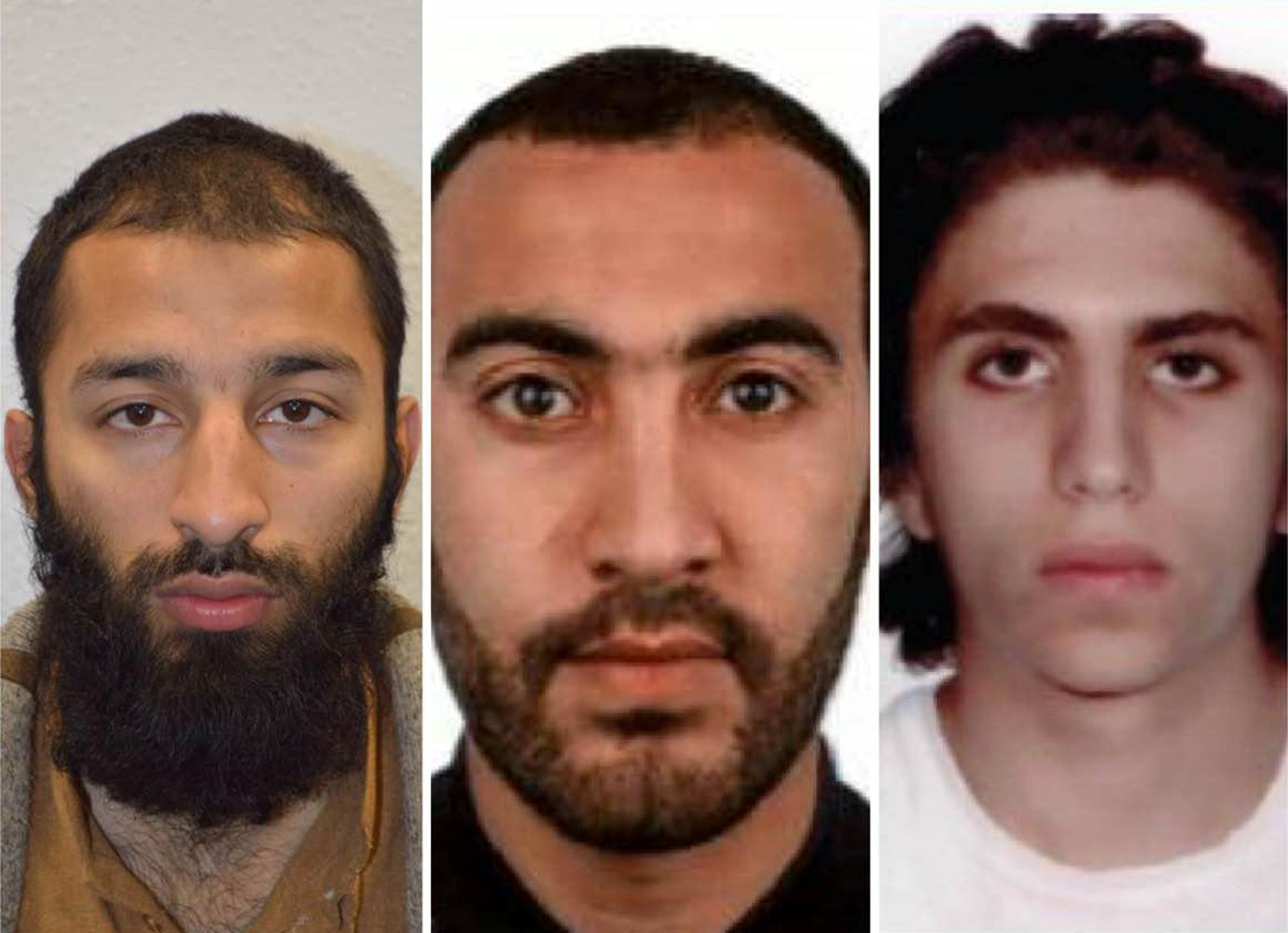 An investigative source told Reuters in Rome that Zaghba, who had a Moroccan father and Italian mother, had been stopped at Bologna airport in 2016 on suspicion of being on his way to Syria, and carrying material about Islamic extremism on an electronic device.
A second source said Italian authorities had flagged him up to British authorities after he moved to England last year.
Zaghba had lived in Morocco for much of his life but had made short visits to Italy to see his mother in Bologna.
Polls Narrowing
As details about the jihadists have emerged, Prime Minister Theresa May has faced questions about her record of overseeing cuts to police numbers when she was interior minister.
The latest opinion poll on voting intentions, by Survation for ITV, had the Conservatives' lead over Labour narrowing to just one point from six points in the same poll a week earlier.
The prevailing view among pollsters remains that May's party, who have been in government since 2010, will win a majority. But a campaign email signed by May told Conservative supporters: "With the polls tightening and with just two days to go until polling day, we need to go all out with one final push."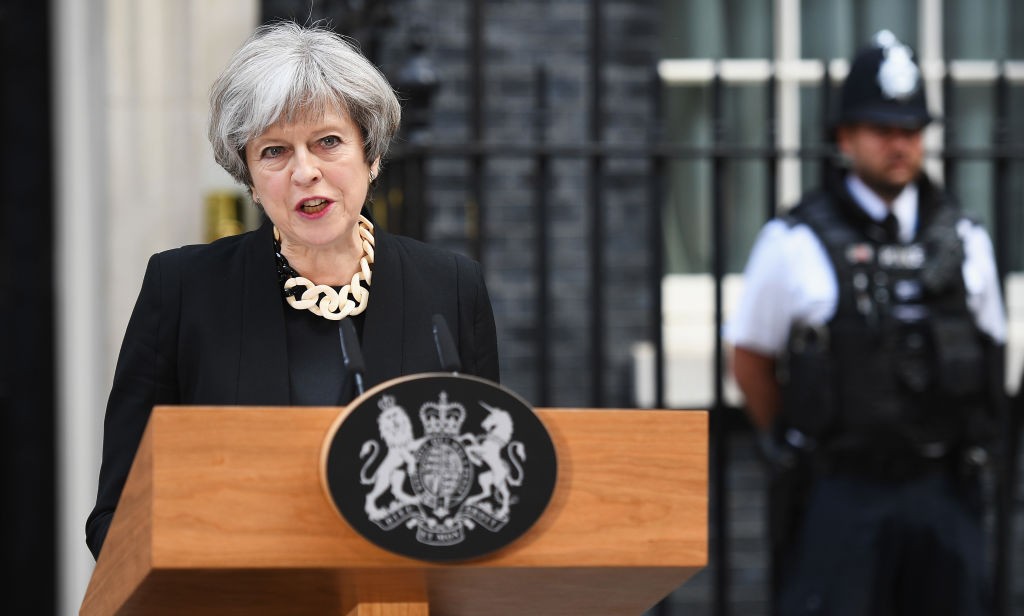 Less than two weeks before the London Bridge attack, a suicide bomber had killed 22 adults and children at a pop concert in Manchester and, in March, five people died after a car was driven into pedestrians on London's Westminster Bridge.
Police had already named Butt and Rachid Redouane, a 30-year-old who claimed to be Moroccan and Libyan, as two of the London Bridge attackers.
Butt, Redouane and Zaghba were shot dead at the scene of the attack by officers within eight minutes of police receiving the first emergency call.
The first of the dead to be named were Canadian Christine Archibald and Britons James McMullan and Kirsty Boden. The 48 injured included people from Britain, France, Spain, Australia and New Zealand.
Boden's family issued a statement on Tuesday, saying she had been a nurse and had tried to help the injured:
"As she ran towards danger, in an effort to help people on the bridge, Kirsty sadly lost her life."
A minute of silence was held nationwide at 11 a.m. to honor all the victims.
Before the recent attacks, Brexit and domestic issues such as the state of the health service and the cost of care for the elderly had dominated the election campaign.
When May called the election in April, her Conservatives led in opinion polls by 20 points or more.

But an announcement—made before the Manchester and London Bridge attacks – that they planned to make some of the elderly pay more for their care saw that lead start to shrink, and the trend has continued. Surveys now put the Conservatives ahead by between one and 12 points.
Security has become the number one issue and both main parties issued statements on Tuesday portraying their own positions on policing and intelligence as the most robust.
As interior minister from 2010 to 2016, May oversaw a drop of 20,000 in the number of police officers in England and Wales, which Labour leader Jeremy Corbyn has said should never have happened and warranted her resignation.
But the MI5 domestic intelligence service has seen its budget increase and has plans to expand to 5,000 officers from 4,000 over the next five years, MI5 chief Andrew Parker said last year.
Related Coverage
Corbyn himself has faced repeated questioning over his own past views and actions on security matters.
He has been criticized for voting against counter-terrorism legislation and expressing reservations about police responding to attacks with "shoot-to-kill" tactics. Since the attack, he has said he fully supported the actions of the police.
Corbyn has also faced fierce criticism for past sympathies with the Palestinian group Hamas, Lebanon's Hezbollah, and Sinn Fein, the political arm of the Irish Republican Army, a guerrilla group that waged a violent struggle to take Northern Ireland out of the UK.
At campaign stops on Tuesday, May was questioned almost exclusively about issues related to terrorism.
Asked whether the financing of terrorism was brought up in April when she met the leaders of Saudi Arabia, a major buyer of British arms, she said: "We talked to Saudi Arabia on a whole number of issues around the question of terrorism."
And foreign minister Boris Johnson looked uncomfortable when asked by a journalist about an as-yet unpublished government report on the financing of terrorism, which British media say focuses on Saudi Arabia.
Johnson said he could not comment on the confidential document, but added: "I think you are making a valid point about … the role of other countries, governments or not, in funding, wittingly or not, funding groups that are … responsible for terrorism."