A group of British lawmakers have urged the UK government to impose sanctions on Hong Kong Chief Executive Carrie Lam and other senior officials for permitting the police to use excessive violence on pro-democracy protesters.
In a report (pdf) on the treatment of aid workers during the protests, the lawmakers said the Hong Kong Police Force (HKPF) had "breached international humanitarian law and principles, international human rights, and the Sino-British Joint Declaration."
"The UK should urgently impose Magnitsky-style sanctions on those responsible for permitting the excessive police violence at high level in the administration, including but not limited to Chief Executive Carrie Lam and the Commissioner of Police," said the All-Party Parliamentary Group on Hong Kong.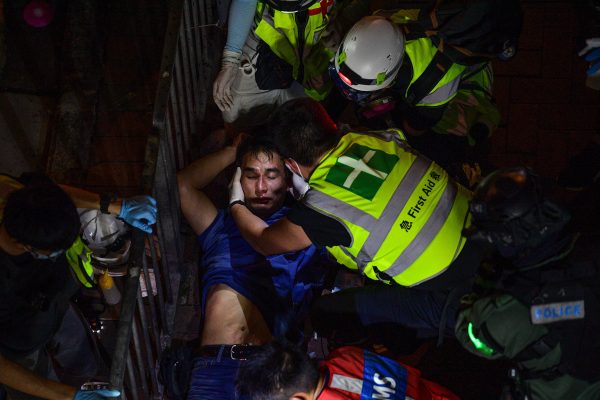 During the protests, which began last year in response to the Hong Kong government's bid to introduce an extradition law with the mainland, humanitarian aid workers were subjected to "intimidation, harassment, threats, physical violence, and arrests," said the report.
First aid workers appear to have been the main group subjected to such treatment, said the report, adding that even doctors and nurses "received treatment that fell short of international human rights law."
The UK should "explore whether the targeted humanitarian aid workers fall within the purview of the Refugee Convention and consider how they could be best assisted," the lawmakers urged.

The British government imposed its first sanctions under its new Magnitsky Act last month on 25 Russians and 20 Saudis. But UK lawmakers have urged the government to target those who are responsible for the crackdown in Hong Kong.
"The HKPF's treatment of humanitarian aid workers and their interference within hospitals have resulted in injured protesters not receiving the required medical care in time or at all," they said.
"These actions may also have affected the medical care of the population in general, as a result of the hospitals' independence and confidentiality being diminished by the ever-growing interference from the HKPF," according to the report.
The inquiry, which lasted 5 months, found no evidence to suggest that humanitarian aid workers were involved in hostilities that would justify the police stripping them of the protections otherwise available to aid workers.
The All-Party Parliamentary Group on Hong Kong is an informal cross-party group of 12 parliamentarians from both the House of Commons and the House of Lords.
It was first set up in November 2019 in response to the escalating political and social crisis in Hong Kong, which had been triggered by the extradition law.
Lily Zhou contributed to this report.