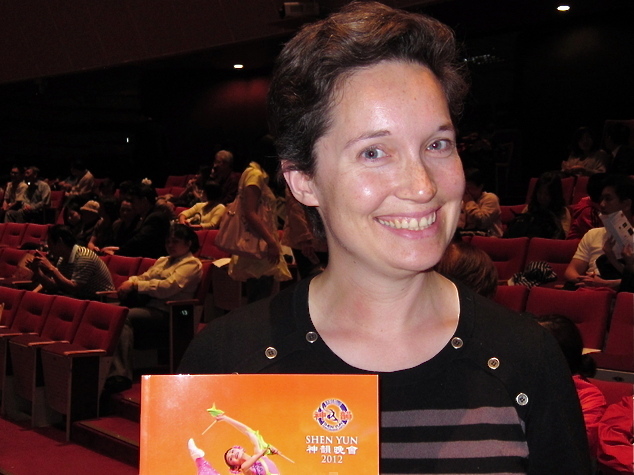 TAICHUNG, Taiwan—Jessica Taylor, director of Digital Media, EMEA, Antenna International, attended the Shen Yun Performing Arts New York Company's performance at JhungShan Auditorium in Taichung on March 30.
The world-renowned premier of Chinese classical and ethnic dance and music based out of New York, Shen Yun was launched in 2006 with a mission to reawaken China's 5,000 years of traditional values.
For Ms. Taylor, the concept of the presentation that brought a full house and tumultuous applause, was very new, but she conceded that others in the audience, mostly from Taiwan, would respond to stories and things they already know or they might have seen in the past.
"It [Shen Yun] builds on a rich tradition … I think the layer is interesting. So, for me, it [Shen Yun] is like a guide, a beginner's guide to Chinese culture."
She was amazed by the unique hi-tech dynamic backdrops and the interaction that moved seamlessly between the projector screen and stage. "I really like the mixture of reality and animation, and I think that is very inventive. It works very nicely … It is nice when someone flies in [on screen] and then pops up [on stage]."
Overall though, Ms. Taylor said she was deeply moved by the entire performance. "Because I don't have a background in Chinese arts and culture, it took me a little time to get into this world, but once I did, I really loved it."
One sketch, The Dafa Practitioner's Magical Encounter, depicted a Falun Gong practitioner's steadfast belief, while suffering the cruel persecution under the Chinese communist regime. "That was really fantastic. I thought it very dramatic … it was very powerful, and the music was very good."
Ms. Taylor expressed her thoughts of the other dances, such as the Lotus Leaves, a picturesque full-circle fans sway like lily pads in the wind. "I thought it was great … I really found the Joyful Little Monks very funny, and very sweet," she added.
The song by Soprano Chia-ning Hsu, What is the Meaning of Life?, Ms. Taylor found thought-provoking. "For someone like me, who is learning about [Chinese traditional culture] for the first time, the song allowed me to think about some of the things they [sung] about."
She said she also enjoyed the grand finale, Before Disaster, the Divine is Rescuing, a depiction of the old Chinese proverb 'good is rewarded and wrongdoing is punished,' the program book explains.
In summing up her experience, Ms. Taylor was taken by Shen Yun's strong cast of artists, musicians, soloists, and full orchestral ensemble, plus supporting staff. "I mean it is huge. I don't know how many people travel with the show. But you know it must be about 100 people … It really feels like a very full experience."
Reporting by Cheng Wei & Billy Shyu.
New York-based Shen Yun Performing Arts has three touring companies that perform simultaneously around the world. For more information, visit ShenYunPerformingArts.org
Read the original Chinese article