A British defence analyst says an "underwater robot drone" showcased on Russian state television on May 1 could just be a "propaganda weapon" and could even be a red herring.
Russian television presenter Dmitry Kiselyov, who is known to be close to President Vladimir Putin, showed a video of the Poseidon nuclear weapon and said it could create a tsunami that would destroy the British Isles.
Kiselyov said: "What will happen after [Prime Minister] Boris Johnson's words about a retaliatory strike on Russia? Why do they threaten vast Russia with nuclear weapons while they are only a small island? A single launch, Boris, and there is no England anymore. Once and for all. Why do they play games?"
Tim Ripley, a defence analyst and author of Little Green Men: The Inside Story of Russia's New Military Power, said the video had first been shown before by Putin himself in 2018 when he revealed the Poseidon drone and a number of other super weapons.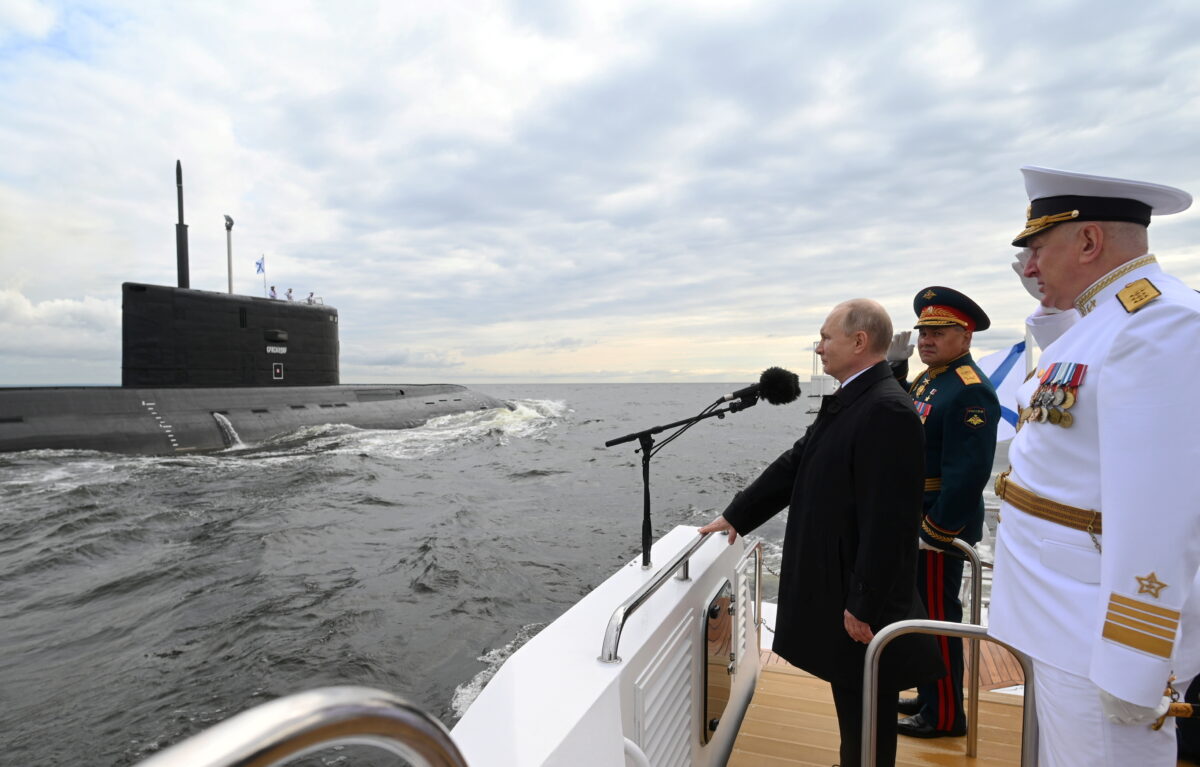 He said satellite photographs from the White Sea port of Severodvinsk show a Russian submarine that has been modified in order to be able to carry the Poseidon drone.
Ripley told The Epoch Times: "But it's believed that this is just a test bed. There are other submarines in the sheds at Severodvinsk which are believed to be a class that could carry it but they have not even gone in the water. This is a weapon that appears to be an aspiration of the Russians."
'It's In President Putin's Dreams'
He added: "It's in President Putin's dreams but whether it can sail across the Atlantic and blow up New York harbour we don't know. I would put it in the same class as the Nazi 'wonderweapons.'"
Britain's armed forces minister James Heappey said he was not "rattled" by the threats made on behalf of Putin and said NATO can "outgun him and outnumber him."
Ripley said: "Russia may be a superpower but it does not have a bottomless pit of money to spend on these things. They already have the Satan 2 missile. How much do you need?"
Putin claimed the Sarmat (Satan 2) missile was tested last week and was capable of firing 12 warheads and he said it would provide "food for thought for those who try to threaten Russia" and "interfere" in the Ukraine conflict.
Kiselyov claimed a strike by the Poseidon drone could trigger a 1,600 foot (500 metre) high tidal wave and "plunge Britain to the depths of the ocean" and turn it into a "radioactive desert."
He said the submarine carrying the weapon would approach the target at 200 kilometres per hour (124 miles per hour) and one kilometre (0.6 miles) under the surface.
The North Sea is on average around 700 metres deep, compared to the much deeper North Atlantic Ocean and the video shown on Russian state television indicated that it would be fired from off the Scottish and Irish coasts.
'There's No Way Of Stopping This Underwater Drone'
Kiselyov said: "There's no way of stopping this underwater drone, which has a yield of 100 megatonnes."
That would make it 3,000 times as powerful as the atomic bomb which was dropped on Hiroshima in 1945.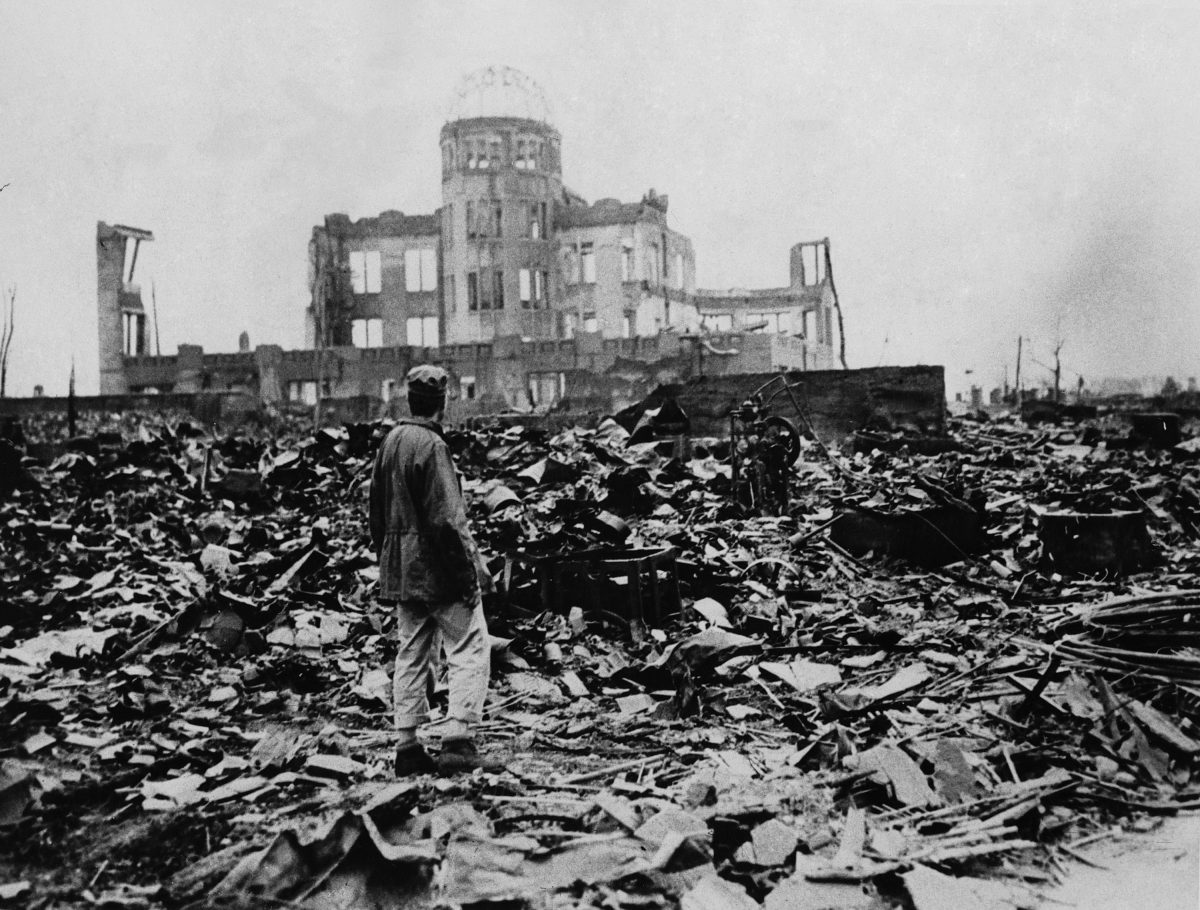 Ripley said: "In theory, and this is schoolboy science, if you detonate a thermonuclear weapon under the ocean you will vaporise a vast area of water and cause the water to collapse into itself, creating a tsunami."
But he said: "The thing that mystifies people is that they call it a robot or drone, which implies it can be controlled like a UAV [unmanned aerial vehicle] but nobody has yet come up with a way of communicating with a device underwater so you can't interact with it. It just doesn't work. The science does not exist."
Ripley said the only way the Russians could control the drone and guide it to its final target was by putting a satellite above it and he said: "That immediately gives away its location."
Threat Of Nuclear Conflict
Russian foreign minister Sergei Lavrov said recently the threat of a global nuclear conflict "should not be underestimated."
The U.S. Navy is developing its own underwater drones but it is far more secretive about the programme.
In 2016 the Pentagon demanded the Chinese navy returned an Unmanned Underwater Vehicle (UUV) which was seized in the South China Sea. The UUV belonged to the oceanographic survey vessel USNS Bowditch.
Ripley said since the end of the Cold War it had "gone out of fashion to show off your nuclear weapons" but Putin is bucking that trend.
"A lot of it is pushing the boundaries of science, it's deeply mysterious and it could just be a propaganda weapon or just something to send people off in the wrong direction. Are they trying to confuse us?" said Ripley.