The U.S. military said it is ready to respond in force to North Korea if necessary and has the means to protect the United States.
But at a U.N. Security Council emergency meeting Wednesday, July 5, China argued against any further threats or sanctions against its wayward ally.
China's representative, Liu Jieyi, called the situation on the peninsula "complex and sensitive."
Liu touted China's own approach, which opposes stronger sanctions or military threats against North Korea.
"Military means must not be an option," he said.
He said deploying the THAAD missile system had undermined regional security. Rather than prepare to defend themselves against North Korea, he said the United States and South Korea should immediately dismantle the system.
U.S. Ambassador to the U.N. Nikki Haley said the Chinese regime's proposal ignored North Korea's previous actions.
"To sit there and oppose sanctions … means that you are holding the hands of Kim Jong Un," she said.
On Wednesday, President Donald Trump suggested the Chinese regime had done little to rein in its longtime ally.
"Trade between China and North Korea grew almost 40 percent in the first quarter. So much for China working with u.s. – but we had to give it a try!" he tweeted.
North Korea's successful test Tuesday of an intercontinental ballistic missile capable of withstanding the intense heat of re-entry—a critical requirement to deliver a nuclear warhead to the United States—has raised the stakes on the Korean Peninsula.
Experts say the missile looks to be capable of reaching Alaska.
The Republic of Korea and U.S. military alliance conducted a live-fire demonstration aimed at "exercising assets countering North Korea's destabilizing and unlawful actions" on Tuesday.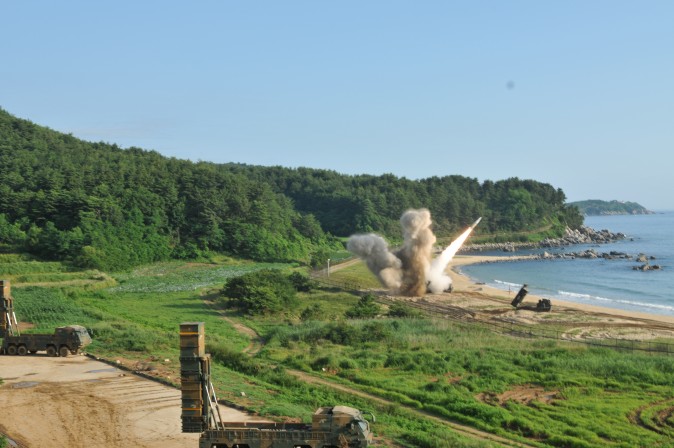 The U.S. military pointed to the demonstration as evidence of its resolve to deal with North Korea.
A statement that same day from the United States Forces in Korea said the Army Tactical Missile System (ATACMS) and the Republic of Korea Hyunmoo Missile II, could be rapidly deployed and engaged.
"The deep strike precision capability enables the ROK-U.S. Alliance to engage the full array of time critical targets under all weather conditions," read a statement.
But with every threat of retaliation, the military, the Pentagon, and South Korean forces have couched tough words with a hint of compromise, a tone that North Korea's leader seems to have gleefully avoided.
Speaking through the state KCNA news agency, North Korean leader Kim Jong Un said the ICBM test completed his country's strategic weapons capability that also includes atomic and hydrogen bombs.
The agency reported Kim saying his regime would not negotiate with the United States about its weapons program unless Washington abandoned its hostile policies.
"He, with a broad smile on his face, told officials, scientists, and technicians that the U.S. would be displeased … as it was given a 'package of gifts' on its 'Independence Day'," KCNA said.
Kim reportedly ordered them to "frequently send big and small 'gift packages' to the Yankees."
The South Korean and U.S. military commanders issued two statements on Tuesday saying they are prepared for war but "committed to peace and prosperity on the Korean Peninsula and throughout the Asia-Pacific."
A joint statement from the commanders of the two forces said they are exercising restraint, but that restraint has limits.
"As the combined live fire demonstrated, we may make resolute decisions any time, if the Alliance Commanders in Chief order. Whoever thinks differently is making a serious misjudgment," warned Gen. Lee Sun Jin, chairman of the Republic of Korea Joint Chiefs of Staff, the top commander of all military forces in South Korea.
Gen. Vincent K. Brooks, commander of U.S. and United Nations forces in the region, echoed that sentiment.
"Self-restraint, which is a choice, is all that separates armistice and war. As this Alliance missile live-fire shows, we are able to change our choice when so ordered by our Alliance national leaders," said Brooks. "It would be a grave mistake for anyone to believe anything to the contrary."
In a statement, the Pentagon said the United States was monitoring the situation and the threat North Korea poses to the United States and its allies.
"We remain prepared to defend ourselves and our allies and to use the full range of capabilities at our disposal against the growing threat from North Korea," chief Pentagon spokeswoman Dana W. White.
White said the United States wanted the peaceful denuclearization of the Korean Peninsula and was ironclad in its commitment to defend its allies.
Last month, the United States conducted a successful test of a U.S.-based missile interceptor that knocked down a simulated incoming North Korean ICBM.
The test was meant to give assurance that even with a nuclear-capable intercontinental ballistic missile, a North Korean attack could still be repelled.
That capability, however, does not extend to South Korea and Japan, both in range of North Korea's large arsenal of missiles, as well as its sizeable conventional military forces.