U.S. Special Representative for North Korea Stephen Biegun arrived at Incheon International Airport on Feb. 3 to meet his counterparts from the two Koreas ahead of a second summit between the United States and North Korea expected held later this month.
Biegun is expected to meet his North Korean counterpart Kim Hyok Chol at the truce village of Panmunjom as early as Feb. 4 to prepare for the second summit of their leaders, said Seoul's Yonhap News Agency citing its sources.
The U.S. envoy is also expected to discuss the next steps to advance the denuclearization of the Korean Peninsula and progress on commitments from the Singapore summit, between U.S. President Donald Trump and North Korean leader Kim Jong Un, according to the U.S. Department of State.
U.S. Secretary of State Mike Pompeo said on Jan. 30 that he was dispatching a team to make preparations for the summit to be held "someplace in Asia" in late February.
Trump told reporters in the Oval Office on Jan. 31 that the date and location of the summit with Kim would be announced "early next week" and probably during his State of the Union speech on Feb. 5.
US Will Suspend Obligations Under Nuclear Treaty With Russia on Feb. 2
The United States will suspend its obligations under a landmark nuclear treaty with Russia starting on Feb. 2, according to simultaneous statements issued by the White House and Secretary of State Mike Pompeo.
For years, Washington has accused Moscow of violating the 1987 Intermediate-Range Nuclear Forces (INF) Treaty. The pact prohibits both nations from possessing short- and mid-range ground-launched missiles.
"The United States has fully adhered to the INF Treaty for more than 30 years, but we will not remain constrained by its terms while Russia misrepresents its actions," Trump said in a statement issued by the White House. "We cannot be the only country in the world unilaterally bound by this treaty, or any other."
Both Trump and Pompeo said the United States withdrawal is backed by NATO allies that joined Washington in December to declare Moscow in material breach of the treaty. NATO issued a statement on Feb. 1 backing the withdrawal decision by the United States.
"Unless Russia honors its INF Treaty obligations through the verifiable destruction of all of its 9M729 systems, thereby returning to full and verifiable compliance before the U.S. withdrawal takes effect in six months, Russia will bear sole responsibility for the end of the Treaty," the NATO declaration states.
The withdrawal will be complete six months after the official notice is served on Feb. 2. During that time, Russia will have another opportunity to return to compliance by destroying the missiles, which are allegedly in violation.
American officials made more than 30 attempts over the past six years to bring Russia into compliance. Pompeo said on Feb. 1 that Moscow has refused to take any steps to comply with the requests. In December, Pompeo gave Russia 60 days to return to compliance with the treaty. He noted at the time that European allies have lobbied for the additional time in order to mount a diplomatic campaign to return Russia into compliance.
"Russia's violation puts millions of Europeans and Americans at greater risk," Pompeo said on Feb. 1. "It aims to put the United States at a military disadvantage and it undercuts the chances of moving our bilateral relationship in a better direction."
"It's our duty to respond appropriately," he added. "When an agreement is so brazenly disregarded and our security is so openly threatened, we must respond."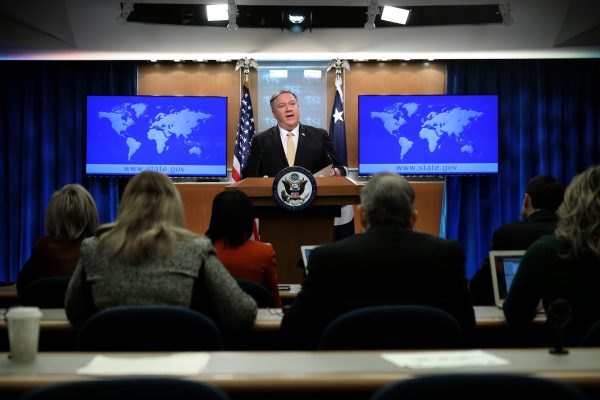 The United States alleges that Russia's 9M729 missile is in violation of the INF treaty because it operates in a prohibited range. The treaty prohibits Russia and the United States from deploying ground-launched missiles with ranges of 300 to 3,400 miles.
Russia denies the allegation, saying that the missile's range is a few miles short of 300 miles. Washington asked to test the missile's range, but Moscow refused and offered a testing scenario U.S. officials found unacceptable.
Trump said that the United States will now move forward to respond to Russia's deployments.
"We will move forward with developing our own military response options and will work with NATO and our other allies and partners to deny Russia any military advantage from its unlawful conduct," Trump said.
Russia made a last-ditch attempt to preserve the treaty and displayed the disputed missile on Jan. 23 as proof, which American officials rejected.
Trump noted that the United States stands ready to engage with Russia on arms control negotiations. The president also suggested that a positive resolution of arms control issues would pave the way to an "outstanding relationship on economic, trade, political, and military levels."
"This would be a fantastic thing for Russia and the United States, and would also be great for the world," Trump said.
A senior Trump administration official told reporters on Feb. 1 that the exit from the treaty has nothing to do with China, which has deployed more than 1,000 missiles neither Washington nor Moscow could deploy under the INF. The threat from China is a much bigger problem for Russia than it is for the United States, the official said.
Russian President Vladimir Putin has voiced concerns about other nations fielding INF-prohibited missiles as early as 2007, noting that South Korea, North Korea, India, Iran, Pakistan, and Israel have those weapons.
Epoch Times reporter Ivan Pentchoukov contributed to this article.