U.N. to Help China Clean Water Shortage
March 26, 2008 12:00 am Last Updated: September 11, 2015 9:47 am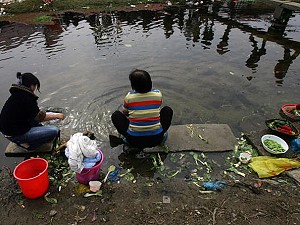 On World Water Day, March 22, the U.N. unveiled a new project to provide schools in the worst-affected provinces of China with access to clean water and basic sanitary facilities.
China is the world's fourth largest economy, but a widening gap between the wealthy and impoverished is leaving people in rural areas in a desperate situation.
Currently, 300 million of the country's 1.3 billion people are living without clean water, and they face the risk of fatal disease from lack of fresh water and adequate sanitation.
U.N. experts say spending US$10 billion a year would enable the world to reach the Millennium Development Goal of improved sanitation in developing countries by 2015. Additional benefits include reduced poverty and better health.
In an effort to raise public awareness, Chinese celebrities are joining the cause, including musician Wang Leehom, who highlights China's environmental problems in his 2007 album "Change Me."
"This is a problem for China as a whole and the public has to get involved as well. And I think that as a public figure and as a musician, it has become my mission to have an environmentalism, to have an eco-awareness, and to be able to educate the general public about it," says Wang.
About 200 million tons of human waste is discharged untreated into watercourses in China every year.