Two men have been sentenced for transporting live native lizards from Australia in the post to the United States.
The Australian Border Force (ABF) seized a package in a post office in Broome, Western Australia, which contained 15 lizards in multiple plastic tubs with punctured holes for airflow.
The men aged 31 and 39 concealed the lizards in gift-wrapped containers and inserted them into a larger shipping box containing souvenirs, authorities said on March 9.
Despite knowing it is illegal to export native Australian animals, they admitted traveling from the U.S. to Broome in 2018 to capture spiny-tailed lizards to resell them in the U.S.
Two packages of lizards had been sent back to Miami, Florida and Medford, Oregon.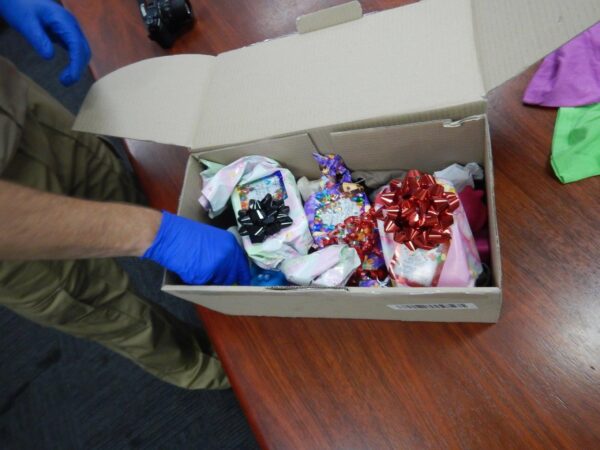 The 39-year-old was sentenced to three years of supervised release where he will spend the last part of his sentence outside in the community, 300 days of home detention, and also ordered to pay a fine of $40,000 ($US 29,000).
The 31-year-old was sentenced to three years of supervised release, six months of home detention, and 250 hours of community service.
ABF Acting Commander Operations West, Shaun Senior, said that they have an international network to identify those involved in the cruel trade of wildlife smuggling.
"Wildlife smuggling is a global problem and one of the largest transnational organised criminal activities. Posting animals in packages is illegal, cruel and inhumane; many animals smuggled in this way do not survive," Senior said.
"I congratulate those involved in uncovering this operation which demonstrates the successful strategic and tactical coordination between the ABF and the U.S. Fish and Wildlife Service's Office of Law Enforcement."
The ABF is able to detect unique products hidden within innocuous packages in many ways, the most successful being officer intuition and technology such as x-rays.
ABF urged anyone with information about the import and export of wildlife to contact Border Watch at abf.gov.au/borderwatch and said that information could be provided anonymously to ABF when reporting suspicious activities.
Meanwhile, a 30-year-old man was recently arrested while attempting to pass U.S. border agents in California with 52 live lizards and snakes hidden in his clothing.
The man was pulled out for additional inspection when he arrived in a truck on the border with Mexico.
Agents found 52 live reptiles tied up in small bags "which were concealed in the man's jacket, pants pockets, and groin area."
Authorities seized nine snakes, and 43 horned lizards were seized, some of which are considered endangered.