Two Chinese netizens who broke through the Great Firewall to access blocked international websites were recently punished by police authorities.
Zhu Yunfeng was fined 1,000 yuan ($146) for violating China's internet laws against making international connections, according to an announcement published Dec. 28 by Shaoguan City police in southern China's Guangdong Province on the provincial branch website. Zhu's penalty sheet, which was posted online, shows that Zhu is 30 years old and a resident of Nanxiong City, which is governed by Shaoguan City authorities.
By comparison, an individual caught using illicit drugs faces a 500 yuan fine, according to China's criminal code.
Chinese internet censorship, known collectively as the Great Firewall, blocks access to a variety of politically sensitive sites, as well as popular Western social media platforms and media. Among the list of banned sites, totaling about 600,000, are Wikipedia, Twitter, Facebook, Google, YouTube, BBC, and Reuters.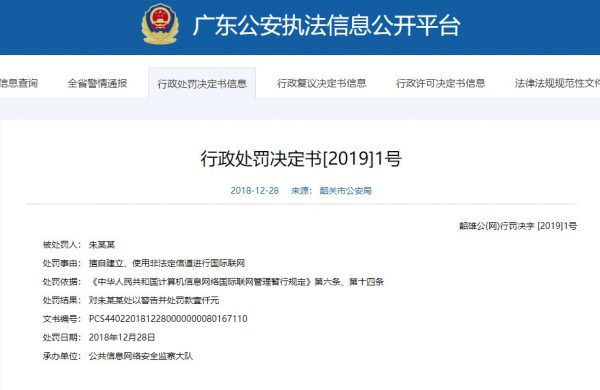 From August to December 2018, Zhu used the Lantern Pro app—a VPN (virtual private network) app that helps users bypass firewalls—on his smartphone to connect to the internet via a wireless router in his home. In the week before he was punished, he had surfed websites that are banned in China 487 times.
Separately, Huang Chengcheng, from southwestern China's city of Chongqing, was detained Jan. 4 at the local Rongchang District police station for eight hours. In a summons issued by Rongchang police, Huang, who is in his 30s, was accused of surfing the internet through illegal methods, without being more specific.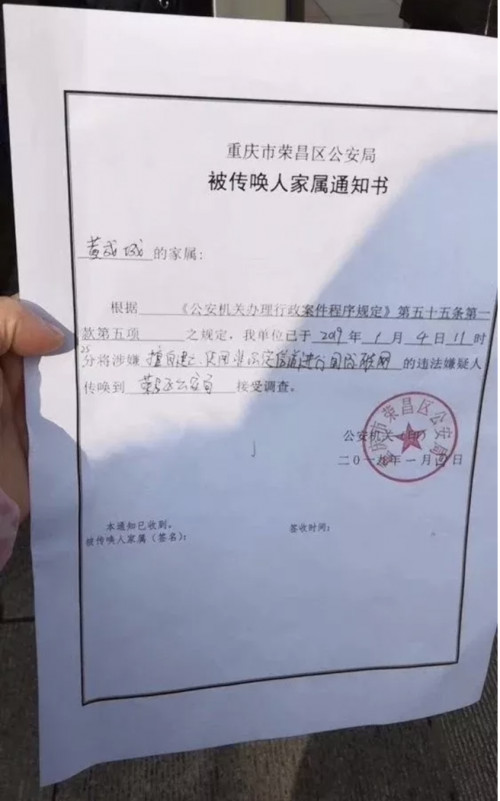 A friend of Huang named Ou Biaofeng posted on Sina Weibo, a Twitter-like social-media platform, that Huang had bypassed the Great Firewall and was detected by police. There's no information about whether Huang was punished. The maximum fine for illegally accessing internet content is 15,000 yuan, according to the Chongqing police.
Meanwhile, Pan Xidian, a dissident from Ximen city in southern China's Fujian Province, posted that he was detained for 15 days in November 2018, charged with sending tens of Twitter posts by smartphone via a virtual private network (VPN) app from Dec. 12, 2017, to Sept. 8, 2018.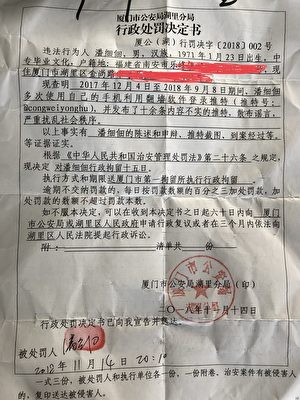 Liang Xiaojun, a Chinese human-rights lawyer, told Radio Free Asia on Jan. 4 that it was "ridiculous" to punish people for circumventing internet censorship, saying that would have a negative social impact.
"It [the Chinese regime] bans people for breaking through internet censorship; it's trying to control your mind. When it can't control your mind, it thinks that you are more risky," Liang said.
A student at the prestigious Peking University told The Epoch Times by phone Jan. 5 that free speech in China is worsening and ideological indoctrination is becoming stronger.
Wang Juntao, a democracy activist, told The Epoch Times that the Chinese Communist Party (CCP) allows its media mouthpiece, the People's Daily, to circumvent internet censorship with its official accounts on Western social media, but the Chinese people aren't afforded this privilege.
Wang, who holds a doctoral degree in political science from Columbia University, said that relaxing internet controls could endanger the CCP's rule.
"Actually, there is a new phrase spreading in China now: 'Tear Down the [Fire]Wall,'" he said. "Just like how people had pushed down the Berlin Wall. The Chinese believe that if they can push down the Firewall, the CCP will be over."
Recently, in order to send out a New Year's greeting via the company's official Twitter account, the Chinese telecom giant Huawei's social-media handler used an iPhone, leading Chinese citizens to ironically ask the CCP to punish Huawei.
According to Reuters, an internal memo showed that two employees found to be responsible have had their salaries reduced by 5,000 yuan (about $730). In addition, one of the pair—reportedly Huawei's digital marketing director—will have their income "frozen" for a year.