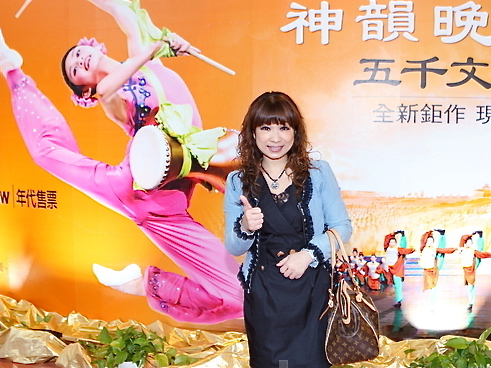 TAOYUAN, Taiwan—Tsai Li-Wen said that April 7 was her lucky day. She had the opportunity to watch Shen Yun Performing Arts New York Company's performance with her husband and was thrilled. Ms. Tsai is a TV program planner and singer. She was a winner in Taiwan's longest-running singing competition TV show Five Lights Award 25 consecutive times.
"I felt I was really fortunate today that I was able to see Shen Yun's performance in its last stop of its tour in Taiwan. I have never seen such a spectacular performance. Every piece is eye-opening. I want to learn more about Chinese culture after watching the performance," Ms. Tsai said.
Her husband, Mr. Tsai said: "Many of our friends came to see it and strongly recommended it to us. We did not catch its performance in Taipei. I made four calls begging the ticket sales person to find us tickets. In the end, we got them! I am so glad that we got to see it and will definitely come back next year."
Ms. Tsai enjoyed every apsect of the performance: "Every piece is fascinating! The costumes and the matching of different colors are beautiful! The artists' movements are highly coordinated and their gestures are enchanting."
Working with stage and program planning, Ms. Tsai was impressed with Shen Yun's high-tech backdrop design. "It's unexpected that the characters come out from the motion pictures on the backdrop and enter it. Splendid!" she said.
With a passion for music, Ms. Tsai admired the erhu performance "A Song for the Heart" by erhu virtuoso Xiaochun Qi. "I enjoyed the classic melody and the atmosphere she built. At one point, I closed my eyes so that I could fully appreciate it with my ears," Ms. Tsai said.
"Every piece has a message to send and a meaningful story to tell. It is truly a wonderful performance!" she added.
Reporting by Wu Tsen-Hsi and Lin Hsin-Yi
Shen Yun Performing Arts, based in New York, has three touring companies that perform simultaneously around the world, with a mission to revive traditional Chinese culture. Shen Yun Performing Arts New York Company will next perform in Melbourne, Australia, April 11-15 at the Regent Theatre.
For more information visit ShenYunPerformingArts.org
Read the original Chinese article