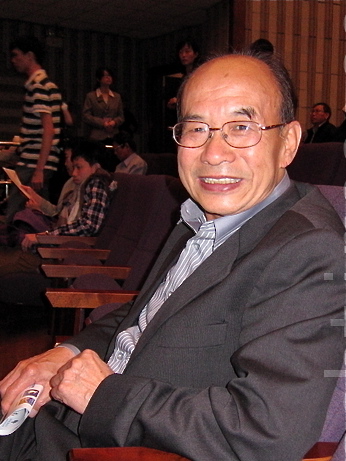 KAOHSIUNG, Taiwan—On the evening of March 13, Shen Yun Performing Arts New York Company performed to a sold-out audience at the Kaohsiung City Cultural Center. Former Kaohsiung City Councilor, well-known TV commentator and news anchor, Chen Ying-tsan, was in the audience. He said, "I didn't know that China had such a beautiful traditional culture until today." Adding that it was a pity that such a magnificent program is currently not able to be performed in China, but he believed that "good will eventually overcome evil."
Dubbed as "Brother Tsan," Chen Ying-tsan, who is currently running a travel agency, said, "I was really touched. … In fact, traditional Chinese culture in some respects has quite far-reaching [influence]."
New York-based Shen Yun is the world's premier classical Chinese dance and music company. Formed in 2006, the company consists of the world's top overseas Chinese performing artists, who seek to revive traditional Chinese culture and art forms.
Mr. Chen used simple English to express his deep feelings, saying, "Very touching, very touching." He added, "As it [Shen Yun] is so good, I was unable to criticize it. It is really fabulous, too good to be criticized. Really very good."
He added that "the synchronization of the music and dance is perfect. From the beginning to the end, their movements were in great unison … It seemed that it took us on a peaceful walk toward heaven, day by day. It took us back to heaven in a very happy and comfortable manner."
He highly praised the perfect combination of the essence of the East and the West. He explained, "As it has Western liveliness and Chinese long history, Shen Yun is invincible."
Finally, he said that a lot of people had told him that Shen Yun Performing Arts is great, but it was a pity that he didn't make it to the show in past years. He added in Taiwanese, "Fortunately, I made it here today,"
Reporting by Dai Deman and Billy Shyu.

Shen Yun Performing Arts, based in New York, tours the world on a mission to revive traditional Chinese culture. Shen Yun Performing Arts New York Company will perform in seven cities in Taiwan until April 8 and then continue to top venues in Australia and New Zealand.
For more information visit ShenYunPerformingArts.org
Read the original Chinese article