Rep. Tulsi Gabbard (D-Hawaii), a 2020 Democratic contender, said she'll take part in the Oct. 15 presidential debate after threatening last week to boycott the event.
Gabbard, 38, missed the qualification thresholds for the September debate but met the requirements for the upcoming Ohio debate.
Gabbard said on Oct. 10 that she was "seriously considering boycotting" the debate "to bring attention to DNC/corporate media's effort to rig 2020 primary."
Noting that the Democratic National Committee (DNC) conspired against Sen. Bernie Sanders (I-Vt.) in 2016, Gabbard said the alleged attempts to rig the primary this year are not against Sanders, but "against the American people in the early voting states of Iowa, New Hampshire, South Carolina, and Nevada."
"They are attempting to replace the roles of voters in the early states, using polling and other arbitrary methods which are not transparent or democratic, and holding so-called debates which are not debates at all but rather commercialized reality television meant to entertain, not inform or enlighten," she alleged.
She said she'd announce whether she'd actually boycott the debate in a few days. On Oct. 14, she said she'd decided to participate after all.
I will be attending the debate.

— Tulsi Gabbard (@TulsiGabbard) October 14, 2019
"I will be attending the debate," she said on Monday morning.
She did not explain the reasoning behind her decision.
Gabbard will be one of 12 candidates on stage on Tuesday.
Besides Gabbard, the candidates are former Vice President Joe Biden, Sen. Bernie Sanders (I-Vt.), Sen. Elizabeth Warren (D-Mass.), billionaire Tom Steyer, Sen. Kamala Harris (D-Calif.), South Bend Mayor Pete Buttigieg, Sen. Amy Klobuchar (D-Minn.), former Secretary for Housing and Urban Development Julián Castro, entrepreneur Andrew Yang, Sen. Cory Booker (D-N.J.), and former Texas Rep. Beto O'Rourke.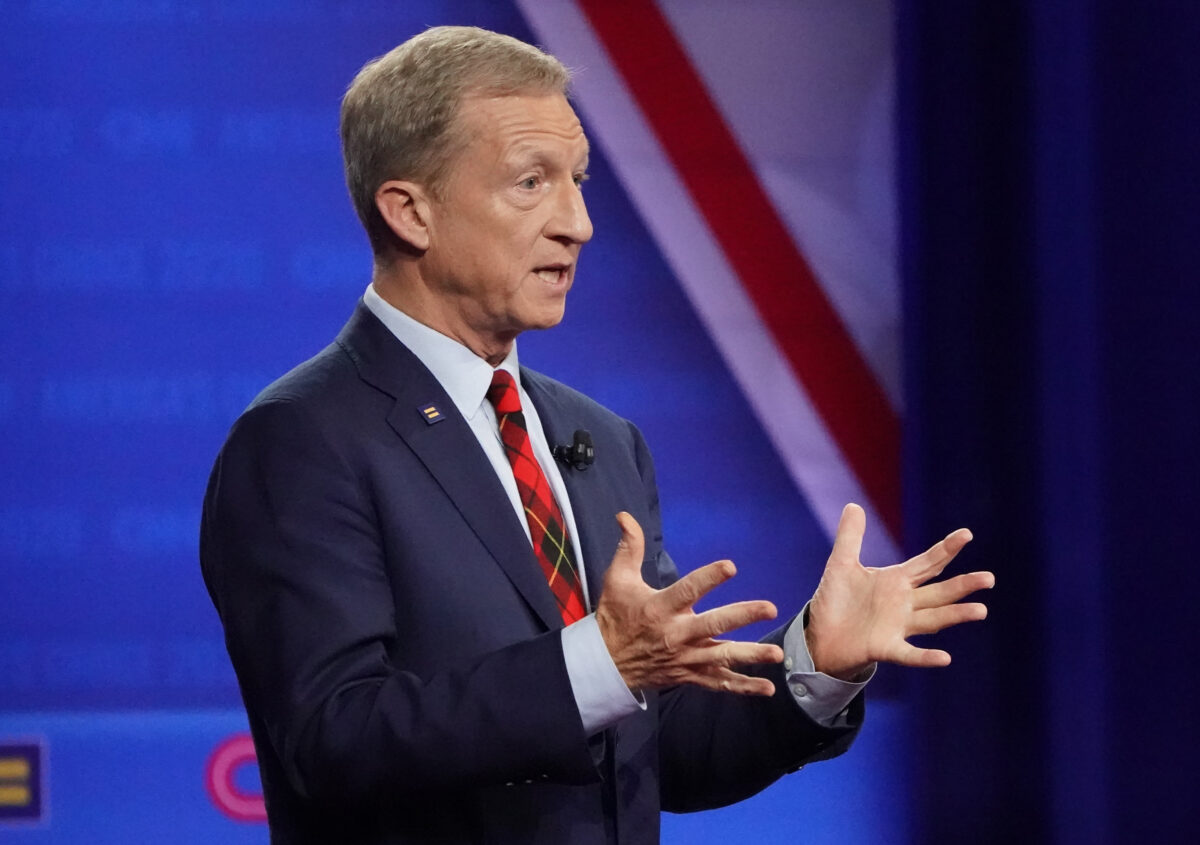 Steyer will be taking part in his first debate after announcing his candidacy in July. He narrowly missed the last debate, along with Gabbard.
Other candidates still in the race who didn't qualify for the debate include Sen. Michael Bennet (D-Colo.), former Rep. John Delaney (D-Md.), Montana Gov. Steve Bullock, Rep. Tim Ryan (D-Ohio), author Marianne Williamson, former Rep. Joe Sestak (D-Penn.), and Miramar Mayor Wayne Messam.
The requirements for the fifth debate, slated for November, are the highest yet and will likely narrow the field to 10 or less.
To qualify for the November debate, candidates must receive 3 percent or more support in at least four polls. That's up from 2 percent for the last debate and 1 percent earlier this year.
Candidates must also have donations from at least 165,000 unique donors, up from 130,000 unique donors, and a minimum of 60 unique donors per states in at least 20 U.S. states, U.S. territories, or the District of Columbia.