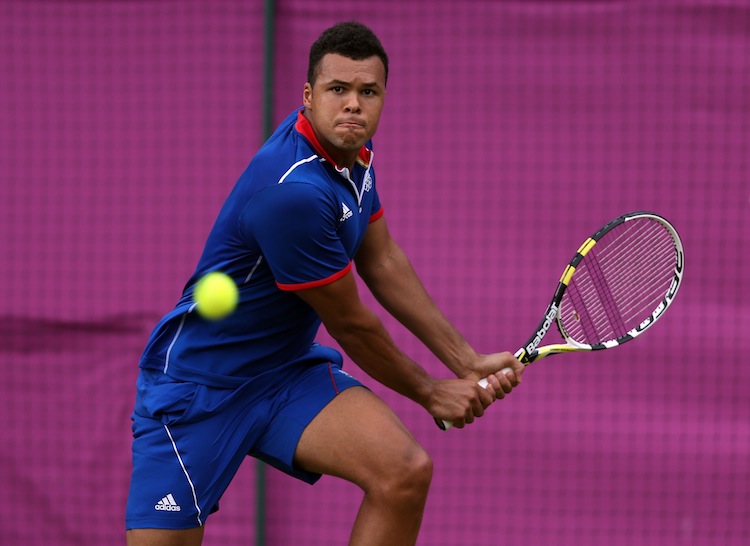 Jo-Wilfried Tsonga edged Canada's Milos Raonic 6–3, 3–6, 25–23 in the longest tennis match in Olympic history. The match lasted three hours and 57 minutes, with the third set lasting three hours.
On Court 1 at Wimbledon, the second round match between Raonic and France's Tsonga started innocently enough with the Frenchman taking the first set in half an hour and then the Canadian returning the favor in the second set.
Tsonga is ranked No. 6 in the world and is the fifth seed at the Olympics. Raonic, from Richmond Hill, Ontario, is ranked 23rd in the world.
Both players are among the best servers in the world and once play reached 6–6 in the third set with no tiebreaks, one knew the match could turn into a lengthy affair. Each player's serve was broken once prior to the third set.
Tsonga had the advantage of serving first. He could "afford" to drop serve and then hope to break Raonic to stay alive; however, Raonic did not have that luxury. A break point against him was a match point for Tsonga.
Raonic fought off two match points but serving at 23–24, Raonic found himself facing triple break point after a fortunate bounce helped Tsonga.
Tsonga returned a backhand into the net on Raonic's serve at 0–40, but on his fourth matchpoint, the Frenchman nicknamed "Ali" lost his footing but managed to fight back to win the point and the match.
Both players served very well. Raonic hit 23 aces to Tsonga's 17, but more importantly, both players won over 80% of their first serve points.
The match was also delayed by two and a half hours due to a rain delay.
Tsonga will play either Spain's Feliciano Lopez or Argentina's Juan Monaco in the third round.
Follow Rahul on Twitter @RV_ETSports
The Epoch Times publishes in 35 countries and in 19 languages. Subscribe to our e-newsletter.