WASHINGTON–U.S. President Donald Trump unveiled a new national security strategy on Monday in which he laid out the case for preparing the country to confront the "revisionist powers" of Russia and China that are challenging the United States and its allies. China and its aggressive rise received particular attention, a challenge that the document describes as a competition between the "free and repressive visions of world order."
Under the Goldwater-Nichols Act of 1986, the President is legally obligated to submit a report on the U.S. national security strategy to Congress each year. In recent years however, such reports have been made late or not at all. The Obama administration produced just two strategy documents (in 2010 and 2015, respectively) throughout eight years of his presidency.
With just 11 months into office, Trump's unveiling of the first strategy document sends the signal that his administration seeks to demonstrate greater commitment on national security matters. The strategy document is often viewed as an indication for how an administration views America's role in the world, and also points out the future direction of U.S. diplomatic and military leadership.
In contrast to strategy documents of the previous Obama administration, Trump focuses heavily on advancing United States' position in competitions with those that it identifies as strategic rivals.
Trump's strategy also promises that the United States will 'increase quadrilateral cooperation with Japan, Australia, and India.'
The document lays out three main sets of rivals actively competing against the United States and its allies—the revisionist powers of China and Russia, the rogue states of Iran and North Korea, and transnational threat organizations, particularly jihadist terrorist groups.
"China and Russia began to reassert their influence regionally and globally," the document says, "In short, they are contesting our geopolitical advantages and trying to change the international order in their favor."
It is clear however that China received the most attention in Trump's first formal formulation of his foreign policy concerns and priorities which is mentioned 23 times, compared to Russia's 17.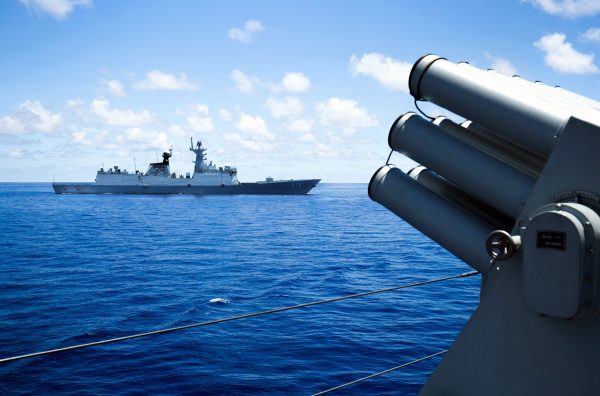 The document says that the old U.S. policy was rooted in the belief that American "support for China's rise and its integration into international order "would liberalize China." Contrary to such hopes, the document says that China has expanded its power at the expense of the sovereignty of others, and that it is actively seeking to displace the United States in the Indo-Pacific region.
In response to the challenges posed by China, Trump's strategy calls for a "redoubling" of commitment to existing alliances and partnerships while building new relationships.
The strategy document promises that Trump's vision for the Indo-Pacific "excludes no nation." Of particular note, Taiwan is mentioned prominently in the discussion on "military and security" in the Indo-Pacific section, to which it says that United States will "provide for Taiwan's legitimate defense needs and deter coercion" in accordance with Taiwan Relations Act.
In comparison, Taiwan was only mentioned once in Obama's 2010 strategy document as a side note, and was completely omitted in the 2015 document.
Trump's strategy also promises that United States will "increase quadrilateral cooperation with Japan, Australia, and India." The hypothetical alliance of the four democracies – known as the Quadrilateral Security Dialogue or Quad, was briefly pitched by Japanese Prime Minister Shinzo Abe in 2007 but dropped after China protested. The re-emergence of the idea could indicate the Trump administration's willingness to formally form the alliance despite the expected backlash from China.
Trump's new strategy document has four main organizing principles: protecting the American homeland, protecting American prosperity, preserving peace through strength, and advancing U.S. influence.
Although largely focused on China, the strategy document also reiterates many of Trump's established plans in dealing with threats from North Korea and elsewhere, such as a layered missile defense system and also tightened border security to mitigate threats posed by terrorism.