President Donald Trump said he had no involvement in what was reportedly a request from his administration to move a U.S. Navy ship bearing the name of the late Republican Sen. John McCain of Arizona that was stationed near the site of his recent speech in Japan.
The Navy, meanwhile, disputed claims that efforts were made to obscure the warship's name during Trump's visit.
Speaking to reporters at a morning press gaggle on May 30, Trump acknowledged that he had a contentious relationship with McCain, but denied knowledge of any appeal to move the ship "out of sight."
Earlier, The Wall Street Journal, which first reported the news, claimed the administration had instructed the ship to be blocked from view, citing alleged emails between unidentified U.S. military officials.
"I don't know what happened. I was not involved," Trump said on the White House's South Lawn. "I would not have done that."
The email to Navy and Air Force officials, according to The Wall Street Journal, had a number of directives, including "USS John McCain needs to be out of sight," and asking officials to "please confirm" that directive "will be satisfied." The newspaper also said that a tarpaulin was hung over the ship's name ahead of Trump's trip and sailors were allegedly directed to remove coverings from the destroyer that bore its name.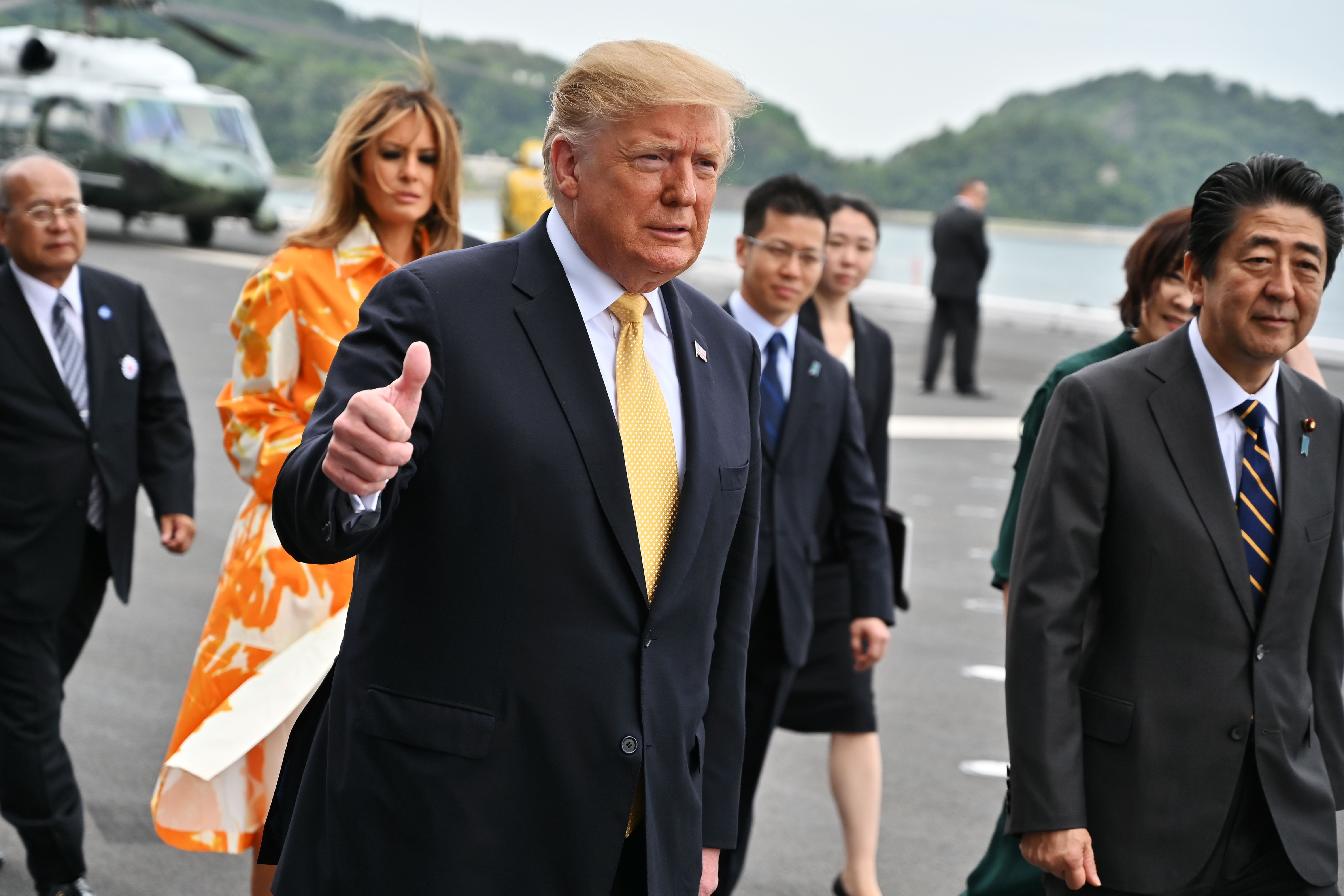 Trump told reporters that those who carried out the apparent move did it with good intentions, and reiterated it wasn't something he would have done. He also commented further on his relationship with McCain, who made an unsuccessful 2008 presidential bid.
"I was very angry with John McCain because he killed health care. I was not a big fan of John McCain in any way, shape, or form," Trump said. "Now, somebody did it because they thought I didn't like him … they were well-meaning, I would say."
The White House declined to comment and instead referred to Trump's remarks.
A U.S. official, speaking on condition of anonymity, told Reuters that an initial request had been made to keep the USS John McCain out of sight during Trump's speech but was scrapped by senior Navy officials.
The Navy, in the meantime, denied in a statement on May 29 that the ship was covered before the president's visit.
"The name of USS John S. McCain was not obscured during the POTUS visit to Yokosuka on Memorial Day," Rear Adm. Charlie Brown, the Navy's chief of information, said on Twitter. "The Navy is proud of that ship, its crew, its namesake and its heritage."
The name of USS John S. McCain was not obscured during the POTUS visit to Yokosuka on Memorial Day. The Navy is proud of that ship, its crew, its namesake and its heritage.

— Navy Chief of Information (@chinfo) May 30, 2019
Speaking with reporters en route to Singapore, acting Defense Secretary Patrick Shanahan said he hadn't approved any movement of the ship, but would ask his chief of staff to look into the details of what happened.
"I would never dishonor the memory of a great American patriot like Senator McCain. I also think it's important, I'd never disrespect the young men and women that crew that ship," Shanahan said.
Earlier, Trump said he was "not informed" about anything to do with the Navy ship but added on Twitter that he and first lady Melania Trump "loved being with our great Military Men and Women."
The USS John S. McCain was initially named for the late senator's father and grandfather, who were both Navy admirals. In 2018, the Navy added Sen. McCain to the official namesake of the guided missile destroyer.
Reuters contributed to this report.