In response to North Korea's ongoing provocations, President Donald Trump tweeted a video showing himself warning against the nuclear threat 18 years ago.
I've been saying it for a long, long time. #NoKo pic.twitter.com/LQl7tGhMdO

— Donald J. Trump (@realDonaldTrump) December 28, 2017
The video starts off with then President Bill Clinton announcing that the United States had reached a deal with North Korea on its nuclear program.
Under Clinton's diplomatic Joint Framework Agreement in 1994, the United States provided North Korea with aid in exchange for the regime ending its nuclear weapons programs.

Under the agreement, South Korea, Japan, and other nations provided two light nuclear reactors to North Korea, costing close to $4 billion, in addition to other forms of aid.
Bill Clinton said at the time, "This is a good deal for the United States. North Korea will freeze and then dismantle its nuclear program. South Korea and our other allies will be better protected. The entire world will be safer as we slow the spread of nuclear weapons."
The program failed, however. North Korea accepted the aid, but continued developing nuclear weapons all the same.
The video tweeted by Trump also includes an interview he gave with NBC's Meet the Press on Oct. 24, 1999, in which he talked about the North Korean nuclear threat.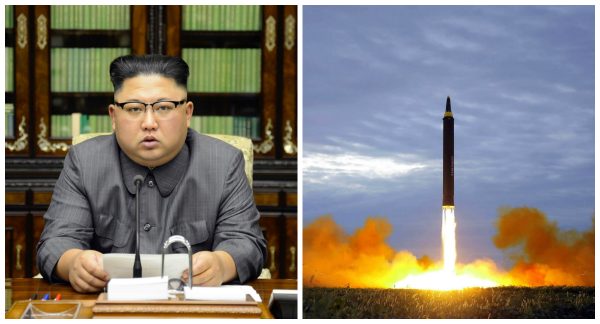 "You have the nuclear weapons, they are going to have those weapons pointed all over the world, especially the United States," Trump said.
Trump said at the time that it would be better to solve the problem sooner, rather than later.
"You want to do it in five years when they have warheads all over the place, every one of them pointing to New York City, to Washington," he said.

Last month North Korea launched an ICBM into space after which it re-entered the atmosphere before it landed in waters of Japan.
Defense Secretary Jim Mattis said in response to the launch that the North Korean regime now has the ability to reach anywhere in the world with its missiles.
The North Korean regime has threatened the United States multiple times in recent months with an attack using nuclear weapons.
Trump has demanded the complete denuclearization of North Korea. He has instructed his Secretary of State to engage North Korea in talks, while simultaneously preparing military options in case they are needed.

Melania Trump's First Year as First Lady