President Donald Trump said his administration will look into allegations by billionaire investor Peter Thiel that Google is collaborating with the Chinese Communist Party.
"[Thiel is] a great and brilliant guy who knows this subject better than anyone!" Trump wrote in a July 16 Twitter post.
"The Trump Administration will take a look!" the president added, citing a Fox & Friends segment about Thiel's comments.
In March, Trump wrote on Twitter that Google was "helping China and their military, but not the U.S. Terrible!"
"Billionaire Tech Investor Peter Thiel believes Google should be investigated for treason. He accuses Google of working with the Chinese Government." @foxandfriends A great and brilliant guy who knows this subject better than anyone! The Trump Administration will take a look!

— Donald J. Trump (@realDonaldTrump) July 16, 2019
A White House spokesperson declined to comment on Trump's tweet, CNBC reported.
Thiel, a high-profile investor who took down the Gawker website and sits on the board of Facebook, said in a speech at the National Conservatism Conference in Washington on July 14 that investigators should ask three questions of Google executives.
"Number one, how many foreign intelligence agencies have infiltrated your Manhattan Project for AI?" Thiel said, referring to the company's DeepMind artificial intelligence project, which he said should be considered a potential military weapon.
"Number two, does Google's senior management consider itself to have been thoroughly infiltrated by Chinese intelligence?" Thiel said, according to Axios.
"Number three, is it because they consider themselves to be so thoroughly infiltrated that they have engaged in the seemingly treasonous decision to work with the Chinese military and not with the U.S. military … because they are making the sort of bad, short-term rationalistic [decision] that if the technology doesn't go out the front door, it gets stolen out the back door anyway?"
In response to the accusations, a Google spokesperson told CNBC, "As we have said before, we do not work with the Chinese military."
Thiel appeared on Fox News's "Tucker Carlson Tonight" on July 15, saying people almost never talk about the dual use of artificial intelligence.
"If it's real, if this is a real thing, it obviously can also be used by the military, it'll be weaponized in all sorts of ways, and it's an important national security question as to who has it," he said.
"There's this very peculiar background where Google is working with the Chinese on communist government and not with the U.S. military; so the Project Maven decision was a decision not to work with AI with the U.S. military—but they're working with the communist Chinese."
Thiel suggested that Google's touting of the project has made it susceptible to foreign interference.
"If you go around broadcasting that you're building a Manhattan Project for AI, I would think this naturally would draw the attention of foreign intelligence agencies," he said. "I think the Chinese are confident enough, the Ministry of State Security is likely to have infiltrated Google, and then I think the Google management has sort of a decision of either letting the software go out the front door, or figuring it will get stolen anyway and go out the back door."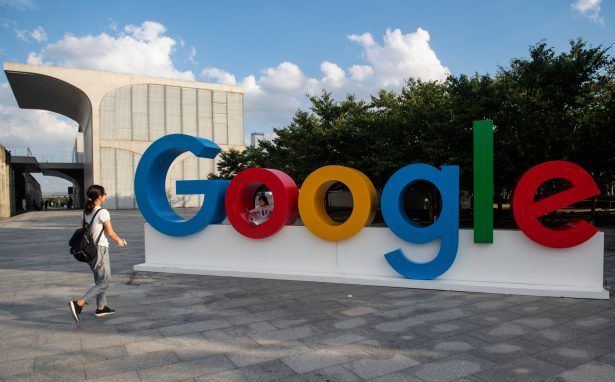 He said Google may be working with China because Google believes China will get the technology one way or another. "And then I think, of course, there's probably, you know, a broad base of Google employees that are ideologically super left-wing sort of woke, and think that China is better than the U.S. Or that the U.S. is worse than China. It's always—it's more anti-American than anything."
Joe Londsdale, who helped found the Palantir company with Thiel, echoed his comments to CNBC.
"Google is not a patriotic company," he said. "Everyone in [Silicon] Valley knows that the Chinese government is very involved. It's something we don't talk about a lot. It was very courageous of [Thiel] to talk about it."
From NTD News