On Labor Day, President Joe Biden appeared in Milwaukee and Pittsburgh, where he boasted about the passage of the Inflation Reduction Act and continued to denounce Donald Trump supporters.
In Wisconsin, Biden criticized incumbent Republican Sen. Ron Johnson. Democratic Lt. Gov. Mandela Barnes, who is running against Johnson, did not attend Biden's speech. Democratic Gov. Tony Evers, who is opposed by Trump-endorsed Tim Michels, did speak.
"I want to be very clear upfront. Not every Republican is a MAGA Republican. Not every Republican embraces that extreme MAGA ideology," Biden said in Wisconsin. "I know, because I've been able to work with mainstream Republicans my whole career."
"But the extreme MAGA Republicans in Congress have chosen to go backwards, full of anger, violence, hate, and division," Biden added. "But together we can and we must choose a different path forward."
Biden chastised Johnson for his stance on the Jan. 6, 2021, breach of the U.S. Capitol.
"To this day, MAGA Republicans in Congress defend the mob that stormed the Capitol," Biden said. "People died there. Senator Johnson said it was by and large a peaceful protest. Have you seen the videos of what happened that day?"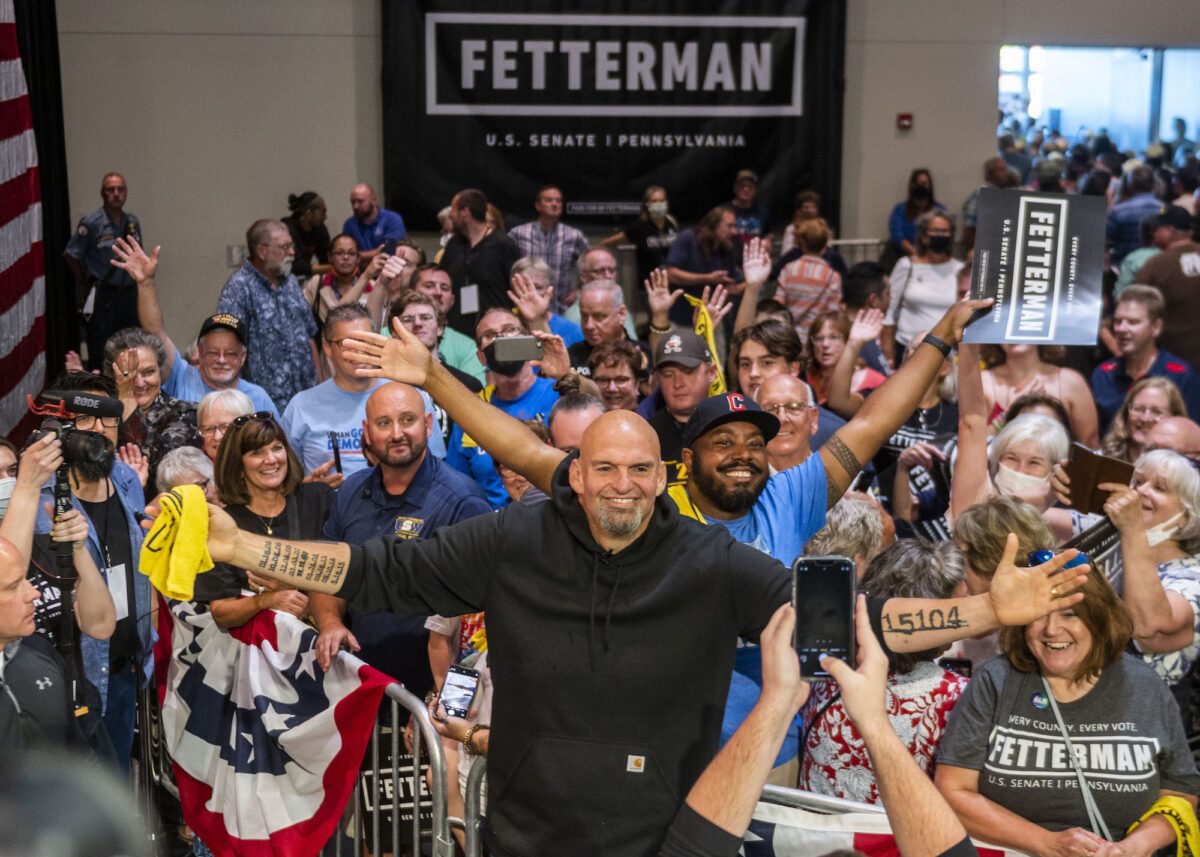 In Pennsylvania, Lt. Gov. John Fetterman posed for photos with Biden and delivered a speech on Labor Day after skipping the president's visits to Wilkes-Barre and Philadelphia last week.
Fetterman, who suffered a stroke right before the Democratic primary in May, leads Republican nominee Dr. Mehmet Oz in the polls as the candidates battle to replace retiring Republican Sen. Pat Toomey.
Biden appeared in the Pittsburgh area two days after Trump held a rally for Oz and Republican gubernatorial candidate Doug Mastriano in Wilkes-Barre.
Speaking to a sparse crowd of steelworkers in West Mifflin, 10 miles southeast of Pittsburgh, Biden said, "If I have to be in a foxhole, I want John Fetterman in there with me."
Last week, Biden called Fetterman "a hell of a guy" and "a powerful voice for the working people."
Biden also reiterated his message from last week that Trump supporters are "too extreme."
"Democracy is really at stake. You can't be a democracy when you support violence when you don't like the outcome of an election," Biden said. "We have a choice. We can choose to build a better America, or we can continue down this sliding path of oblivion."
Fetterman, who is making an increasing number of public appearances after remaining out of the public eye following his stroke, told his audience of 100 steelworkers that he wants to join Pennsylvania Democratic Sen. Bob Casey in Washington D.C. and called Oz "anti-union."
"Please understand the stakes in this race," Fetterman said. "Send me to Washington, D.C., so I can work with Senator Casey and I can champion the union way of life."
Before they took the stage, Fetterman talked to Biden about decriminalizing marijuana and expunging the records of people convicted of nonviolent cannabis crimes, according to a statement from Fetterman's campaign.
"The president needs to use his executive authority to begin descheduling marijuana, I would love to see him do this prior to his visit to Pittsburgh," Fetterman said in the statement. "This is just common sense and Pennsylvanians overwhelmingly support decriminalizing marijuana."
A longtime advocate of marijuana decriminalization, Fetterman has made the issue a prominent part of his Senate campaign.
Biden "supports leaving decisions regarding legalization for recreational use up to the states, rescheduling cannabis as a Schedule 2 drug so researchers can study its positive and negative impacts," White House press secretary Karine Jean-Pierre told reporters on Labor Day.
The president also supports decriminalizing the use of marijuana automatically expunging prior criminal records related to the drug, she added.
In April, Biden granted clemency to more than 70 people convicted of marijuana offenses.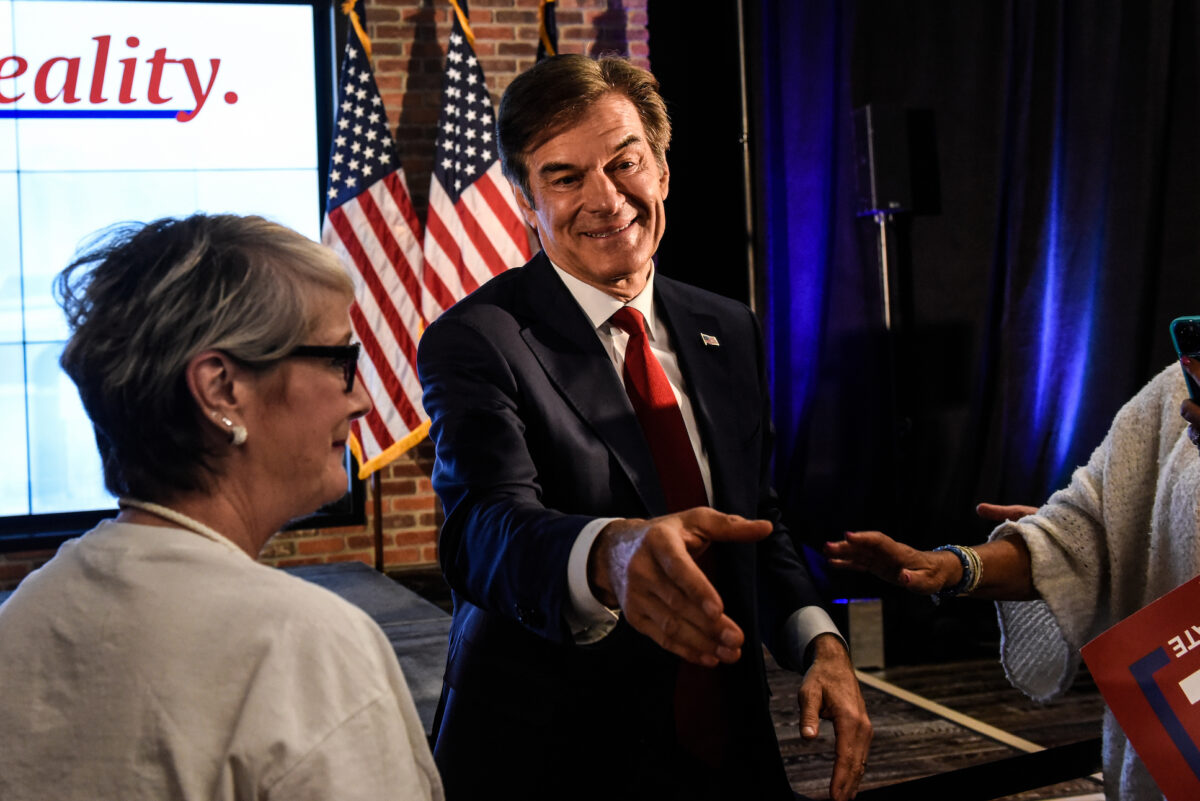 Oz did not issue a statement about Fetterman's meeting with Biden on Labor Day, but Oz spokesperson Rachel Tripp wrote on Twitter, "Marijuana and freeing murderers — exactly what you'd expect from a man-child cobbling together policies through a haze of smoke in his parents' basement."
In a statement, Fetterman had a harsh response.
"I don't want to hear any bull— coming out of Dr. Oz's campaign trying to conflate decriminalizing marijuana with seriously harmful crime," Fetterman said. "Are we supposed to believe that neither he nor any members of his staff have ever used marijuana?"
"I know firsthand what real crime looks like," Fetterman added. "Marijuana does not fit the bill."
Last week, Oz told Fox News that Fetterman wants to "legalize all drugs" and doesn't want to address issues that are more important to Pennsylvanians.
Oz did say he supports the use of medical marijuana, and two years ago he called cannabis "one of the most underused tools in America."
"I think, with the doctor's involvement—especially for seniors who have end-of-life issues, suffering from pain—I think it's a safer solution than, for example, narcotics in many cases," Oz said. "But it has to be studied, and we have to understand it and, therefore, physicians should be involved."