President Donald Trump signed a bill on July 29 that authorizes the extension of a compensation fund for first responders who risked their lives during the Sept. 11, 2001, terrorist attacks.
"Today, we come together as one nation to support our September 11 heroes, to care for their families, and to renew our eternal vow—never ever forget," President Trump said in the Rose Garden before signing the bipartisan bill, dubbed the "Never Forget the Heroes Act," which passed the Senate on July 23 in a 97–2 vote.
Trump took a moment from his speech to respond to a recent incident at the California Garlic Festival, where three people were shot and killed. The president called the perpetrator a "wicked murderer," and said of the victims: "We grieve for their families. … We're praying for those who are recovering right now in the hospital."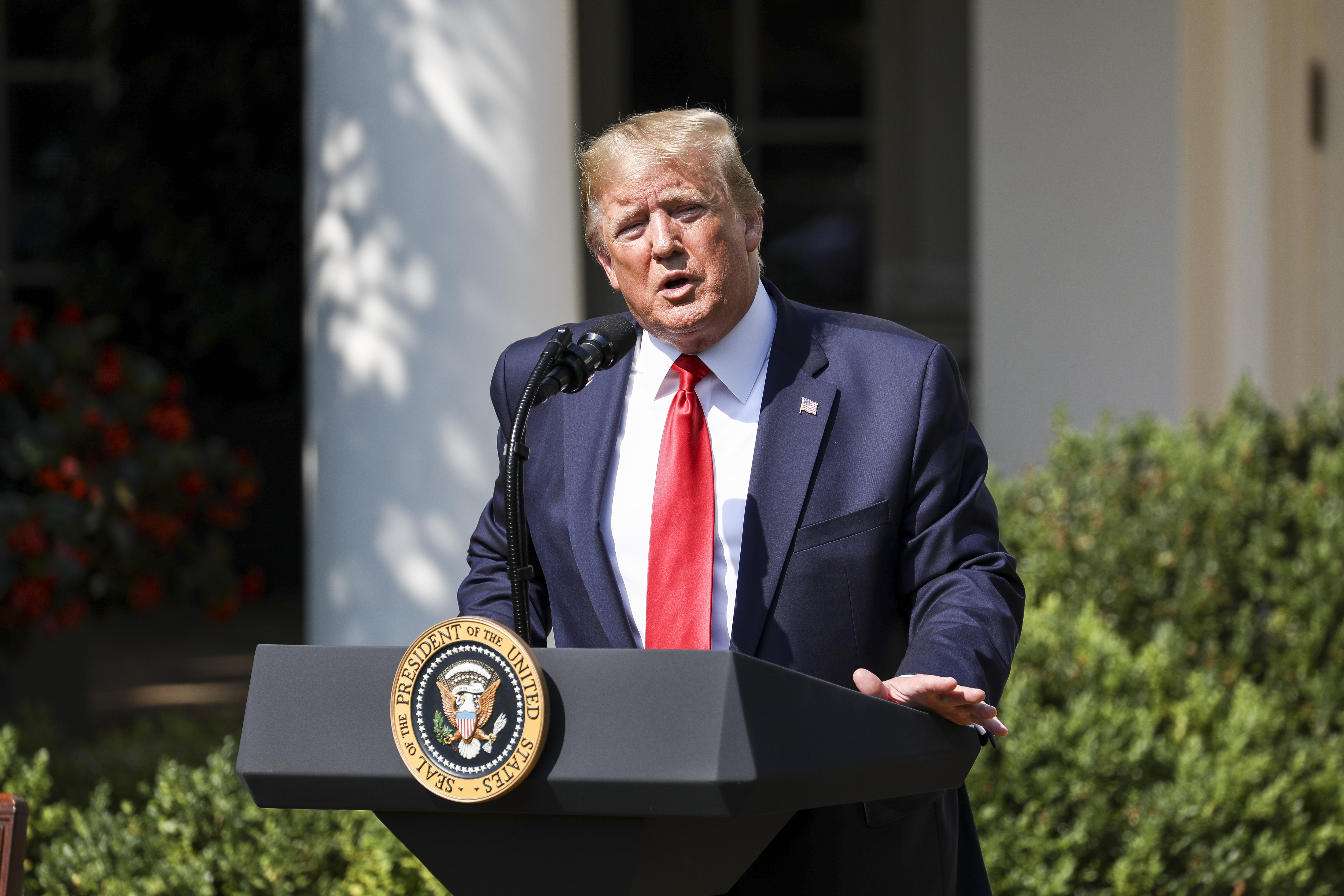 "We will continue to work together as communities … to stop evil," Trump said.
During his remarks, Trump introduced his personal attorney, Rudy Giuliani, who was New York City's mayor during the 9/11 attacks. The president said Giuliani was "our greatest mayor, in my opinion," calling on him to stand up.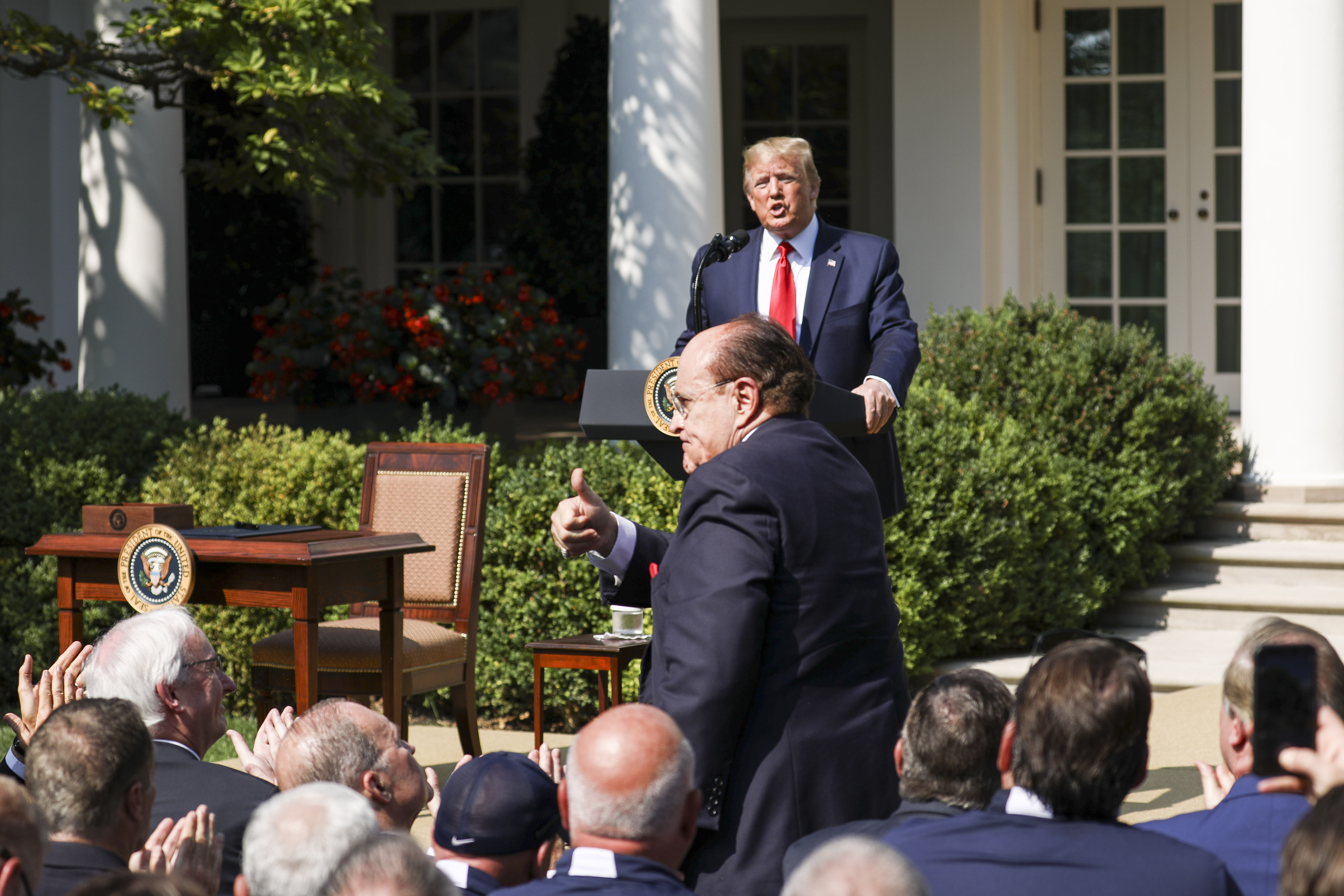 Trump told the many first responders in the audience that they "inspire all of humanity."
"You lift up our communities and you remind us what it means to all stand united, one nation under God," he said. "Today, we strive to fulfill our sacred duty to you."
According to the White House, the legislation authorizes federal funding until 2092 to compensate an estimated 18,100 victims and their relatives, according to government estimates.
Many first responders were exposed to toxic chemicals during the attack in which two jets flown by radical Islamic terrorists crashed into the twin towers of the World Trade Center.
"The whole world witnessed the might and resilience of our nation and the extraordinary men and women of the New York fire department and the New York police department," Trump said. "Selfless patriots with unmatched character and devotion—I grew up with them, so I can tell you that's absolutely true."
Trump said he was "deeply honored" to be in the presence of more than 60 first responders. He asked them to stand, to ringing applause.
"The love and loyalty of our 9/11 responders knew no bounds," he said. "They answered terror with the emotional strength of true American warriors."
Trump noted the late New York City Detective Luis Alvarez, a 9/11 responder who was a major advocate of the bill. In June, Alvarez testified before Congress, which Trump said "touched the heart of our nation." Alvarez passed away just days after his testimony due to cancer linked to the attacks.
Trump said he was privileged to have Alvarez's brother, Philip; his wife, Alaine; and sons Tyler and Ben in attendance.
"Our whole nation prays and pays tribute to the incredible life and legacy of Detective Alvarez—how hard he worked and how much he suffered," Trump said. "And we really want to thank him."
After Trump closed his remarks and signed the bill, he received a standing ovation. For about 10 minutes, the president shook hands and took photos with attendees.
Other notable attendees at the event included Vice President Mike Pence, Deputy Attorney General Jeffrey Rosen, and a number of Republican senators.
A White House official noted that every member of Congress had been invited to attend the signing. No Democrat lawmakers attended the event.