President Donald Trump put the international spotlight on Sweden this week in his rally speech in Florida when he pointed to the country's problems with assimilating Syrian and other refugees.
After some confusion over what Trump was referring to, media split along partisan lines over the situation in Sweden. One side observed skyrocketing crime, particularly rape, coinciding with the refugee influx in recent years. The other side found no refugee-induced crime increase to speak of.
In 2015, Sweden accepted over 160,000 refugees—five times its usual number—mostly from Syria, Afghanistan, and Iraq. That had many Swedes worried if the country would be able to absorb the influx consisting of mostly young men coming from a vastly different culture and environment.
The Swedish government acknowledged that integrating refugees has been a "challenge" and, in 2016, cut the intake to fewer than 30,000.
Yet some say the government has not been forthcoming about the extent of the challenge, while also pushing political correctness to the point of suppressing vital information.
Swedish police officer Peter Springare works as an investigator in Orebro, a town of some 100,000 about 100 miles west of Stockholm.
Two weeks ago, he shared on Facebook that virtually all crimes he investigated over the past two years were committed by an immigrant perpetrator, mostly from Syria, Somalia, Iraq, Turkey, and Afghanistan.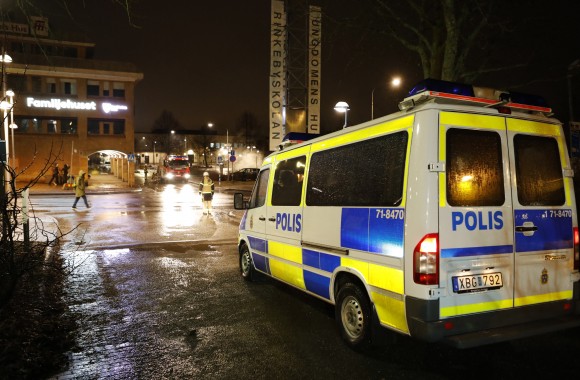 Ami Horowitz, a conservative-leaning filmmaker, came to a similar conclusion after he traveled to Sweden to document the impact of refugees. His documentary painted a picture of rising crime concentrated in "no-go" immigrant communities that even police won't dare to enter.
Last year, murders in Sweden were up 11 percent and sexual crimes were up 10 percent overall, with rapes up 11 percent, compared to 2015, preliminary statistics show.
European media have in their reporting most often connected sexual crimes (witch include molestation and rapes) with the influx of refugees. Anecdotally, Swedish police have described a "new phenomenon" in which large groups of men will surround a woman and sexually assault her, as seen in widespread attacks in the city of Malmo, The Guardian reported.
Rape data over the past decade has shown multiple ups and downs, but overall, only a minor increase. So why doesn't the recent refugee influx show in the data?
One factor is that women only report a fraction of sexual offenses to police—an estimated 9 percent of incidents—according to the latest victimization survey covering 2015.
The survey, which asked some 12,000 Swedes about their experiences of victimization, showed 3 percent of women have been victims of sexual offenses in 2015—an almost three-fold increase since 2011, and a 50 percent increase since 2014.
Economist Tino Sanandaji suggested that a rise in crime among immigrants may have been offset by a decline in crime among natives. But there's no way to tell if that's accurate, and this is where political correctness comes into play.
Since September 2015, Swedish police have had a policy of not reporting the nationality of criminals, and the last official report on immigrant crime was in 2006. When investigator Springare publicized his numbers on immigrant crime on Facebook, he was formally accused of inciting racial hatred.
Springare wrote that he's actually not against accepting refugees. He believes that only a minority of the refugees are criminals, but that the harm they cause, often to other refugees, needs to be weighed in discussing immigration.
"I do not have a thought of giving up the fight," he wrote on Feb. 7. "The battle for the hope that we could openly and publicly raise sensitive issues of immigration without harassment, threats, or verbal abuse [or accusations of] racism and xenophobia."