President Donald Trump praised the United Nations for its noble goals but urged the 71-year-old institution to focus more on results, rather than process.
Speaking at a UN meeting in New York focused on reform, Trump said that while the organization's staff has doubled since 2000, and its budget increased significantly, it had not produced a significant increase in results.
"I think the main message is 'make the United Nations Great.' Not 'again make the United Nations great.' Such tremendous potential, and I think we'll be able to do this," Trump said following his speech at the meeting on reform, when asked what his main message for the UN General Assembly is. The UN General Assembly is taking place Sept. 12-25.
In 2016, the total expenditure of the UN was nearly US$49 billion, up US$10 billion from just six years earlier. Most of its funding is spent on humanitarian assistance, with US$16 billion, followed by development assistance at nearly US$12 billion, and peacekeeping operations at just over US$9 billion.
"The United Nations was founded on truly noble goals. These include affirming the dignity and worth of the human person and striving for international peace. The United Nations has helped advance toward these goals in so many ways: feeding the hungry, providing disaster relief, and empowering women and girls in many societies all across the world," Trump said in his speech.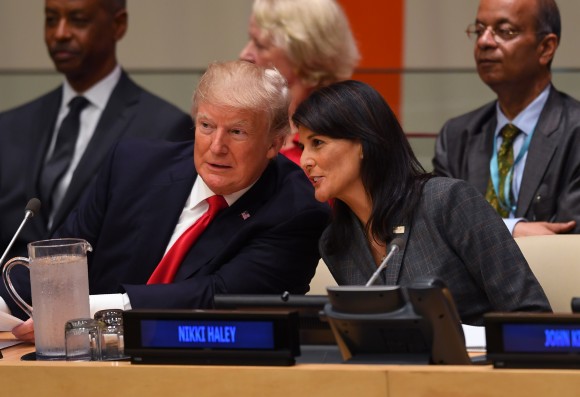 But Trump blamed bureaucracy and mismanagement for the organization not reaching its full potential.
"We seek a United Nations that regains the trust of the people around the world. In order to achieve this, the United Nations must hold every level of management accountable, protect whistle-blowers and focus on results rather than on process," he said.
Trump's vision has been shared by UN Secretary-General António Guterres, the former Prime Minister of Portugal who replaced Ban Ki-Moon as UN Secretary earlier this year.
In a letter to all member states in May, Guterres said that he was initiating reform processes to make the organization more effective.
"Our efforts to implement this ambitious reform agenda rest on ensuring that we simplify procedures, decentralize decision-making and move towards ever greater transparency and accountability," Guterres said in the letter.
Trump also called on the UN's 193 member states to equally share the financial burden.
"To honor the people of our nations, we must ensure that no one and no member state shoulders a disproportionate share of the burden, and that's militarily or financially," Trump said.
The United States is the world's biggest contributor to the UN, donating over US$10 billion last year. The United States is followed by Germany at US$3.3 billion, the UK at US$3 billion, and Japan at US$2.8 billion.
Trump also called for UN peace-keeping missions, the organizations third largest expense, to have clearly defined goals and metrics for evaluating success. Contributing over 28 percent, the United States is the largest financial contributor to the UN peacekeeping missions.