With five months of campaigning to go, President Donald Trump told reporters that he has plans should he lose the election to presumptive Democratic nominee Joe Biden.
"Certainly if I don't win, I don't win. I mean, you know, go on and do other things," Trump told Fox News on Friday. Trump, a billionaire real estate mogul, didn't elaborate.
Both Biden, a former vice president, and Trump have accused one another of trying to cheat their way to victory. Earlier this week, Biden said his "single greatest concern [is that] this president is going to try to steal this election."
"This is a guy who said that all mail-in ballots are fraudulent … while he sits behind the desk in the Oval Office and writes his mail-in ballot to vote in a primary," Biden told Comedy Central's "The Daily Show" on Wednesday. He later went a step further and claimed the military would have to "escort him from the White House."
Trump was asked about Biden's assertion in the interview.

"Look, Joe's not all there. Everybody knows. And it's sad when you look at it and you see it, you see it for yourself. He's created his own sanctuary city in the basement or wherever he is and he doesn't come out," the president said.
A Trump campaign spokesman, Tim Murtaugh, said in a statement that Biden's claims are baseless and is trying "to undermine confidence in our elections."
Losing the 2020 election on Nov. 3 would be a "sad thing" for the United States because Democrats have policies including "getting rid of police departments" or "doing nothing" to address the rioting," Trump told Fox News. In recent days, the George Floyd-sparked protests and riots have given Americans a chance to get "a glimpse of liberal policies."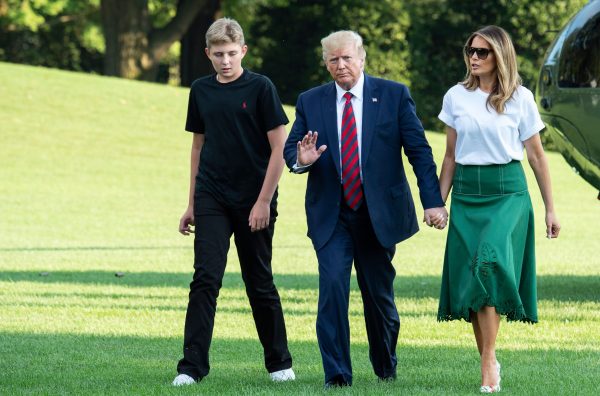 "It was not that they were not in Republican cities. They were all in cities that frankly, I think I have a chance to win many of those cities. But these were all cities run by radical left Democrats. And I think it's a very sad thing that would happen," he said, adding that "very liberal" and "radical left" mayors are pushing measures against police departments.
Biden, meanwhile, has said that he does not want to defund or abolish police departments.
Before the protests, Trump said Democrats were aiming to increase mail-in voting—a policy that was pushed in an attempt to curb the spread of COVID-19—as an attempt to rig the general election.
Experts have said that counting mail-in ballots takes longer because a voter's identity cannot be verified as easily as voting in person.